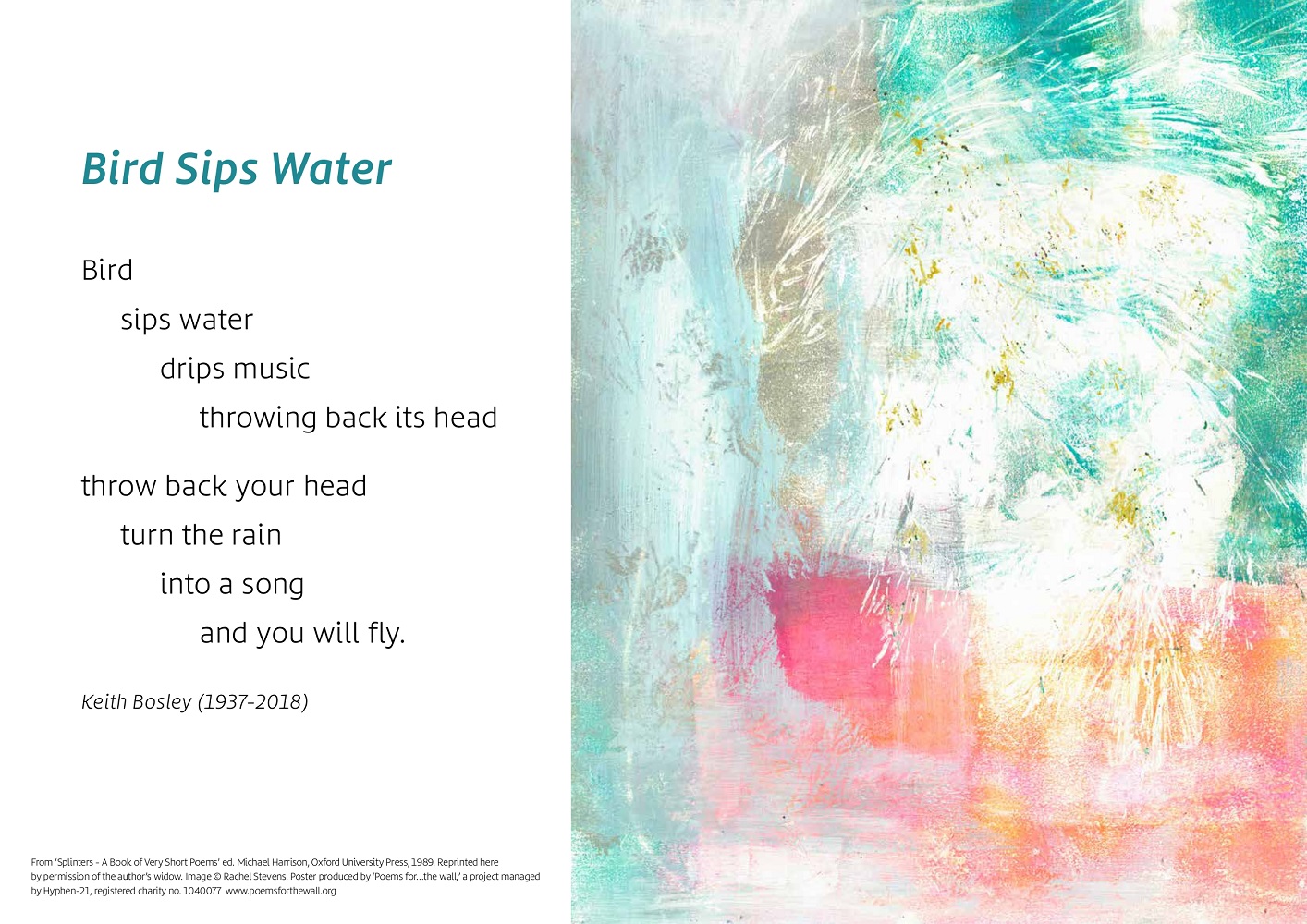 ROGAN WOLF
A new collection of 25 English poems for children has just gone online. It is new in more ways than one. Each poem is carefully matched with an original abstract painting by an artist called Rachel Stevens, who has given her work free to this project.
Each resultant composition becomes a poster suitable for public display. All 25 posters can be viewed and downloaded free of charge. Some of them are accompanying this article.
They are part of a project called "Poems for the wall." This has been running for over 20 years now and I described it in some detail a while ago here on the Margutte site.
Here's a brief summary, mainly to offer some context for the new collection.. Poems for the wall is based in the UK but the spirit behind the project is, in some ways, exactly the opposite of that behind Brexit! These poems are not about being separate and 'world-beating,' They are about connecting and about sharing our connectedness – for all our children's sake. Thus, many of the project's poems are bilingual, with fifty languages represented so far, each one with an English translation set out alongside and opposite, as if across a table. As someone has said : "Here is a way to open people's lives to each other."
While the project has always been popular with healthcare staff, planning to display some of these poems on their waiting room walls, most of the demand has come from schoolteachers, wanting to use the poems in class.
And it is this that led to the new collection. As project director, I noticed that a good many teachers registering on the website were based in primary schools, in other words, in schools for children between about six and eleven years old. And I wondered, how many of the poems displayed on the website would speak to children of that younger age-group? And how much time will those teachers have available to work through all the poems uploaded on the site, in order to pick out the poems they can use?
The new collection is called 'Poems for Rising Ten.' In English, the phrase 'rising ten' means someone coming up to ten years old. Approximately ten. A child approximately ten is at the top of a small primary school, but is soon to go on to a large secondary school, starting there, of course, at the bottom. Someone rising ten is facing a major transition.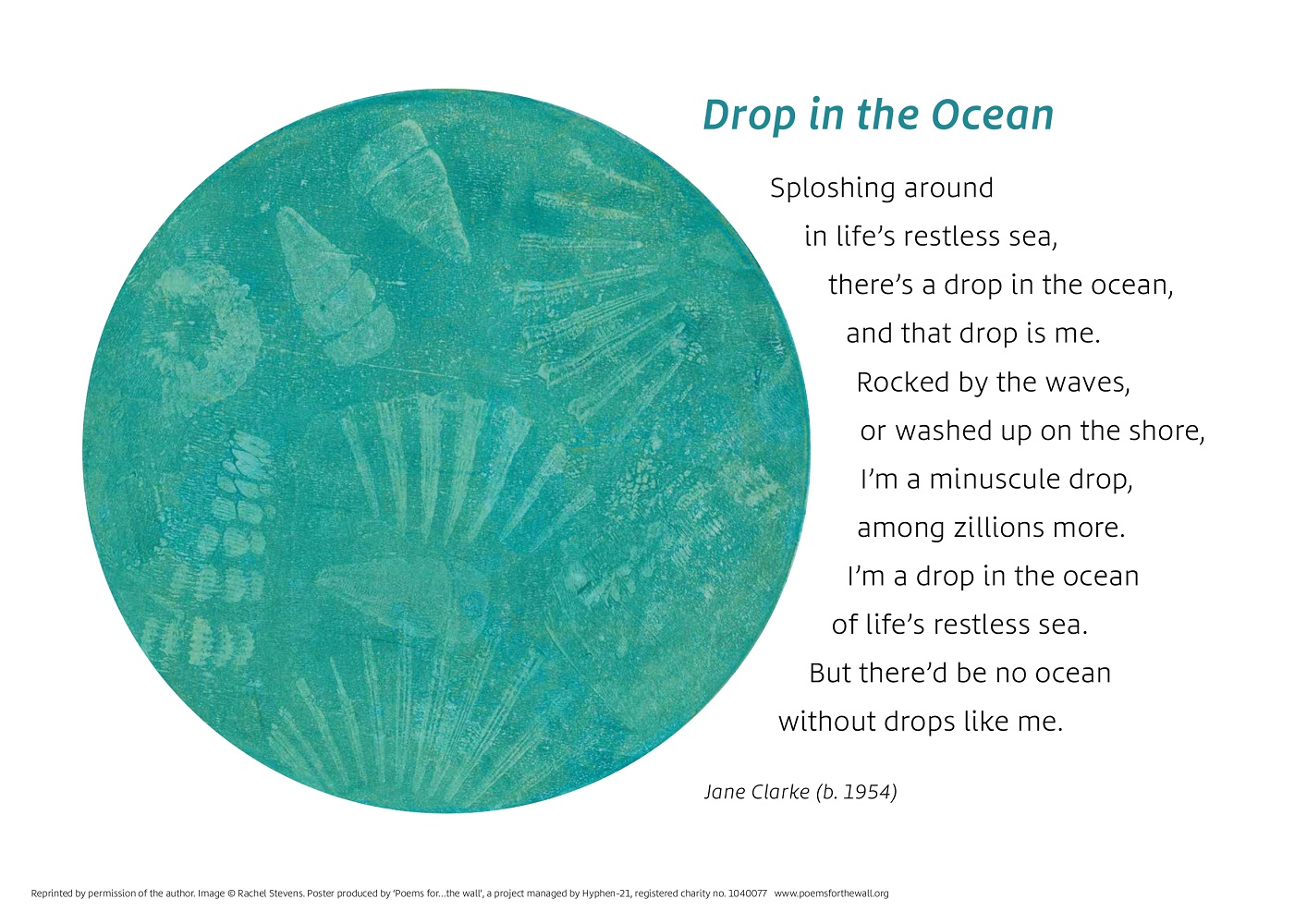 This collection is restricted to poems written in English and includes some traditional and major English names – such as Shakespeare, Byron, Keats, Tennyson. But not only traditional. Nor only poems written specially for children. It includes a number of poems written originally for adults, but which children also appreciate. During several weeks in October last year, the collection was exhibited in St. Mary's Church, an English country church in Frampton-on-Severn, and proved popular with people of all ages. Here are some pictures of it from Facebook: https://www.facebook.com/photo/?fbid=7949865511750928&set=pcb.7948868918517254.
The artist Rachel Stevens is based in Gloucestershire, England. She is inspired by colour and the beauty of the natural world. She uses a range of techniques including mono printing with leaves, flowers and feathers to build up layers of shape and colour. If you would like to see more of her work please click on the following link to her Instagram page: https://www.instagram.com/rachelstevens_art/.
The collection's designer,  matched text to painting in each case, with flair and sure touch. Chris is based in Bristol, and – as well as working as a designer – is an artist in his own right. For his website, see: https://binding-associates.com/.
Some of the poems have been translated into Italian (see the article in Italian) and French (see the article in French).
For other contributions by Rogan Wolf in Margutte, click the tag with his name.