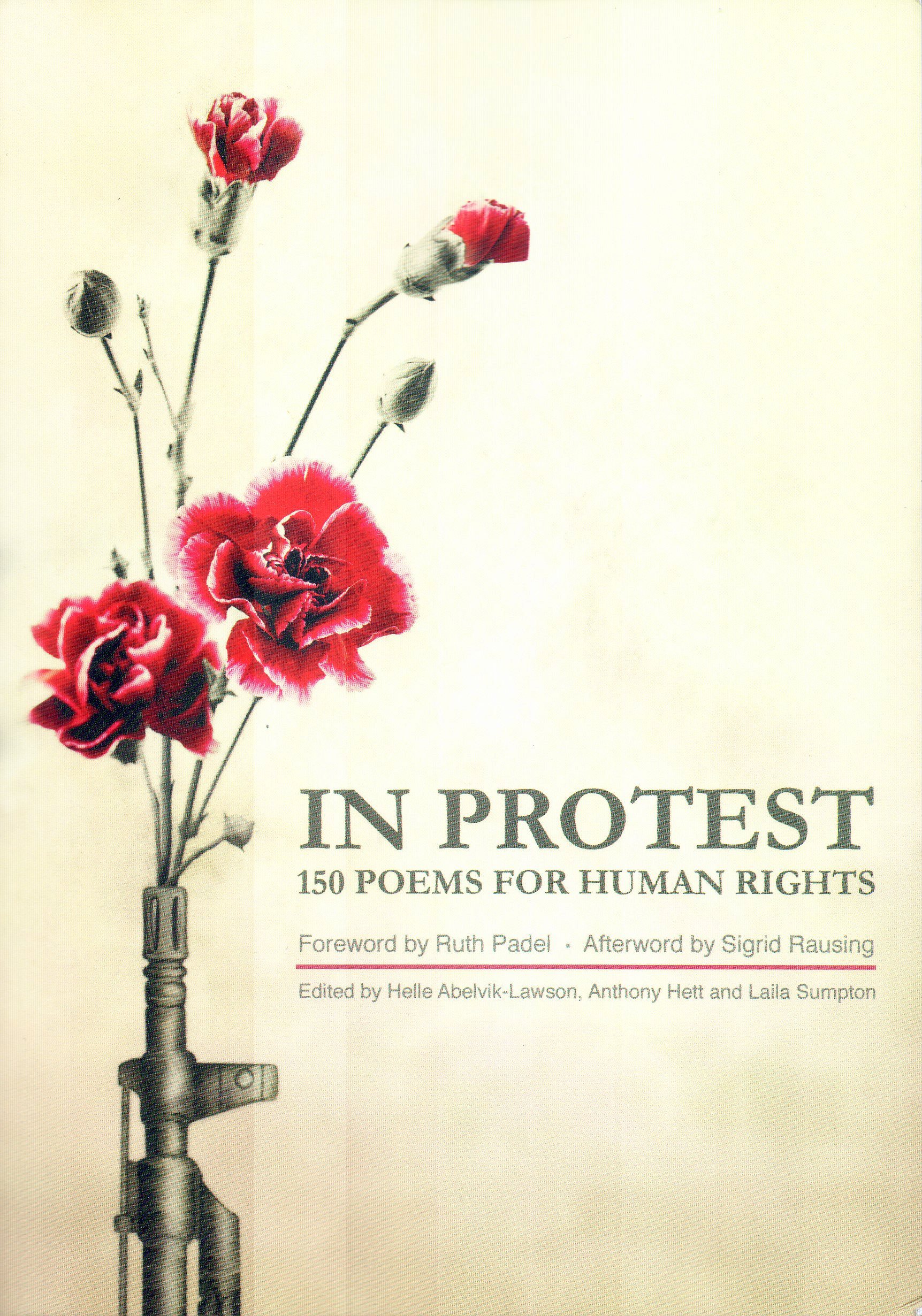 SILVIA PIO
This is a unique anthology, published in 2013 and sprung from the collaboration between the Human Rights Consortium and the Institute of English Studies, both from the School of Advanced Study, University of London, and the Keats House Poets, a London-based poetry collective. The two institutions «realised that poetry could bring human rights issues to a whole new audience and vice versa»(1).
The poems were selected from among over 600 submissions from more than 18 different countries, including China, Chile, Australia, Canada, India and South Africa. Handwritten poems were received from those without an email address or access to a computer. David Ravelo, a human rights defender, sent a poem from La Picota prison in Colombia. Acclaimed UK poets Carol Anne Duffy, Ruth Padel, Moniza Alvi and Douglas Dunn submitted their contributions, too.
All the poems received were anonymised and 150 were chosen to make up the 251 pages of this work, co-edited by Helle Abelvik-Lawson (Human Rights Consortium), Laila Sumpton and Anthony Hett (both Keats House Poets).
«The anthology speaks to the extensive array of human rights issues throughout history, from the trans-Atlantic slave trade up to the current war in Syria. Some … tell of the horrors endured by victims and survivors … using personal testimony … and researched testimony». Readers of this anthology «will move from Chile to Australia, from North Korea to Sierra Leone to the streets of London… will hear a range of voices», also «those who have not suffered human rights violations themselves, but feel very deeply when others have»(2).
The anthology has been divided into 13 thematic sections. Expression contains poems discussing the way that human rights are portrayed through stories and images. History reflects on atrocities and rights violations past, but not forgotten. In Land poems explore environmentalism, climate change and indigenous rights. Exile explores migration. Many submissions on the theme of War were on Syria alone, indicating the resonance of this conflict, ongoing at the time of writing. Children gathers the works from many poets who felt affected by children's human rights issues. The Sentenced chapter pulls together poems about life and death sentences from around the world. Slavery is one of the great tragedies which still exists in many forms, including bonded labour and sex trafficking. Many submissions explored rights issues of Women. In the Regimes and Workers chapters political and economic rights are represented. In Unequal we can read about issues such as homelessness, hunger and LGBTI (lesbian, gay, bisexual, transgender and intersex) rights. «To the editors one of the most exciting themes was the final one, Protest»(3).
«Throughout the collection's 13 chapters the urgency and agony of human rights violations – both for victims and witnesses and those that feel and empathise with them – is palpably clear. What truly surges through the volume is a great sense of solidarity with other human beings»(4).
Campaigner and philanthropist Sigrid Rausing, in the Afterword for the anthology, wrote: «Poetry brings tiny details to life, and in a world where human rights is mostly about reports and abstractions, where real life and real details are lost – poetry can still make us see and feel»(5).
In the Italian section there is the translation of some of the poems. It has not been easy to choose which ones to translate, as all are worthy to be known in all languages.
The Human Rights Consortium was founded in 2009, bringing together the multidisciplinary expertise in human rights found in several institutes of the School of Advanced Study, as well as collaborating with individuals and organisations with an interest in the subject. www.sas.ac.uk/hrc – HRC@sas.ac.uk
The Institute of English Studies was founded in 1999 out of the Centre for English Studies, and is an internationally renowned research centre, dedicated to promoting advanced study and research in English studies in the wider national and international academic community. The Institute of English Studies is a member institute of the School of Advanced Study, University of London. www.ies.sas.ac.uk
The School of Advanced Study, University of London is the UK's national centre for the facilitation and promotion of research in the humanities and social sciences. www.sas.ac.uk
The Keats House Poets, established in 2010, are a London-based poetry collective consisting of eight poets who are supported by the Keats House Museum in Hampstead. Two of these poets, Anthony Hett and Laila Sumpton, have been working with the School of Advanced Study's Human Rights Consortium staff for over a year to develop the Human Rights Poetry Project. This has included designing and running events that explore human rights and poetry at the Bloomsbury 2012 and 2013 festivals, and the publication of In Protest: 150 Poems for Human Rights. www.khpoets.wordpress.com
http://www.sas.ac.uk/about-us/news/protest-new-poetry-anthology-explores-human-rights-and-social-justice
Notes:
(1) From the Introduction by the editors, Helle Abelvik-Lawson (Human Rights Consortium), Laila Sumpton and Anthony Hett (both Keats House Poets), page IX.
(2) Ibid., page XI.
(3) Ibid., page XIV.
(4) Ibid., page XV.
(5) From the Afterword by Sigrid Rausing, page 205.
(This article was originally published on 19.05.2014)