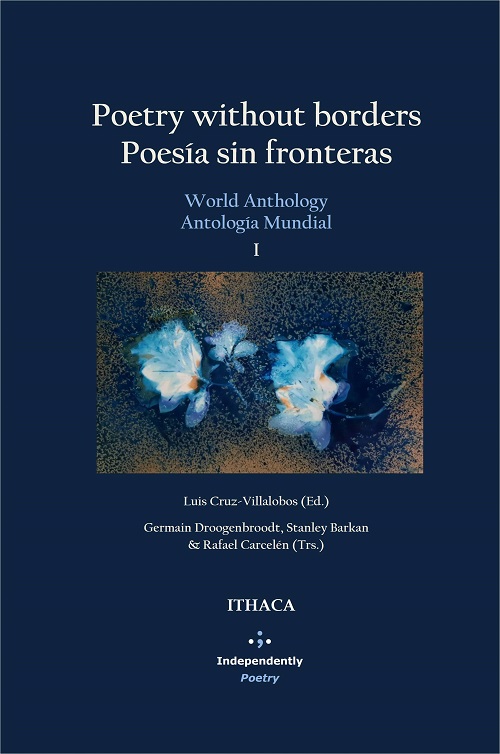 Poems by Rose Ausländer, Gioconda Belli, Mario Benedetti, Francisco Brines, Paul Celan, Kim Chi-ha, Cho Byung-Hwa, Kamala Das, Miguel Hernández, Carlos Drummond de Andrade, Erich Fried, Ernst Jandl, Sarah Kirsch, Xavier Villaurrutia, Ida Vitale, Adam Zagajewski but also important modern and contemporary poets from Afghanistan, Albania, Argelia, Argentina, Armenia, Austria, Bangladesh, Belarus, Belgium, Brazil, Bulgaria, Canada, Chile, China, Colombia, , Czech Republic, Denmark, Egypt, Estonia, Finland, Germany, Greece, Honduras, India, Iran, Iceland, Ireland, Italy, Japan, Korea Kurdistan, Lithuania, Macedonia, Malaysia, México, Nicaragua, New Zealand, Poland, Portugal, Dominican Republic, Romania, Sicilia, Spain, Turkey, Ukraine, Uruguay, USA, Venezuela…
Bilingual edition: English – Spanish
This is a selection of poems from the first volume of "Poetry without Borders"
Luis Cruz-Villalobos (Chile)
Poetry Without Borders
And if the poem breaks all frontiers
And if the poem leaves no wall standing
What would happen in the whole world
If poetry took to the streets
And we all went for a walk
Knowing ourselves for what we really are
A single poem without borders.
*
Reiner Kunze (Germany)
Correction
1
I am tired of hoisting flags, friend.
Only on this flag I want
to take an oath.
2
On a flag with a love poem.
March
First, they get a foothold,
then the heads.
(If the threshold hinders,
they reverse the order.
*
Francisco Brines (Spain)
The Autumn of Roses
Already, you live in the season of the time left behind:
You named it the autumn of roses.
Inhale and be enticed by it. And listen,
when the sky fades, to the silence of the world.
*
Anna Keiko (China)

What's Done Is Done
What's done is done.
The unpredictable occurred: the coronavirus.
It's a storm that could last quite long,
breaking the bloom of branches and blossoms.
Fear is everywhere, Death is close to everyone.
It's a spring of broken dreams—
dark clouds, sadness, tears.
The bell has struck the sky.
Haughty humans are falling
in the black hole they have dug.
*
Ernst Jandl (Austria)

My Own Song
I don't want to be
like you want me.
I don't want to be you
like you want me.
I don't want to be like you
like you want me.
I don't want to be like you are like you want me.
I don't want to be like you want to be,
like you want me.
Not like you want me
like I want to be, I want to be
not like you want me.
I want to be like I am
not like you want me.
I want to be like me
not like you want me.
I want to be me
not like you want me I want to be,
I want to be.
*
Daniela Andonovska-Trajkovska (North Macedonia)

Electronic Love
Love is on sale in the shop windows of desire
in the Book of Faces where everyone is taking a selfie
with the duck face of despair
as a pop-up of the melancholic everyday
in the society in which everything can be bought
for only 2.99 euros at a 50-percent discount—
but the soul is what's really reduced.
*
Mario Benedetti (Uruguay)

Pas Time
When we were kids,
the old men were about thirty,
a puddle was an ocean
death flat and even—
didn't exist.
Then when we were teens,
old men were people in their forties,
a pond was an ocean—
death only
a word
By the time we got married,
the old people were in their fifties,
a lake was an ocean—
death was the death
of the others.
Now veterans,
we've caught up with the truth,
the ocean is at last the ocean—
but death starts
to be ours.
*
Irma Kurti (Albania/Italy)

Soledad
La soledad llamó a la puerta
de mi habitación —número treinta y tres.
El aburrimiento entró en mi cama
como gran nube opaca —silenciosa. .
Las sábanas eran hojas de papel en blanco.
No había nadie preocupada por mí.
Ni una sola persona a quien llamar.
Fui una extranjera en este país.
Pregunté a mi reflejo en el espejo:
"¿Para qué necesito mis labios y mis ojos,
este pelo largo y hermoso
que nadie toca ni acaricia?
*
Farideh Hassanzadeh-Mostafi (Iran)

The Only Witness
for Rashid
Not the heaps of your love letters
in the velvet chest of memories;
Not the armful of flowers and fruits
you bring home in the evenings;
Not even the gold bracelet of 18 carats
you gave me on our wedding anniversary;
The only witness to your pure love,
this pale plastic bin heavy with rubbish,
which you carry down from the fourth floor, step-by-step,
refusing the help of my sleepy hands, night-by-night!
*
Zhao Lihong (China)

An Ancient Lotus Seed and a Ge Kiln Porcelain Jar
Prelude
An ancient idea, like an ancient lotus seed
hidden in the ground for thousands of years
Suddenly but gently activated by cool running water
sprouts a bashful tender bud
Ah, through the vicissitudes of the earth
you look so familiar and yet so unfamiliar
The moment the fallen leaves and blooms are gone with the wind
there comes a new lease of life floating with the current
The same face, and the same countenance
all unchanged ever since the time thousands of years ago
What encased in fashionable clothes
is the not yet unevolved skeleton of the body
In the buds, and among the stems and leaves
the dewdrops are glittering as in those days
The crowd are whirling and running in the wind
and in the rain the plants shaking their heads and waving
Anything changed to the world? Do all living beings
in heaven and earth still follow the old ways?
*
Thurídur Gudmundsdóttir (Iceland)

The War Goes On
And the war goes on they always present
this well-known tragedy
where unknown actors
play most of the main roles.
No Oscars
Only
hunger
mutilation
suffering
and death.
*
Germain Droogenbroodt (Belgium-Spain)
Tous les matins du monde
All the mornings of the world
are without return
There is no sunrise that knows a past
or a future sunrise
as its equal.
Minute by minute
life strips itself
of its own being,
an ephemeral flower
that knows no return.
«Poetry without borders. World Anthology. Vol. I / Poesía sin fronteras. Antología Mundial. Vol I»
Luis Cruz-Villalobos (Editor)
Germain Droogenbroodt, Stanley Barkan & Rafael Carcelén (Translators)
Edition by Independently Poetry & Ithaca Foundation (2022)