Jimmy Andrex was born and brought up in Wakefield and was educated at several schools which no longer exist! Despite this ominous start, he tries to find beauty and humour in the stories and conversations of the people around him. «For me, writing is all about other people: Everybody is worth something and their stories are worth telling.»
Following the publication of Too Many Villains in February 2008, Jimmy and his poetic sidekick John Irving Clarke decided to launch Red Shed Readings, a spoken word and music cabaret at the City's legendary Labour Club which is still running today and has featured the likes of David Peace, Joanne Harris, Ian MacMillan and Sophie Hannah as well as providing local writers with an audience and the chance to develop their performance skills. It also spawned the Red Shed Readings Open Poetry Competition, which is into its fourth year.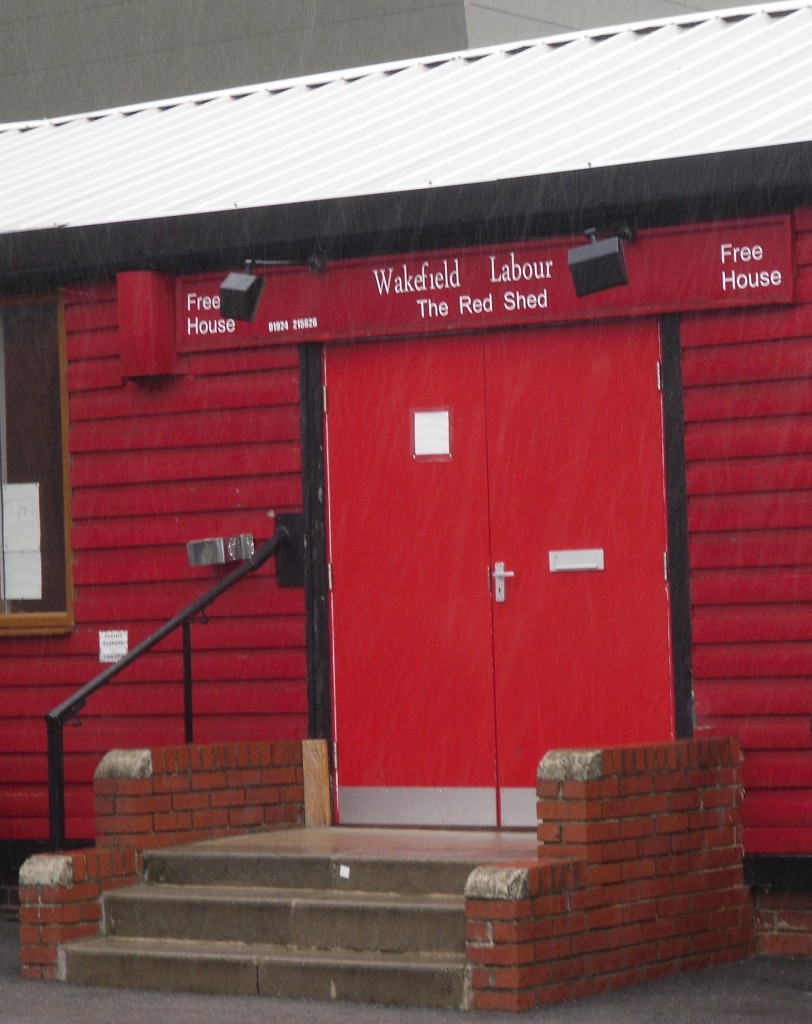 «It's all about craft, for me. We do not have control of whether we are geniuses, but we can work hard on the craft of writing. Secondly, it has to reach an audience, however small. And at the Red Shed we care about the impact we have, rather than bums on seats.»
Since 2008, he has published Gormless, in 2011 and Leet in 2013 and has performed all over the North of England, often as part of a double act with John Irving Clarke. In addition, he was Black Horse Poet of the Year in 2009 and 2011. His performances often use music, mixing hi-tech and low-fi with a variety of instruments, the most recent being a combination of samplers and a melodica!
His album of poems to music, entitled Cresties, is released on October 9th 2014 but is already available for free download at https://www.facebook.com/pages/Jimmy-Andrex-Cresties/872562006105713
When and how did you approach poetry?
I'd always written things, ever since I was a child, but on the estate I grew up on, admitting you wrote poetry was akin to confessing to a string of murders, so I kept it secret for many years. I was one of those people who has a drawer full of notebooks. Another drawback was that I knew what I'd written wasn't very good. I hadn't heard of workshops and crafting!
Eventually, after years of being a musician, writing in Rugby League fanzines and being a sports journalist, I was persuaded by John Irving Clarke to do a reading at Yorkshire Sculpture Park and then attend the Black Horse Poets where I was both intimidated and amazed by the craft of writing.
Tell us about your poetry activities, collaborations and publications.
The main commitment is to Red Shed Readings. We do six shows a year in Winter and Spring. It sprang out of a frustration with poetry events that seemed to consist of the same six or seven poets reading the same six or seven poems to each other every time and expecting other people to turn up.
John was contacted by an ex-pupil, Gareth Durasow, with some of his poems and we decided to put a small pamphlet together and stage a launch. Not wanting our guests to be driven to distraction, we had some music, invited a guest poet, Siobhan MacMahon and kept everyone's contributions short. To our amazement, the audience went home happy and we thought, «wait a minute…»
It struck us that performance is a vital part of the evolution of a poem, as is memorizing. The live poetry enhanced the poetry on the page, like in the old ballad tradition.
I used to feel a day wasted if I didn't complete a poem of some sort, it was an obsession, so I ended up quickly with about 400 poems until one day my wife asked me what I intended to do with them. It was at that point that we decided to publish Gormless through John's Currock Press. My daughter actually lent me the money to fund the print run, which was a bit strange.
Of course, every book has to have a launch event, which we ran like the Red Shed Readings, so even if people didn't buy or like the book, they had a nice evening, and were rescued from the telly for a couple of hours.
What is poetry to you?
I haven't a clue. I suppose it's the idea of something coming into being out of nothing, which is a magical thing. It's a doorway into a world where you meet interesting people, go to different places and your head feels healthy. Plus, there is a larger than average quota of people who remind you that you're not as mad as you thought you were. It's always a pleasure to meet them.
Of course, you're never happy with it. I drive my wife mad moaning how "I haven't written anything for ages," or complaining how my stuff's no good, but it's better than growing bitter into middle age like over-ripe fruit.
Jimmy Andrex was involved in the first part of the poetry twinning "Da terre a terre" between  although he couldn't make it to  Mondovì. The following poems, with the Italian translation by Silvia Pio, appears in the anthology published in Mondovì by Amici di Piazza.
Taste the sweetest apple
you ever had
as you walk round this garden
listening to your dad
list every species by their name,
lets you stroke a myrtle;
rubs your hands on pine needles
that smell just the same
as lemons then pause:
let silence sink in,
then through an old door
to a garden walled in,
filled with every fruit
good for food, every leaf
pleasant to the sight
like the hundred year old trees
which blew down that night
the storms came from the West.
Mum asks "how could you ever leave all this,
flesh of my flesh?"
But this isn't really Eden,
just beautiful and small,
and you, like those who stiffly posed
on endless creaking gangplanks,
could smell the milk and honey
across the wilderness and water,
never really left at all
or ceased to be a daughter.
***
Leeds Station Winter Sunset
Primer grey girders
streetlight daisies, time running out
for a sinking orange source
of life among green, going, going
gone to permafrost.
Mist takes over, looks down to take notes
and it's gone, leaving
satsuma reflected on sun's breath moisture,
ripped apart cotton wool,
in a quandary whether to remain
or give in to black.
***
Coventry Cathedral Precinct
The silver on the arch reflects a morning
like sun on swamped fields: Unbelievable
she snorts because the toilets aren't working
in the café near the two cathedrals
where the words of forgiveness in charred timbers
fly over her head like the wave of bombers
that graphite night. Sunlight on latte bubbles
where weapons sketched out on draughtsmens' tables
rained fire to burn souls; a powdered city
whose smoke swirled into shapes of defiance
then revenge: cities burnt without pity.
Now this rickety charcoal cross with wires
looks on burnt paninis with a weary grin
this morning under blue skies and spent wind.
***
Spanish Omelette
That starving student Sunday night
when your friends came in from the takeaway,
plastic bags buxom with food of the gods:
prawn fried rice and mushrooms
still fills my mouth with jealous juice.
I wanted it like I wanted you,
but all you had was an unwanted tin
of Spanish Omelette; a gift from your mum.
I loved you so much, I tried to eat it.
Looks were deceptive; it looked like pale sick,
but tasted like eggy snot. With sweetcorn.
And although you'd never said you loved me,
you watched me gag half of it down then said,
"You don't have to eat it. It looks like puke."
The sparrows under your window all knew
what we couldn't work out; the measure of true
love; they wouldn't touch it either.
(1) In County Cork, where the Titanic last made land but more importantly where millions of Irish people left never to return.
Da Terre a Terre, the Twinning Goes on
Da Terre a Terre
30/8/2014 Wakefield Library, Wakefield One