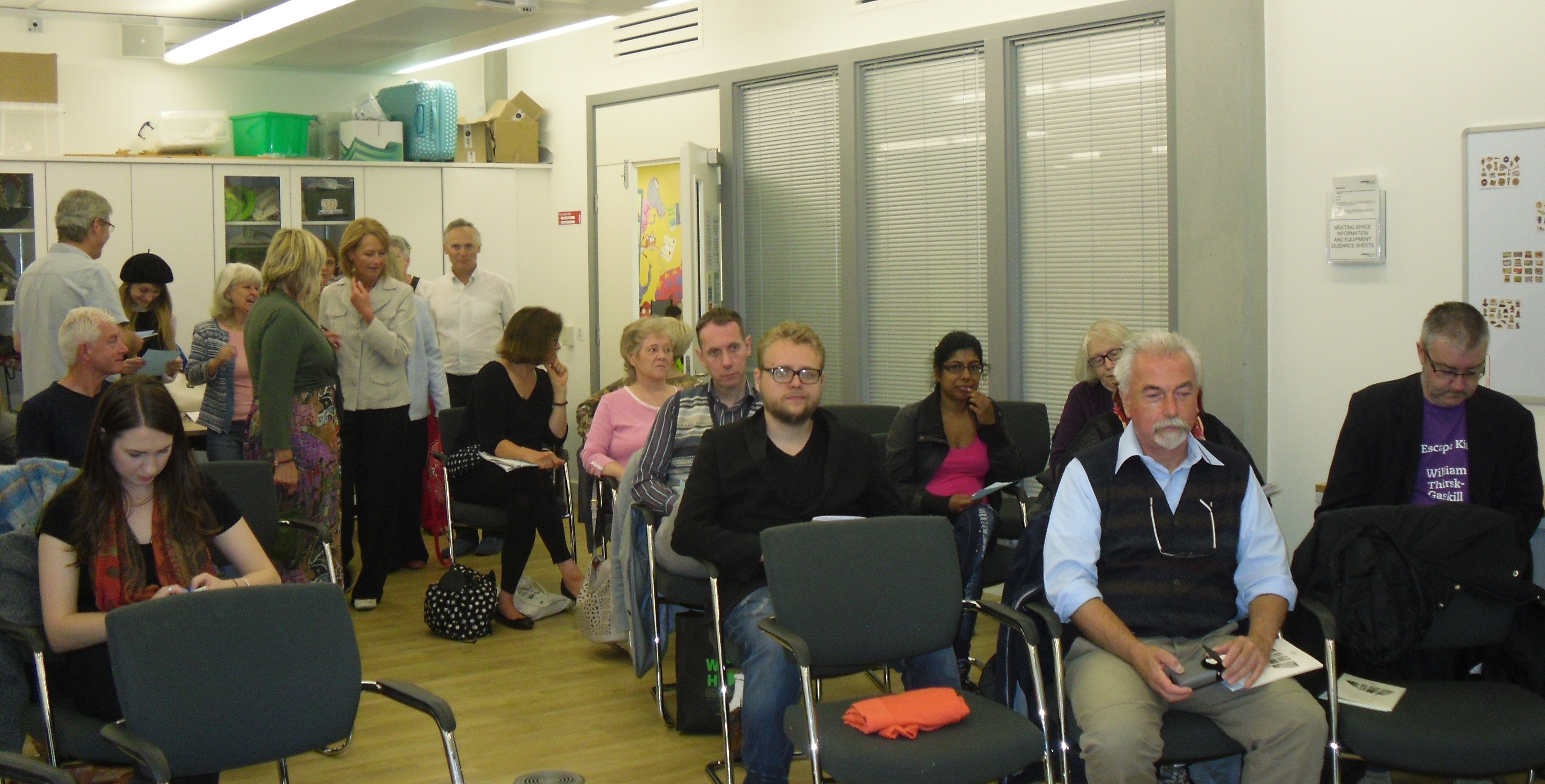 JIMMY ANDREX
Daniel, 45, an accountant, is on his way into one of Wakefield's two remaining libraries to renew his books. He's recently had a go at creative writing for the first time via a project advertised in his local paper asking for people who commute via the adjoining railway station.
On his way in, he bumps into some people he met at the project who invite him to a poetry reading due to start in half an hour in a room at the back of the library. The event is Da Terre a Terre, an hour of music, video and poetry, the fruit of a twinning between the Margutte writers of Mondovì, northern Italy, and Wakefield.
He's got nothing to do but the shopping, so why not.
What he finds is a small room with a large TV, packed with people of all ages plus a man in an old T-shirt who appears to be holding bagpipes.
Presently, John Irving Clarke, local writer and organizer of spoken word events, gives a brief introduction detailing how the event came to be, from the submission of a poem five years ago by Italian poet Silvia Pio, through exchanges of emails to a visit by John to Mondovì to promote a collection of poetry by writers from Mondovì and Wakefield, with translations by Silvia Pio. He then reads his poem I figli di Mondovì, written during and about his visit there last October.
Next, Jimmy Andrex, takes over and reads his poem Cuskinny in Italian and English, accompanying himself on a Kaossilator. This isn't getting the shopping done, but it's nothing like the black and white footage of earnest beatniks of his previous exposure to poetry readings. Intriguing.
Next, the aforementioned Silvia Pio, introduces some of her poems, again in English and Italian, which take the form of videos. He'd wondered what the TV was for. This is followed by Attilio Ianniello's reading of his acrostic poem Vitriol. Daniel, like most in the room, neither speaks nor understands Italian, but it somehow seems in keeping with the afternoon, bobbing along on waves of sound and words.
Up next, Laura Potts, who looks young enough to be having attacks of nerves about starting High School, but turns out to be 18, reads her poem The History of Home which has maturity and insight that Anne Sexton might have acquired had she lived long enough to qualify for her free bus pass.
At this point, the man in the T-shirt ambles to the front, apologises for not being very experienced and then picks up the bagpipes and does a 15 minute set of swirling, skirling noise that has the audience clapping along, swept spontaneously downstream like salmon.
Daniel glances at his watch and is shocked to realize he's been here nearly an hour as a string of local poets get up to read their shortlisted entries for the Red Shed Poetry competition. What strikes him is the variety of styles, the directness of the language and the vast age range of the readers. Plus, they all look like normal people, not a beard or a beret in sight.
At the end, no-one seems that keen to leave and people gather in clumps to have a chat for about half an hour afterwards. There is talk of going for a meal later, and leaflets are handed out for future events at different venues.
Daniel walks down the steps, out of the library and heads for the supermarket, an hour later anticipated. He looks up at the Victorian skyline, the shopping centres and the Pennine Hills in the distance and somehow it looks different to before.
(An article on the Wakefield reading is to be found here)