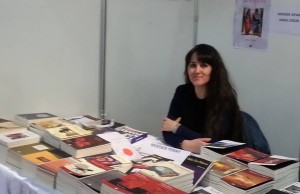 Müesser Yeniay was born in İzmir in 1984. She graduated from Ege University, with a degree in English Language and Literature. She has won several prizes in Turkey including Yunus Emre (2006), Homeros Attila İlhan (2007), Ali Riza Ertan (2009), Enver Gökçe (2013) poetry prizes.
Her first book Dibine Düşüyor Karanlık da was published in 2009 and her second book Evimi Dağlara Kurdum is a collection of translation from world poetry. Her second book Yeniden Çizdim Göğü was published in 2011. She has translated the poems of Persian poet Behruz Kia under the name of Lalelere Requiem. She has translated Selected Poems of Gerard Augustin together with Eray Canberk, Başak Aydınalp, Metin Cengiz (2011). She has also translated Personal Anthology of Michel Cassir together with Eray Canberk and Metin Cengiz (2011). Lately, she has published Contemporary Spanish Anthology with Metin Cengiz and Jaime B. Rosa. She has also published a book on modern Turkish Avant-garde poetry The Other Consciousness: Surrealism and The Second New (Modern Turkish Poetry) (2013). Her latest poetry book Before Me There Were Deserts was published in 2014 in İstanbul.
Her poems have appeared in the following magazines abroad: The Voices Project, The Bakery, Sentinel Poetry, Yellow Medicine Review, Shot Glass Journal, Poesy, Shampoo, Los Angeles Review of Books, Mediterranean Poetry (USA&England); Kritya (India); Casa Della Poesia, Libere Luci (Italy); Poeticanet, Poiein (Greece); Revue Ayna, Souffle, L'oiseau de feu du Garlaban (France); Al Doha (Qatar); Tema (Croatia).
Her poems have been translated into English, French, Serbian, Arabic, Hebrew, Italian, Greek, Hindi, Spanish and Romanian. She participated in poetry festivals like Sarajevo International Poetry Festival, September 2010 (Bosnia-Herzegovina); Nisan International Poetry Festival, May 2011 (Israel); Belgrad International Poetry Festival, September 2012 (Serbia); Voix Vives International Poetry Festival (Sete), July 2013 (France); Kritya International Poetry Festival, September 2013 (India), Galati/Antares International Poetry Festival, June 2014 (Romania).
Müesser is the editor of the literature magazine Şiirden (of Poetry). She is currently pursuing a PhD in Turkish literature at Bilkent University, Ankara, and is also a member of PEN and the Writers Syndicate of Turkey.
www.siirden.net/yazarlar/muesser-yeniay
http://diversity.org.mk/authors/muesser-yeniay/
http://innerartjournal.com/featured-poets-february-2014/muesser-yeniay/
http://www.poiein.gr/archives/23762/index.html
http://whistlingfire.com/2014/04/24/inside-shell/
Lament
To be a woman
means being invaded, O mum!
they took my everything
a woman took my childhood
a man, my womanhood…
God should not create woman
God doesn't know how to give birth
here, the ribs of all men
are broken
our necks are thinner than hair
men are carrying us
like a funeral on their shoulders
we have been under their feet
light like a feather
we flew from a world to an Adam
and my words are, oh mum!
their footprints….
***
Geography of Darkness
Don't close your eyes, now it's night
you can lose yourself
like ink
scattering on darkness
here
everywhere's where you are
here our face that falls by crashing light
is coming together
like a vase whose pieces unite
there are no spots on light…
the darkness that stands like a lover
embraces and includes you
here
everywhere's where you are
here's the same cloth that everyone wears
night
© Müesser Yeniay