SILVIA PIO
Those who have been in this part of Italy know how wild it is on the hills called Alta Langa. They are isolated and remote, people have left to find work elsewhere and those who have stayed, or come back, live on sheep breeding and hard-work wine growing. The cheese and wine produced, though, are of extremely high quality.
In January 2014 Cantina Clavesana, a co-operative wine making company, organized a conference on how to transform these areas "from marginal to original" and make their products known. A concert by an American singer closed the programme, which took place in a hamlet called Surìe, near Clavesana.
Reaching the place was not easy, the roads winding and narrow, the day bleak. The concert was in a small country church. You can imagine the surprise when we faced an exceptional singer, Carolyne Mas, and we attended a performance worthy of any theatre in Milan or Rome.
I was too emotionally moved to speak to her on that occasion, but I got in touch later and managed to interview her.
Videos shot at the Surìe concert:
That Swing Thing
Sittin' in the Dark
Born in the state of New York, Carolyne Mas has been a singer and performer since her teens. She moved around in the States, ended up in Greenwich Village, New York, and performed in a number of clubs during the '70s. She then had an acoustic audition for Infinity Records, but they were horrified: «A woman singing Rock 'n' Roll will never sell». They offered a deal to  record an album of ballads, which she declined. In 1978 Carolyne assembled a band of professionals with manager Faris Bouhafa  and producer Steve Burgh and worked with artists like Van Morrison, Jackson Browne, Bob Dylan.
Her first album, titled with her name, came out in 1979 on Mercury Records. She was very successful, although Mercury's mistakes in promoting her damaged her career. In 1980 Carolyne made the first-round draft of Grammy nominations in several categories. In the same year her second Mercury album, Hold On, was released and got enthusiastic reviews.
Carolyne performed throughout the country non-stop but her albums couldn't be found anywhere in the cities where she played to sold out crowds. In 1981 a live radio show, recorded and broadcasted the previous year, was purchased by Phonogram Records in Germany to be released as an album called Mas Hysteria, which was her biggest-selling record anywhere (although she didn't see any money from it). Also in 1981 Carolyne's third studio album, Modern Dreams, came out on Mercury. The latter offered tour support on return of  100% of her publishing. Not willing to do this, and unable to pay her band, Mas was forced to cancel an important showcase.
At the lowest point in her life, she took whatever work she could find, returning onstage only in 1985. Unfortunately in January 1986 she was stabbed in her sleep by a burglar and seriously wounded.
Later in 1986 Arista Records released We've Got the Love, a charity single (and video) including Carolyne, Bruce Springsteen, Southside Johnny, Nils Lofgren, Frankie Valli, and others.
In 1989 Action Pact was released in Germany on LP and CD and Carolyne went on a successful  tour in Germany. In 1990 she performed on a Russian television show, broadcast live to an estimated 400 million viewers. In 1992 the double Live! CD, from a second German tour, was released on SPV Records and in 1993 Reason Street came out again on SPV Records, showcased on a promotional club tour of Germany.
The next release was a 3-CD set on the TIM (The International Music Company) label titled Sittn' in the Dark, which reissued the complete Live! and Reason Street CDs.
On 17 March 2002 Carolyne's son Gabriel was born. In 2003 she compiled a retrospective, Beyond Mercury, and released it herself online only. In 2005 Steve Burgh suddenly died and she decided to release Brand New World, the album they made in 1999, as a tribute to him.
In 2008 Carolyne reunited with songwriting and producing partner Mark Johnson to record Italian singer/songwriter Graziano Romani's song, The Most Crucial Enemy, for a compilation released exclusively to Romani's fan club in Italy.
For several years Carolyne remained absent from the world of music but in 2013 she returned to the stage once more, completing a successful solo acoustic tour of both Italy and Germany.
Italian roots rock label Route 61 Music was moved by Carolyne's performance so much that they decided to record her performing some of her own songs as well as a few select covers penned by her colleagues and friends. Across the River was released in October 2013; it is available from Amazon Germany, France, Italy, Spain, and the UK and can be downloaded on Amazon or on iTunes. In January of 2014, Carolyne completed her third tour of Italy, backed by Italian artist Daniele Tenca  and his superb Blues for the Working Class Band.
Carolyne Mas lives between Pearce, Arizona, and Yonkers, NY.
Across the River promotional video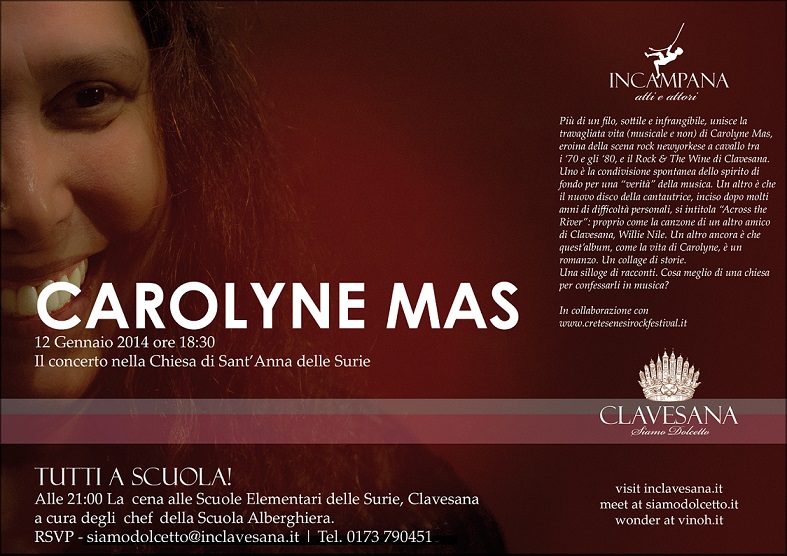 An Interview with Carolyne Mas
How did you end up performing at Surìe?
Ermanno Labianca of Route 61 Music, the label that released Across the River, arranged my concert at Clavesana. I am so glad that I had this experience, because it was the highlight of my tour. I don't recall ever having performed in such a uniquely special place. The reception from the people was so loving and so very inspiring.
Your father was a pianist and singer, you started performing very early, at 13. One of your songs goes: "I was born to do that thing". Were you really?
Sometimes I wonder. In my life, I have had many experiences that are not related to music at all. When I wrote That Swing Thing in 1990, I hadn't yet experienced many of those things. I think I was born to care, because the common thread throughout my life has been my ability to feel things, to communicate them and to be an advocate for those in need.
In March of 1980, Ed Harrison of Billboard Magazine wrote: «Mas is the rock world's best kept secret. Onstage, she is as explosive as a 20 megaton bomb, with a voice that can send shivers running through your body». Why do you think you haven't received the worldwide success you'd deserve?
I remember when the Billboard article came out, Mercury records was very angry when they read it, but yet they had not succeeded in promoting me effectively. I was really in the wrong place at the wrong time, and no one knew quite what to do with me, how to market me. I was too unique, and did not fit into any niche that they already had. Women were not supposed to rock like men in the US. I think I should have moved to Europe back then, because Europeans have always been more progressive in their acceptance of strong women. Eventually I stopped playing in the US, because I had to find other ways to survive.
You have been compared to many famous artists: Janis Ian, Patti Smith, Barbra Streisand, and Carly Simon up to Lou Reed and Bruce Springsteen. But of course you are you. Who do you think Carolyne Mas is?
In some ways, I am all of those people. We are all the sum of whatever we have come in contact with during our lives. I was also influenced by classical music, jazz and composers of the 30′s and 40′s, because of my parents and how I grew up. I learned to love and appreciate anything musical. I think that the most challenging thing for any artist is taking what they have learned from others, and creating something of their own from it.
And now, what's going to happen?
I don't really have any plans at all. I try to live my life as it happens, because it is always full of surprises. I am, though, collaborating on a book with my boyfriend Terry. It is a book of photographs, most of them taken in Italy, poetry and digital artwork. The blog I have created for this book is at http://thedearjohnbook.blogspot.com
Interview in Italian: Stefano Tesi interviews Carolyne Mas and Daniele Tenca, leader of the Blues for the Working Class Band, 12 January 2014