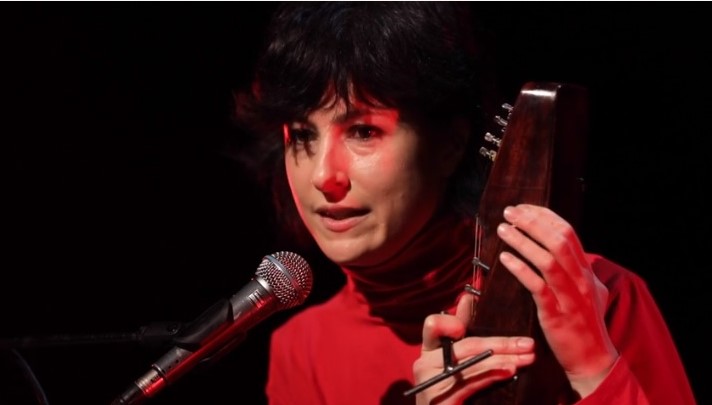 RICHARD BERENGARTEN
I wrote this poem in 2020, immediately after hearing Olesya's extraordinary and beautiful renderings of poems by ten Ukrainian poets: Iryna Starovoyt, Olech Lysheha, Yury Izdryk, Marianna Kijanowska, Kateryna Babkina, Lyuba Yakimchuk, Yurii Andrukhovych, Halyna Kruk, and Serhiy Zhadan.
Telling Sounds: Olesya singing
All these moving poems in Ukrainian take on far huger areas of implication and resonate into vaster depths of meaningfulness – even including prophecy – when they're read and heard through Olesya's voice, across the black light of Putin's 2022 invasion. These texts are translated into English by Nick Roth.
I do hope readers will use my small poem as a gateway to Olesya's unique singing. A voice like hers is an embodiment and witness of life itself and a guardian of our futurity. Out of pain, despair, tragedy and death her singing breeds strength courage, hope and life – as do all the Ukrainian poems she transmutes into song.
Since the 2022 Russian invasion of Ukraine (24 February), this small poem for Olesya has been translated into a number of languages. Here below, the translations.
Cambridge 25 April 2022
ENGLISH ~ Richard Berengarten
On hearing Olesya Zdorovetska
singing her settings to Ukrainian poems
Once this singing starts it somehow never
stops even when all the lights go off
and clouds cover the entire sky. This
is a kind of singing not picked up by them
but only by you or me – or you and me.
This is a singing you might hear in dreams.
It might well waken the unpitied dead
stretching out helpless hands to be redeemed
and – in the feather-breadth of one unbreathed
unbidden instant – make them break out in smiles.
Cambridge, 30 October 2020
*
BAVARIAN – Veronika Kallus
Baim Hearn von da Olesya Zdorovetska
irane Vertonungen vo ukrainische Gedichde
Wenn des Singa oamoi ofongt heads iagandwey
nie wieda af ned amoi wenns Leyd ausgeyd
und Woikan iban ganzn Himme zuign. Des
is so a Singa des dene ned eigehd
sondan nur dir und mir – oda mir und dir.
Des is so a Singa desd vielleicht im Draam heasd.
Es kannt scho de Doudn aufwecka de neamadm leid dann und
de earane Hend ausstreckand dass erlöst wern
und se – im Flieglschlog vo am ungschaufdn
ungwoidn Augnblick – scho zum Locha bringa.
*
BENGALI ~ Bashabi Fraser
যখন শুনেছি ওলেসিয়া জদরভেটস্কার গানে রূপান্তরিত উক্রেনের কবিতা
এই গান যখন শুরু হয়ে তখন যেন
আর থামে না, বাতি নিভে যাওয়া সত্ত্বেও
এবং মেঘ সারা আকাশ ঢেকে দিলেও, থামে না.
এই সব গান ওরা শুনতে পায়ে না
শুধু তুমি বা আমি, বা তুমি ও আমি শুনি.
এই গান কখনো তুমি স্বপ্নে শুনতে পারো
এটা হয়তো বা করুনারিক্ত মৃতকে জাগাবে
যারা অসহায় হাত বাড়ায় মুক্তি প্রার্থনা করে
আর – এক ফলটা-পালকের একটা না-ফেলা নিঃশ্বাসের
অবাঞ্চিত মুহুর্ত – তাদের মুখে হাসি জাগায়.
অনুবাদ: বাসবী ফ্রেসার, ২২ মার্চ ২০২২
Jokhon Shunechhi Olesya Zdorovetskar Gaane Rupantorito Ukrainer Kobita
Ei gaan jokhon shuru hoe tokhon jeno
Aar thame na, bati nibhe jaoa shotteyo
Ebong megh shara aakash dheke dileo, thame na.
Ei shob gaan ora shunte pae na
Shudhu tumi ba ami, ba tumi o ami shuni.
Ei gaan kokhono tumi swapne shunte paro
Eta hoeto ba karunarikto mritake jagabe
Jara ashohae haat baray mukti prarthana kore
Aar – ek phalta-palaker ekta na-phela nishwasher
Abanchito mohoorto – tader mukhe hashi jagae.
*
CHINESE ~ Chen Zhirui
闻奥莉西雅独唱乌克兰诗歌
歌一唱起
就不再止歇
即使所有的灯光熄灭,乌云满天
这是他们听不到的歌声
唯你或我,或你与我
可闻
这是你梦中才听得到的歌声
甚至唤醒了无人同情的亡灵们
及伸出的等待救赎的无助双手
在轻若鸿毛的屏息瞬息间——
径自让他们绽开了
李道 (Richard Berengarten) / 陈志锐译
*
FRENCH ~ Sabine Huynh
En entendant Olesya Zdorovetska
chanter ses adaptations de poèmes ukrainiens
Une fois que ce chant commence jamais il ne
cesse même après l'extinction des lumières
et le recouvrement du ciel par les nuages. C'est
une sorte de chant qui n'est pas repris par eux
mais seulement par toi ou moi – ou toi et moi.
C'est un chant que l'on peut entendre en rêve.
Il pourrait réveiller ces morts que personne ne plaint
tendant leurs mains impuissantes pour être rachetés
et – dans l'épaisseur plumeuse d'un moment retenu
et spontané – il pourrait faire éclore leurs sourires.
*
German – Theo Breuer
Olesya Zdorovetska Vertonungen ukrainischer Gedichte singen hören
Hat dieser Sang einmal begonnen, hört er, irgendwie,
niemals mehr auf – selbst wenn alle Lichter ausgehn
und Wolken den ganzen Himmel verhüllen.
Dies ist keine von denen aufgenommne Weise,
sondern alleine von dir oder mir – oder von dir und mir.
Dies ist ein Sang, den du in Träumen hören könntest.
Gewiß könnte er die unbetrauerten Toten aufwecken,
die hilflose Hände ausstrecken, um erlöst zu werden,
und sie – in der Federbreite eines ungeatmeten,
unberufnen Augenblicks – unvermittelt lächeln lassen.
*
HINDI ~ Vibha Pankaj
जब मेंने ओलेसा ज़दरोवेत्स्का को यूक्रन की कविताओं पर आधारित गीतों को गाते सुना
यह गान एक बार शुरू हो जाए तो
कभी रुकता नहीं, चाहे सारी बत्तियाँ बुझ जाए
और बादल समस्त आकाश को ढक लें, .
यह ऐसा गान है जिसे वे सुन नहीं पाते
सुनते है तो केवल तुम या मैं, या तुम और मैं.
यह गान शायद तुमने स्वप्न में ही सुना होगा.
वही गान जो दयालु मृतकों को जगा दे
जो अपने असहाय हाथ फेलाकर मुक्ति की प्रार्थना करें
और – एक निर्जीव की पंख से भी कोमल ष्वास जैसे
उन अनबुलाये क्षणो में उनके मुख पर मुस्कान जगा दे.
अनुवाद: विभा पंकज, 28 मार्च 2022
Jab mene Olesya Zdorovetska ko Ukrain kee kavitaaon par aadhaarit geeton ko gaate suna
Yah gaan ek baar shuroo ho jaae to
Kabhee rukta naheen, chaahe saaree battiyaan bujh jaae
Aur baadal samast aakaash ko dhak len.
Yah aisaa gaan hai jise ve sun naheen paate
Sunte hai to keval tum yaa main, yaa tum aur main.
Yah gaan shaayad tumne svapna men hee sunaa hogaa
Vahee gaan jo dayaalu mritako ko jagaa de,
Jo apane asahaay haath phelakar mukti kee prarthana karen
Aur – ek nirjeev kee pankh se bhee komal svaas jese
Un anabulaaye ksano men unke mukh par muskaan jagaa de.
*
ITALIAN ~ Silvia Pio
Ascoltando Olesya Zdorovetska
cantare i suoi arrangiamenti di poesie ucraine
Una volta che questo canto inizia sembra non
finire anche quando le luci si spengono
e le nubi coprono il cielo intero. Questo
è un canto che loro non imparano
lo impariamo tu o io – oppure tu e io.
È un canto che potresti sentire nei sogni.
Potrebbe risvegliare i morti che nessuno piange
che tendono le mani indifese per essere redenti
e – in un soffio piumato di un istante senza fiato
e senza peso – farli evadere sorridenti.
*
MACEDONIAN ~ Katica Kulavkova
Слушајќи ја Олесија Здоровецка
и нејзините изведби на украинските песни
Штом еднаш започне ова пеење
Никогаш нема да запре, па дури и
кога ќе се изгаснат сите светла
и кога облаците ќе го покријат сето небо.
Ова пеење не можат да го слушнат тие
туку само ти и јас – или јас и ти.
Ова пеење би можеле да го слушнете и на сон.
Тоа би можело да ги разбуди непрежалените мртви
пружајќи им рака, немоќно да ги откупи
и – во пердувестата прегратка на еден простран
непоканет миг, без здив – да ги натера да се насмевнат.
превод Катица Kулавкова
*
NORWEGIAN ~ Jostein Sæbøe
Eg høyrde Olesya Zdorovetska
syngja songar til ukrainske dikt
Når denne synginga fyrst tek til
stansar ho liksom aldri opp,
ikkje eingong når alle ljos sloknar
og mørke skyer fyller himmelkvelven.
Dette er song som ikkje dei får tak i,
berre du og eg – eller du og eg.
Dette er song som du kan høyra i draumar.
Ho kan òg vekkja dei uforbarma døde
som strekkjer ut hjelpelause hender
for å verta utfridde
og – i ei fjørbreidd av ein stum,
ubeden augneblink – få dei til
å bryta ut i smil.
*
PORTUGUESE ~ Helena Cardoso
Ao ouvir Olesya Zdorovetska
cantar poemas ucranianos
Este cantar uma vez começado parece nunca
parar, mesmo quando as luzes todas se apagam
e as nuvens cobrem todo o céu. É
o género de cantar que eles não escolheriam,
só tu ou eu – ou tu e eu.
É um cantar que podias ouvir em sonho.
Facilmente acordaria os mortos não chorados
de débeis mãos estendidas para serem redimidos
e – no fio de pena do instante parado,
inesperado – eles desatariam a sorrir.
*
SHETLANDIC ~ Christine De Luca
On hearin Olesya Zdorovetska singin
her settins tae Ukrainian poems
Eence dis singin sterts somehoo hit nivver
whites even whin aa da lichts is slockit
an cloods cover da hael lift. Dis
da kind o singin dat maks nae sense ta dem
but only ta dee or me – or dee an me.
Dis a singin you micht hear in draems.
Hit micht weel waaken da unconsoled dead
haddin oot helpless haands ta be redeemed
an – i da hair's-breadth o wan unbraethed
unbidden meenit – mak dem brack oot in smiles.
*
SLOVAK ~ Jana Kantorová-Báliková
Olesya Zdorovetska spieva
zhudobnené verše ukrajinských básnikov
Keď sa rozoznie tento spev, akosi neustáva,
dokonca aj keď všetky svetlá zhasnú
a celé nebo zakryjú mraky. Toto
je druh spevu, ktorý si nevybrali oni,
ale len vy alebo ja – alebo vy a ja.
Toto je spev, čo možno začujete vo sne
a azda zobudí aj nemilosrdne mŕtvych,
načahujúcich bezmocné ruky k vykúpeniu,
a – v rozmedzí jedného ako pierko ľahkého
neviazaného okamihu – spôsobí, že sa naširoko usmejú.
*
SPANISH – Miguel Teruel
Al oír a Olesya Zdorovetska cantando sus arreglos para poemas ucranianos
Una vez este canto comienza pareciera que ya nunca
terminara ni siquiera cuando todas las luces se apagan
y las nubes encapotan el cielo entero. Este
es un modo de canto imperceptible para "ellos"
pero "tú" o "yo" lo escuchamos – o tú "y" yo.
Este es un canto que podrías oír mientras sueñas.
Bien podría despertar a los muertos no llorados
que extienden las manos desvalidas para ser redimidos
y – en un instante leve tal pluma, ni espirado
ni esperado – hacer que aparezcan sonriendo.
(Edited by Silvia Pio)