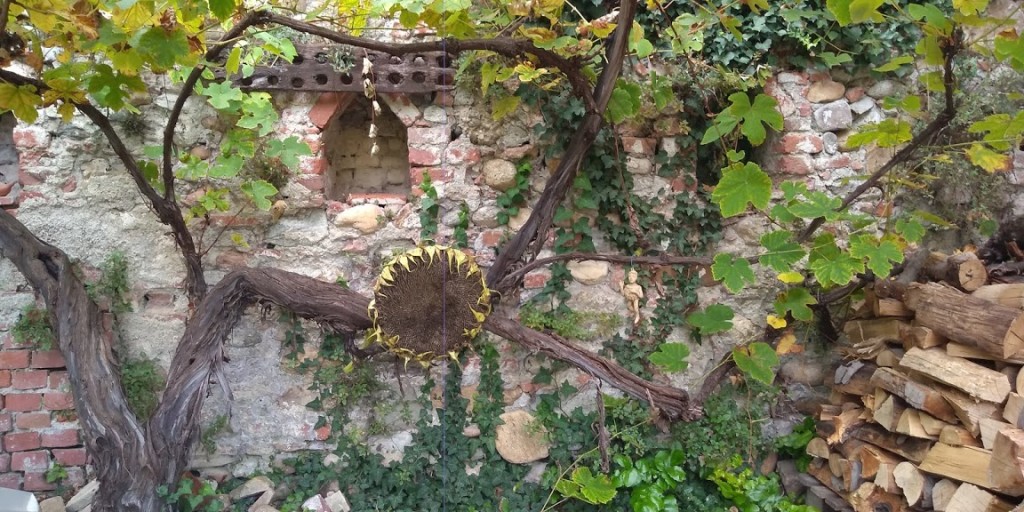 LESLIE MCBRIDE WILE
September is over.  I've written next to nothing, but our cantina is filling up nicely with potatoes, onions and winter squashes, apples for cider, jars of salsa, fruit preserves, pickles.  Any thoughts that might have been worth exploring and sharing on paper have come while I've had a spading fork in hand or a pot of gingered pears on the boil, and they never quite made the leap from my mind to the page.  There are only so many hours in a day, and the waning light gives a sense of urgency to every task—dividing perennial flowers, planting trees and shrubs, tearing up the vegetable patch, cutting back lavender, roses, grapevines.
Schools in Piemonte re-opened on 14 September with a full set of protocols for detecting and containing coronavirus infections.  Locally three different schools have quarantined students and teachers from at least one classroom, but community spread appears to be contained for now.  And yesterday the scientific technical committee (CTS) of the Italian Senate approved the use of rapid-result (30 minutes) testing currently used in airports for use in schools.  Italy's new case numbers remain low relative to other places in Europe, a fact that is getting quite a lot of attention in the press.    https://www.theguardian.com/commentisfree/2020/sep/28/italy-covid-19-response-sweden-coronavirus
Our weather is still warm and pleasant during the day; we're eating lunch on our terrace but have moved indoors for supper—evenings cool down quickly and it's full dark by 7:30 pm.  My husband is finding the change of seasons a novelty after 3 years living on the equator, where there is only a wet season and a dry one, and every day has almost exactly 12 hours each of daylight and darkness. Last week the furnace inspector came for our annual check-up, and we lit the dining room fireplace the other night as much for the cheery light as to take a chill off the room.  I'm still meeting friends, one or two at a time, for coffee at outdoor tables but as the weather cools we'll have to decide whether to move indoors or find another way to meet–walking briskly, maybe.
September is over.  We've done a lot in 30 days: walked with friends in the largest pine forest in southern Europe, planted a little hedge of blueberry bushes, made apple cider and grape juice, brought in the harvest, both cultivated and wild.  We are getting a ready-for-winter feeling, which is a good one, but there are many warm days still ahead in October and much yet to do.