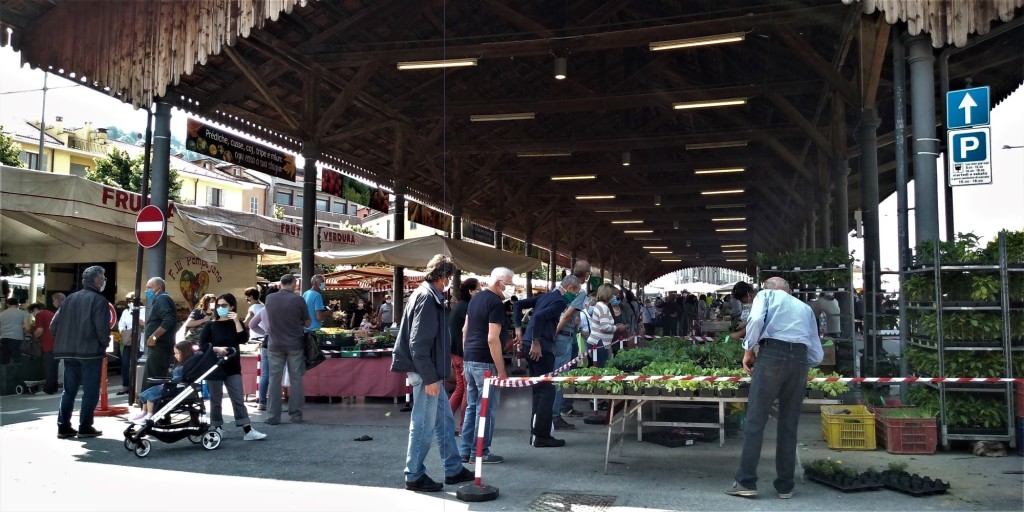 LESLIE MCBRIDE WILE
15 May
I got a call today from the receptionist in our dentist's office, and now my appointment of 13 March is re-scheduled to Friday, 22 May.  This feels like a momentous occasion; the cancellation of my original appointment began the chilling realization that public life was shutting down.  Slowly, carefully, we are taking the next steps into Phase Two: living with the virus.  It's a significant milestone but not a real watershed yet–the After to the Before—it doesn't close the parenthesis, it's not the other bookend.  It feels a bit like taking a walk with a feral pet, one we must exercise but can't trust not to turn and attack.
In the next weeks we will begin shopping again for clothes, getting our hair cut and styled, eating in restaurants, taking coffee in bars.  We will be able to visit not only with family but also with friends.  We will move about within our own Region without a self-declaration document stating our reason for leaving home and our destination.
17 May
In the Saturday farmers' market yesterday: more shoppers, a more relaxed vibe, socially distanced groups of people chatting through their masks, the return of Andrà Tutto Bene.  This message, which conveyed solidarity in the early days of the crisis, now seems to carry a more calibrated message of determined hopefulness and an unwritten subtext: as long as we all remember the suffering and the sacrifices of the last three months, remain vigilant, follow the rules.
18 May
It's a bit ironic that Italy's official day of re-opening should fall on a Monday.  Many businesses take Mondays as their chiusura settimanale, or weekly closing day, so many remained shuttered even though certain restrictions loosened today.  This may be a holdover from the traditional weekend closing most all retail shops once observed: from noon on Saturday until Monday mid-afternoon it was impossible to buy food, clothing, housewares, hardware, or cigarettes.  Only bars, giornalai, and designated pharmacies remained open, testament to Italians' unwillingness to forego daily espresso and newspapers, and a tendency toward hypochondria.  In any case, tomorrow is a market day; then we'll see a real difference in the number of pedestrians and shoppers on the streets.  As for me, I am most looking forward to seeing our housekeeper on Thursday; I'm pretty bored with doing housework!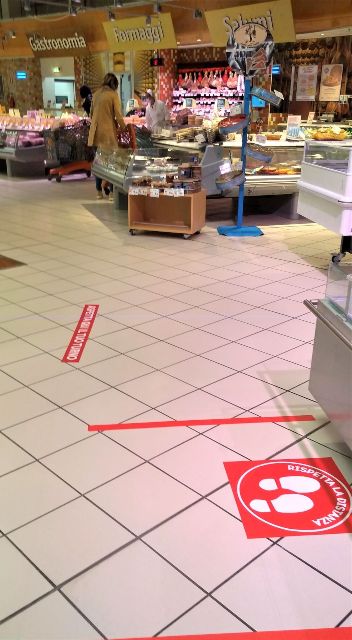 23 May
Yesterday afternoon I went to our dentist in Villanova for a regular cleaning, postponed since 13 March.  The experience was disturbing and reassuring, in equal parts.  I waited outside the office door while another patient checked in and took a seat in the waiting room.  I entered in turn, sanitized my hands with gel from a dispenser, and found the receptionist covered head to foot in a white hazmat suit and plastic face shield.  We exchanged greetings while she took my temperature with a laser thermometer.  She asked whether I had any symptoms (fever, cough, sneezing, sore throat), had been in contact with anyone with symptoms, or had tested positive at any time for COVID-19.  She placed my handbag in a plastic bag behind the reception desk, and I was free to move into the waiting room.  A center table was bare of the usual array of magazines, and the large window stood open to circulate fresh air.  The other patient and I sat at opposite sides of the room; after a few minutes she was called and directed to a treatment room.  Minutes later I was shown to a room at the opposite end of the corridor.  The hygienist wore the same protective gear as the receptionist; she placed a plastic apron around my neck, gave me a cover for my hair, took my eyeglasses and gave me a pair of goggles.  Only then did I remove my mask and the familiar rituals of regular dental hygiene begin.
Afterward, it was still just mid-afternoon.  Feeling somehow liberated, even festive, I decided to stroll through Breo to see how the commercial center of Mondovì was faring some days after re-opening. The framing shop was open, so I went in to collect the map I'd left there in mid-February.  In the erboristeria across the street (literally an herb shop, similar to a natural foods store) I bought rice and salt, whole spices and a tisana (herbal tea).  I returned to my car via a back street, stopped into my favorite clothing shop and bought a blouse.  All the merchants were glad to be open for business, hopeful the worst is over.  All wore masks, and hand sanitizer was offered just inside each open door.  I headed home feeling I'd done a bit to support our local economy.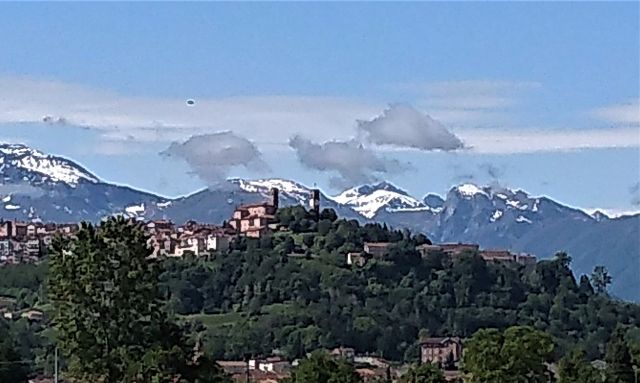 24 May
The Saturday farmers' market is a sort of bellwether event; every week we take an informal reading of changes in our community, in our neighbors' behavior and our own level of comfort in public spaces.  Yesterday felt nearly normal despite face-masked shoppers and vendors, hand sanitizing stations, an obvious police presence, and the red and white tape that indicates proper social distancing.  While not crowded, the big piazza along the river was lively and loud.  Groups of people strolled, shopped, stopped to chat.  Non-food stalls have returned to the market, and vendors hawked shoes, clothing, hardware, plants and flowers, sewing notions and housewares.  Without a doubt, Mondovì is coming back to life, open for business, living with the virus.