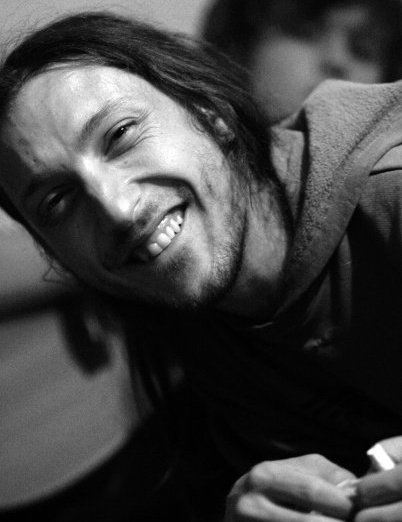 Whetted Paths
(since my feet will not walk on anything else)
I look for you like a needle in a haystack
like an iced plane
on a melting island
in which I could
put a polar bear
so that it feels a bit
safer
I look for you like I would a mirror reflection
hiding my age
like a bicycle hidden in the attic
in order to ignore my youth,
I look for you like I would the knife
of the neighbor who slaughtered our footballs,
or like the net, the fish trap, the sack
we went fishing with
along the river half-dried up
I look for you like for a Manila hemp thread
torn off the kite
that would fly off in the endless blue
we would patiently go and pick it up
so that we could try
a new
I look for you like I would my secret crush
from the days of childhood folly
or like sandpaper
to sand off the beer bottle caps
so they'd slide down the tarmac
when we played
a game of Paths
and I know you are lost on a path
searching for something
and you'd turn round
and speak my name
like you would a pledge,or the ancestors' forgotten shadow
as proof that my ludens exists
to demonstrate there is
no pool we haven't leaped over
that hasn't tried to do us harm
and there is no man that has scared off
our presence
there is no child unborn wanting to break
our unframed family
mirror
- of course seven years of bad luck
will befall on us,
If not a lifetime…
we are human,
that's why we've fallen
Here.
*
A Recycled Trimester, a Sign of Relief
(days in which we collide, but in which, as frames from the wrong movie, we get alienated, we pass one another)
We throw away time like it bears no meaning
We let the rain wash off
Approximate sins daily as we go on
With our game – you started it!
These nights get their warmth from the last of the fires
Vernal paganism and neoplastic nerves
- old journals, the scent of unheard tales
Under the street pines you can hear the wind rustling,
You'd want to drain the marrow out of air's ribs
Our interest is exclusive,
Our attention – shocking
The desire to change something – Hurry up!
We throw hope in the maze of despair
Then squeal like white mice stuck in bitterness
Like most beautiful animals do, we beg to have our fur stripped
All while feeling the flaying an inch at a time
The next day we wake up
With coffee consoling us
That at the bottom of the mug
Someone's put poison
To make our day shorter
And wherever we may go, we'll be
Welcomed with cake
We invest in the wrong sighs,
We are all a 'but' in the wrong theater.
We lose what little we have
From what we've not enough
To purchase more often:
Time, patience, gazes, warmth and smiles
Constant (re)appearing
Heavenly, otherworldly delights
A trap is every attempt to close the door
You've never opened before
We're miniscule souls, specks of dust lost in the cosmos
Dreaming of the grand gardeners' magical gardens
Yet we never seem to plow in our own
We're nowhere near producing food
Yet we're considering flowers
We miss the busses
And pay through the nose for taxis
We forget our phones on the seats
And let our dreams be eaten
And in the end we get fevers
And inner cold sores of the soul
And the odd anthill in our weakness
Which,
Again pollutes our joy.
*
The Forgotten Three-Legged Chair We Should All Sit On
Proud of the past
Unstable at present
We tremble in front of the future
We cut down trees knowing
You cannot build a terrain for football
On a hill on which you can't
See the goals posts
We run uphill with rocks in our pockets
Doors and windows creak no more
Yet behind them the same snobs
Get rid of us like last year's preserves
They won't even smell us
They scatter us around the storehouse
As destroyed, invalid evidence.
What happened to true values?
Everyone is (being) in charge of
The Lost Sane Attitudes Department lately.
One day I'll collect all the flags flying in vain
And put them in the washer
As they all need cleaning – together
Using the same detergent and fabric softener
As that should make the new freedom!
We fly around life like plastic bags in the wind
In a feature-length silent film. Those who recognize this,
Do so even more.
The grand will depart, the young souls arrive
- except those washed up ashore
Will they be grand or swallowed by fevers?
In an abundance of roughness, dumbness, insignificance,
Everyone's in pursuit of a place to
Scream out all that bothers them.
We dream to be cherries, yet
We're worms hidden within
A mandala of sand left in the wind is what we are
Until someone stops breathing
- and then we continue with self-destruction.
Mitko Gogov is an entrepreneur and conceptual artist, a published writer of poetry and short stories born in 1983 in Skopje, Macedonia. He is a Youth worker and civil activist, a blogger, open to communication at #culture #art #media.
He writes poetry, short stories, essays and journalism. He writes haiku, senriu, renga which he publishes occasionally in the microblogosphere Twitter, and has been published in London by Yoko Ono as well. His work so far has been presented and translated in several anthologies, collections and journals of literature and art in India, Pakistan, Philippines, USA, Russia, Spain, Mexico, Argentina, Czech Republic, Germany, Serbia, Croatia, Albania, Bulgaria. His first collection "Ice Water" was published in 2011 in Serbia, and in 2014 issued in Macedonia, in the edition "Fires" for the publishing house "Antolog", supported by the Ministry of Culture.
As a conceptual artist with several exhibitions, installations, performances, scenery, short movies and multimedia projects, Gogov has participated in international group exhibitions and projects in Macedonia, Serbia, Bulgaria, France, Norway and Italy.
He is President of the Association for cultural development and protection of cultural heritage "Kontext – Strumica" and organizer of the international movement and festival "100 Thousand poets for change" in Macedonia, Strumica. He is CEO and founder of the internet portal strumicaonline.net and one of the editors at the e-zine for culture and literature reper.net.mk. He organizes many other cultural and art events, collaborating with youth, art, film and theater festivals.
As a youth trainer he provides diverse creativity workshops such as: forum theater, multimedia, design, stick art, street art, graffiti, use of organic and recycled materials in contemporary art.
(Translation from Macedonian language: Aleksandar Mitovski)
Edited by Silvia Pio