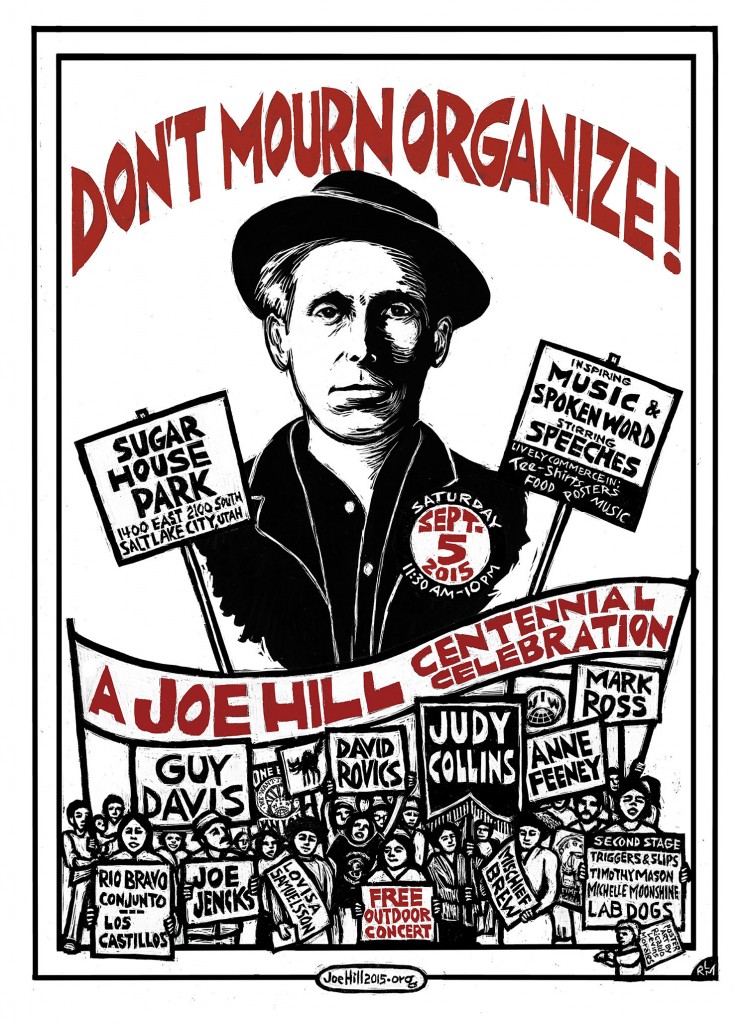 ATTILIO IANNIELLO, LESLIE MCBRIDE WILE and SILVIA PIO (edited by)
The Preacher and the Slave
(1911, take-off on the hymn "Sweet Bye and Bye", often sung by Salvation Army bands)
Long-haired preachers come out every night,
Try to tell you what's wrong and what's right;
But when asked how 'bout something to eat
They will answer with voices so sweet:
CHORUS:
You will eat, bye and bye,
In that glorious land above the sky;
Work and pray, live on hay,
You'll get pie in the sky when you die.
The starvation army they play,
They sing and they clap and they pray
'Till they get all your coin on the drum
Then they'll tell you when you're on the bum:
Holy Rollers and jumpers come out,
They holler, they jump and they shout.
Give your money to Jesus they say,
He will cure all diseases today.
If you fight hard for children and wife –
Try to get something good in this life –
You're a sinner and bad man, they tell,
When you die you will sure go to hell.
Workingmen of all countries, unite,
Side by side we for freedom will fight;
When the world and its wealth we have gained
To the grafters we'll sing this refrain:
FINAL CHORUS:
You will eat, bye and bye,
When you've learned how to cook and to fry.
Chop some wood, 'twill do you good,
And you'll eat in the sweet bye and bye.
***
The Tramp
(1913)
If you all will shut your trap,
I will tell you 'bout a chap,
That was broke and up against it, too, for fair
He was not the kind that shirk,
He was looking hard for work,
But he heard the same old story everywhere:
CHORUS:
Tramp, tramp, tramp, keep on a-tramping,
Nothing doing here for you;
If I catch you 'round again,
You will wear the ball and chain,
Keep on tramping, that's the best thing you can do.
He walked up and down the street,
'Till the shoes fell off his feet,
In a house he spied a lady cooking stew,
And he said, "How do you do,
May I chop some wood for you?"
What the lady told him made him feel so blue:
CHORUS
'Cross the street a sign he read,
"Work for Jesus," so it said,
And he said, "Here is my chance, I'll surely try,"
And he kneeled upon the floor,
'Till his knees got rather sore,
But at eating-time he heard the preacher cry:
CHORUS
Down the street he met a cop,
And the Copper made him stop,
And he asked him, "When did you blow into town?
Come with me up to the judge."
But the judge he said, "Oh, fudge,
Bums that have no money needn't come around."
CHORUS
Finally came that happy day
When his life did pass away,
He was sure he'd go to heaven when he died,
When he reached the pearly gate,
Santa Peter, mean old skate,
Slammed the gate right in his face and loudly cried:
CHORUS
In despair he went to Hell,
With the Devil for to dwell,
For the reason he'd no other place to go.
And he said, "I'm full of sin,
So for Christ's sake, let me in!"
But the Devil said, "Oh, beat it! You're a 'bo!"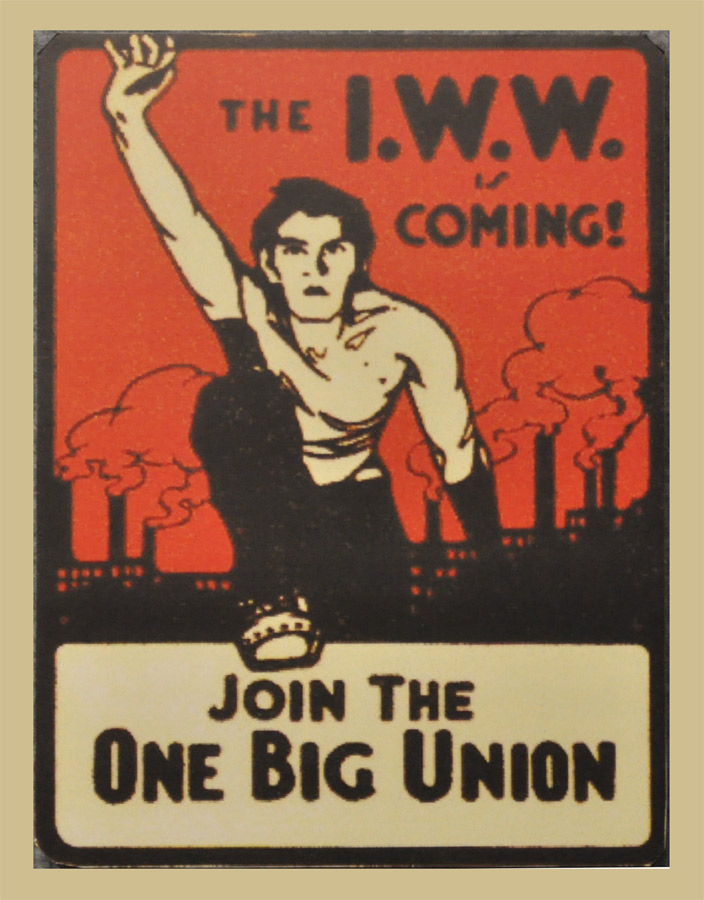 There is Power in a Union*
(1913)
Would you have freedom from wage slavery,
Then join in the grand Industrial band;
Would you from mis'ry and hunger be free,
Then come! Do your share, like a man.
CHORUS:
There is pow'r, there is pow'r
In a band of workingmen.
When they stand hand in hand,
That's a pow'r, that's a pow'r
That must rule in every land –
One Industrial Union Grand.
Would you have mansions of gold in the sky,
And live in a shack, way in the back?
Would you have wings up in heaven to fly,
And starve here with rags on your back?
If you've had "nuff" of "the blood of the lamb,"
Then join in the grand Industrial band;
If, for a change, you would have eggs and ham.
Then come! Do your share, like a man.
If you like sluggers to beat off your head,
Then don't organize, all unions despise,
If you want nothing before you are dead,
Shake hands with your boss and look wise.
Come, all ye workers, from every land,
Come join in the grand Industrial band.
Then we our share of this earth shall demand.
Come on! Do your share, like a man.
* The song uses the tune of Lewis E. Jones' 1899 hymn "There Is Power in the Blood (Of the Lamb)"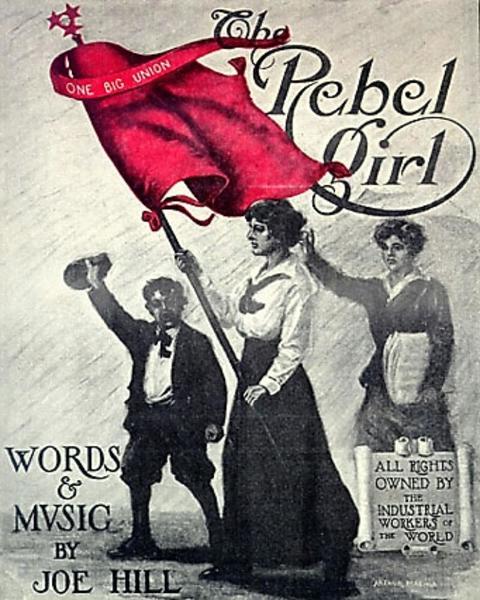 The Rebel Girl*
(1914)
There are women of many descriptions
In this queer world, as everyone knows.
Some are living in beautiful mansions,
And are wearing the finest of clothes.
There are blue blooded queens and princesses,
Who have charms made of diamonds and pearl;
But the only and thoroughbred lady
Is the Rebel Girl.
CHORUS:
That's the Rebel Girl, that's the Rebel Girl!
To the working class she's a precious pearl.
She brings courage, pride and joy
To the fighting Rebel Boy.
We've had girls before, but we need some more
In the Industrial Workers of the World.
For it's great to fight for freedom
With a Rebel Girl.
Yes, her hands may be hardened from labor,
And her dress may not be very fine;
But a heart in her bosom is beating
That is true to her class and her kind.
And the grafters in terror are trembling
When her spite and defiance she'll hurl;
For the only and thoroughbred lady
Is the Rebel Girl.
*Several songs and some of his writings show Hill's awareness that women, too, could aid in the "class struggle." On November 29, 1914, he wrote to the editor of Solidarity:
The female workers are sadly neglected in the United States, especially on the West coast, and consequently we have created a kind of one-legged, freakish animal of a union, and our dances and blowouts are kind of stale and unnatural on account of being too much of a "buck" affair; they are too lacking the life and inspiration which the woman alone can produce.
Inspired by Miss Flynn, a prominent IWW organizer, The Rebel Girl was dedicated to all the women of the IWW.
***
Casey Jones — The Union Scab*
(1912)
The Workers on the S. P. line to strike sent out a call;
But Casey Jones, the engineer, he wouldn't strike at all;
His boiler it was leaking, and its drivers on the bum,
And his engine and its bearings, they were all out of plumb.
Casey Jones kept his junk pile running;
Casey Jones was working double time;
Casey Jones got a wooden medal,
For being good and faithful on the S. P. line.
The workers said to Casey: "Won't you help us win this strike?"
But Casey said: "Let me alone, you'd better take a hike."
Then someone put a bunch of railroad ties across the track,
And Casey hit the river bottom with an awful crack.
Casey Jones hit the river bottom;
Casey Jones broke his blessed spine;
Casey Jones was an Angelino,
He took a trip to heaven on the S. P. line.
When Casey Jones got up to heaven, to the Pearly Gate,
He said: "I'm Casey Jones, the guy that pulled the S. P. freight."
"You're just the man," said Peter, "our musicians went on strike;
You can get a job a'scabbing any time you like."
Casey Jones got up to heaven;
Casey Jones was doing mighty fine;
Casey Jones went scabbing on the angels,
Just like he did to workers of the S. P. line.
They got together, and they said it wasn't fair,
For Casey Jones to go around a'scabbing everywhere.
The Angels' Union No. 23, they sure were there,
And they promptly fired Casey down the Golden Stairs.
Casey Jones went to Hell a'flying;
"Casey Jones," the Devil said, "Oh fine:
Casey Jones, get busy shovelling sulphur;
That's what you get for scabbing on the S. P. Line."
*Union satire of the popular folksong "Casey Jones".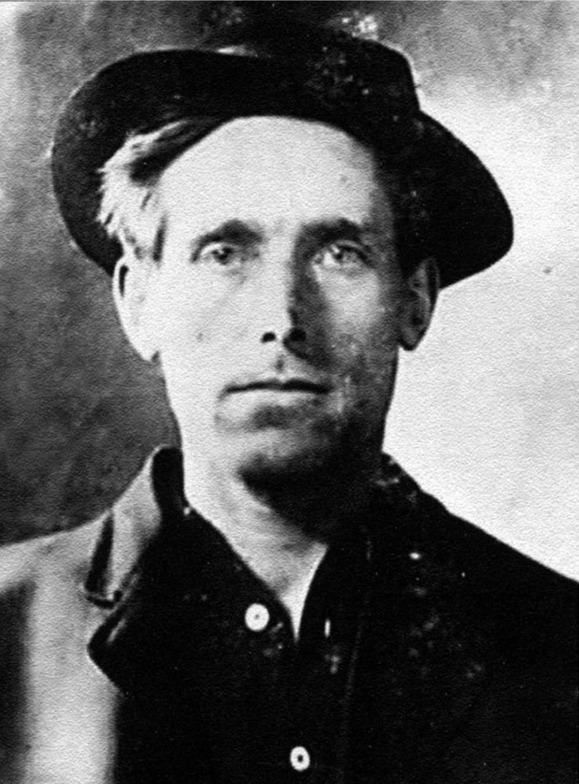 On November 19, 1915 Joe Hill was executed for murder by the State of Utah with three bullets to his heart. He was the most prolific songwriter in the Industrial Workers of the World (IWW), an organization that he had joined around 1910.
Born Joel Emmanuel Hägglund inGävle, Sweden, in October 7, 1879 and also known as Joseph Hillström, he was a native Swedish speaker and learned English during the early 1900s, while working various jobs from New York to San Francisco. As an immigrant worker he frequently faced unemployment and underemployment.He rose in the IWW and traveled widely, writing political songs and satirical poems and making speeches, devoting his life to the «awakening of 'illiterates' and 'scum' to an original, personal conception of society and the realization of the dignity and rights of their part in it.»[1] He shortened his pseudonym to Joe Hill, which became the pen-name under which his very popular songs, cartoons and other writings appeared. His songs frequently appropriated familiar melodies from popular songs and hymns of the time. His most famoussongs include The Preacher and the Slave, The Tramp, There is Power in a Union, The Rebel Girl, and Casey Jones—the Union Scab.  The songs express the harsh and combative life of itinerant workers, and call for workers to organize their efforts to improve working conditions.
In 1914, on his way from California to Chicago, Hill stopped to earn some money in the Utah mines. There John G. Morrison, a Salt Lake Cityarea grocer and former policeman, and his son were shot and killed. The same evening, Hill arrived at a doctor's office with a gunshot wound, and briefly mentioned a fight over a woman but refused to explain further, even after he was accused of the grocery store murders on the basis of his injury. Hill was convicted in a controversial trial. Following an unsuccessful appeal, political debates, and international calls for clemency from high-profile figures and workers' organizations, he was found guilty and executed.
After his death, he became a martyr and a symbol for labor movements throughout the world. His trial and death sentence became an international controversy, involving the president of the United States,Thomas Woodrow Wilson, and the highest officials in Sweden. On the morning following his death, the New York Times prophetically worried that Hill's execution might «make Hillstrom dead more dangerous to social stability than he was when alive.»
Hill was commemorated by several folk songs. His life and death have inspired books and poetry, and the myth has endured for generations.
The stories surrounding Joe Hill are often exaggerated and romanticized; the actual person, perhaps not as glamorous, remains a mystery.