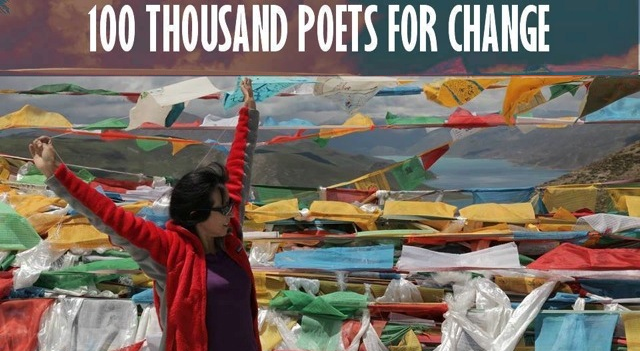 (SILVIA PIO edited by)
Poems:
POEM FOR MITKO Michael Rothenberg
SHELL BEACH Michael Rothenberg
CATHOLIC SCHOOL RETABLOS Terri Carrion
WHY I STARTED BREEDING BUTTERFLIES Terri Carrion
An interview with Michael Rothenberg and Terry Carrión, founders of the global poetry movement 100 Thousand Poets for Change
What is the 100 Thousand Poets for Change initiative?
It is a global action of poets and artists scheduled to take place on September 24. The idea is that each city, or group of individuals within a city, will have a poetry related event with a focus on "change", and this should be the change of their choice, not a change dictated by an official organization or the main office. So this event is a global concept but dependent on local vision and initiative. We suggest that peace and sustainability could be "change" guidelines, but local needs are very specific. After September we invite participants to send us documentation, poems, photos, and a "statement of change" from their event participants and I will post this on a 100 THOUSAND POETS FOR CHANGE blog.
What sort of change do you imagine?
The first level of change we envision is that poets around the world will show solidarity. That is a big change. We feel that poets have become alienated from each other, in many ways, by locale, aesthetic politics, language, class bias, race bias, and that we have squandered our voice as a community. We wonder how we can even think of changing the world if we can't change the way we relate to each other as poets and artists. We know there is a debate that goes on from time to time about whether poetry really changes anything and we don't really feel the need to get involved in that debate. Poets can change things. If they can gather in trade conventions and discuss curriculum and publishing then they can also get together and discuss how business is being done in their community, address inequality, racism, war, health care, education, etc. Poets are competent beyond discussions of tenure and publication. So beyond the initial change that will take place because poets will get together across various boundaries and barriers, there are broader change issues they can address.
What is poetry to you and what role does it play in your political engagement?
Michael Rothenberg: Poetry is my illusion. I embrace it whole-heartedly. It is my idealism, and therefore my blessing and curse. It is a kind of religion where there are no gods, only beauty, humanity and vision. And the first step to changing the way people see poetry in culture is that poets need to change how they see themselves. As long as they feel ineffective, view themselves as marginal actors and thinkers in the world, they will be perceived as ineffectual by others. Poets need to leave their hideouts, their garrets, classrooms, literary experiments, books, and take action. Is there a difference between politics and poetry? I have seen some people say they keep their politics separate from their poetry. I don't even think that makes sense in any way. It seems to be a statement of words but of very little meaning. Every act is political.
Michael Rothenberg is a poet, editor and publisher of the online literary magazine Big Bridge, and co-founder of the global poetry movement 100 Thousand Poets for Change.
Born in Miami Beach, Florida in 1951, Rothenberg moved to the San Francisco Bay Area in 1975 and co-founded Shelldance Orchid Gardens in Pacifica, which is dedicated to the cultivation of orchids and bromeliads. While in Pacifica, he helped lead local environmental actions that stopped major coastal developments that would destroy wildlife habitat.
His poems have been widely published in literary reviews. His poetry books include The Paris Journals (Fish Drum Press), Unhurried Vision (La Alameda/University of New Mexico Press), My Youth As A Train (Foothills Publishing), Choose (Big Bridge Press) and Murder (Paper Book Press). Rothenberg's most recent book of poems, Indefinite Detention: A Dog Story, was published in 2013 by Ekstasis Editions, Victoria, B.C., Canada, and in 2014 by Shabda Press (USA). An Arabic edition of Indefinite Detention: A Dog Story was published in 2015 by Al Kotob Khan (Cairo, Egypt). A collection of his poetic journals, Drawing The Shade will be published by Dos Madres Press in 2016. He is also the author of the eco-spy novel Punk Rockwell (Tropical Press).
His editorial work includes several volumes in the Penguin Poets series: Overtime by Philip Whalen, As Ever by Joanne Kyger, David's Copy by David Meltzer, and Way More West by Ed Dorn. He is also editor of The Collected Poems of Philip Whalen published by Wesleyan University Press.
Wiki page: https://en.wikipedia.org/wiki/Michael_Rothenberg
Electronic Poetry page: http://epc.buffalo.edu/authors/rothenberg_m/ 
Terri Carrión was conceived in Venezuela and born in New York to a Galician mother and Cuban father. Her poetry, fiction, non-fiction and photography has been published in many print magazines as well as online, including The Cream City Review, Hanging Loose, Pearl, Penumbra, Exquisite Corpse, Mangrove, Kick Ass Review, Exquisite Corpse, Jack, Mipoesia, Dead Drunk Dublin, and Physik Garden, and recently in the anthology, Continent of Light. She is also a translator of poetry, and worked in collaboration with F.R Lavandeira and Loreto Riveiro on a trilingual Galician Anthology, (from Galician to Spanish to English). Most recently, Terri is assistant editor and art designer for Big Bridge online and co-founder of the global poetry movement 100 Thousand Poets for Change.
Margutte has organized the 100 Thousand Poets for Change's readings in 2014 and 2015.