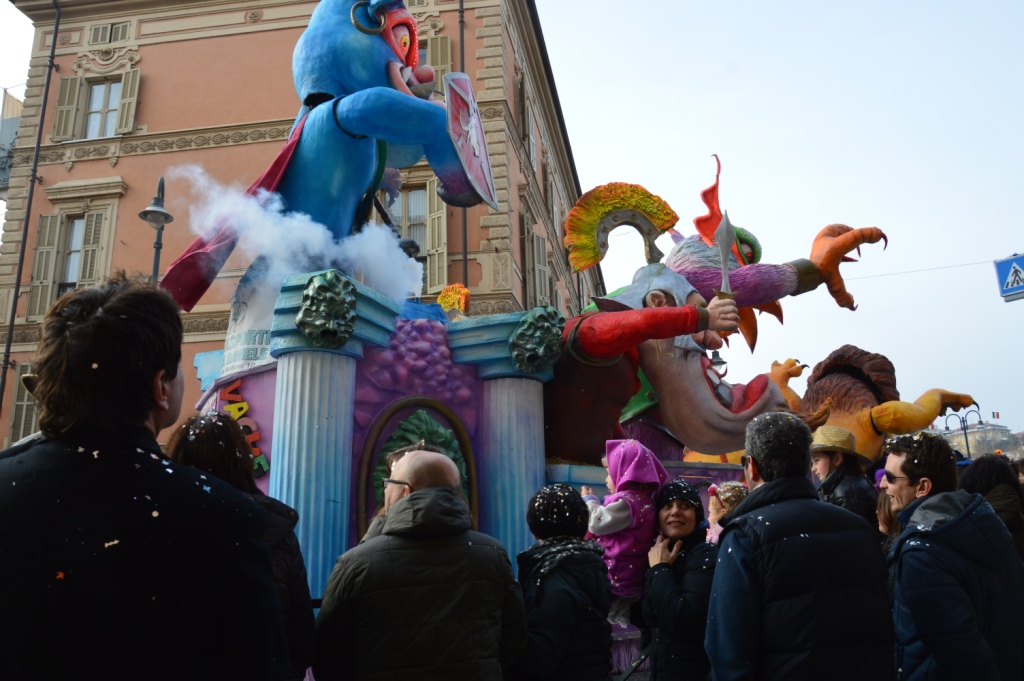 LESLIE MCBRIDE WILE
Tomorrow is Martedi Grasso (Mardi Gras, Fat Tuesday), and the last day of Carnevale. Here in Mondovi` we have been celebrating since 24 January with processions, presentations, ceremonies and formal dinners, dancing and general revelry most every night at the big dance hall on the outskirts of town. Every afternoon carnival rides and games come to life in a central parking lot, neon and music pulsing in the winter twilight and the smell of cotton candy fanning children's desires.
Last Sunday we joined the crowds along Corso Statuto for the biggest event of the season, the sfilata in maschera (costume parade). We walked from our home near the medieval upper town, along the road to the lower town and down steep flights of crumbling stairs of concrete and stone. We heard the parade before we could see it, booming music with a heavy beat and hundreds of voices raised in song. From a curve in the road we caught our first glimpse—a dragon breathing smoke, squads of merrymakers in bright costumes, balloons, banners, and clouds of confetti flying in pale sunlight.
Down in the center throngs stood six deep, waving and cheering, singing in Piemontese dialect and in Italian. The parade crawled along, bands played, and fistfuls of confetti flew in all directions. Toddlers in costume perched on shoulders, squirmed to the front for a better view, or played among the crowds. We walked the parade route for a while, met some friends, laughed and jostled and joked. Our ears were ringing as we made our way home, trailing confetti and filled with the spirit of unbridled joy that is Carnevale.
Pictures by Leslie McBride Wile
To read the other 'Greetings from Mondovì' click on the tag below with the same name.