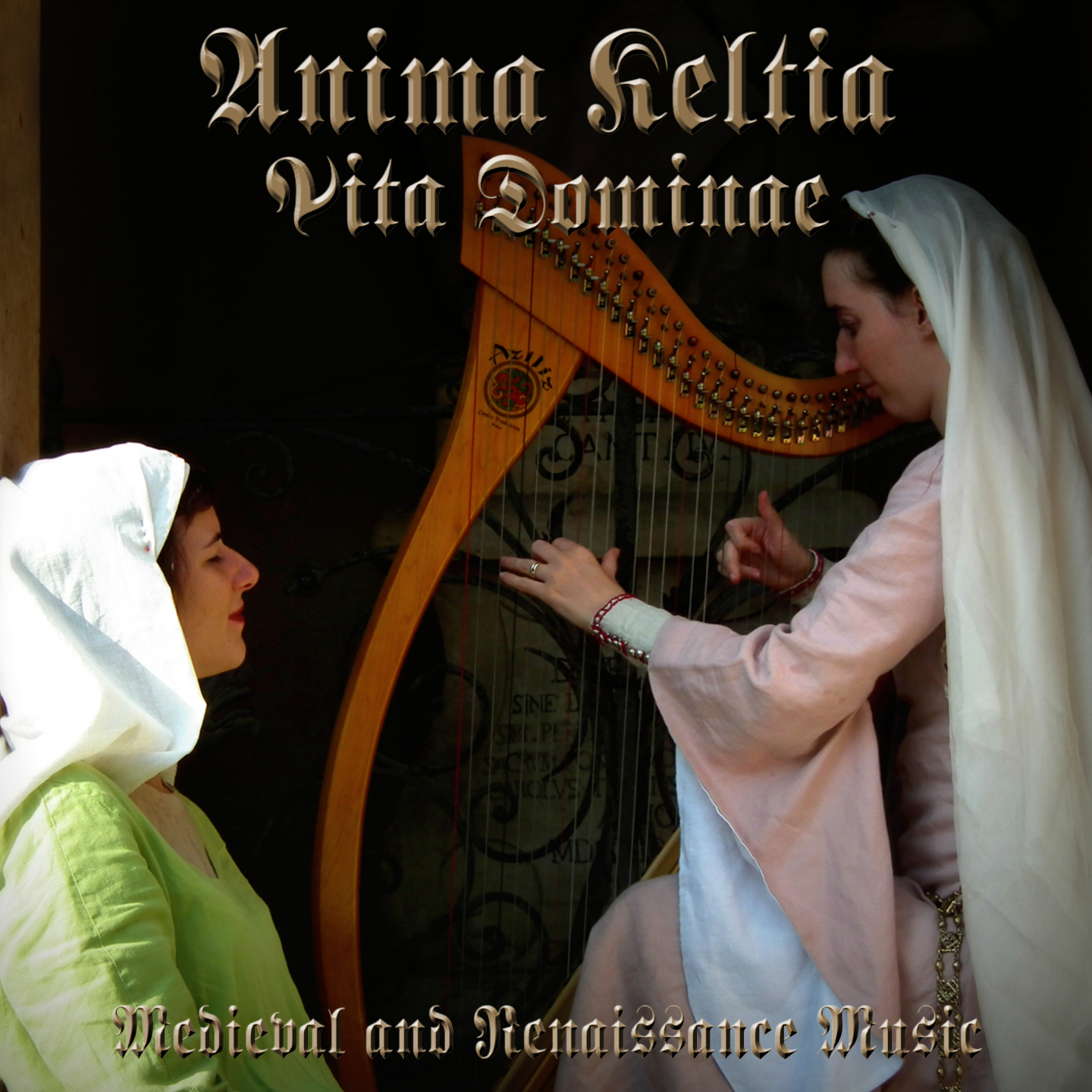 SILVIA PIO and LESLIE MCBRIDE WILE (edited by)
Anima Keltia on "Vita Dominae – Medieval and Renaissance Music".
Vita Dominae is the debut album by the Belgian artist Mélanie Bruniaux, aka Anima Keltia, released on the Maxy Sound label in February. It is a musical journey about the life and role of the woman in the Middle Ages and the Renaissance.  It starts with the expectation of birth, marked by prayers to the Lord, and the first lullabies sung at cribside ("Be Thou My Vision", "Coventry Carol").
As the woman gets older, she is taught good examples of virtue by the clergy and her mother (Cantiga 100 a Santa Maria) and examples of bad behaviours ("Lamento di Tristano"). As a teenager, she experiences her first loves ("Scarborough Fair", "Unter der Linden", "La Rose Enflorece") and must be protected from the dangerous beauty of her body, which seduces and bewitches ("Complainte de la Blanche Biche") whoever she comes across. As an adult, she is aware of the roles and duties conferred by her social status ("Chanson de table", "l'Epouse du Croisé").
The musical journey includes dances and hymns performed at her wedding ("Corranto", "Give Me Your Hand"), and songs and ballads of courtly love ("Douce Dame Jolie", "Green Sleeves").
Vita Dominae includes 14 tracks from the Medieval and Renaissance period, many of which are part of the Celtic tradition. This Album will awaken emotions, evoking moments of celebration and the loves and deeds of courtiers, princesses and kings from lands surrounded by mystical forests, castles and legends of old.
Maxy Sound http://www.maxysound.com - info@maxysound.it
Mélanie Bruniaux, also known as Anima Keltia, is a Celtic and Medieval music harpist. She was born in Belgium but currently lives in Italy.
When she was 8 years old she happened to step into a church where a harp was being played. For a long time little Mélanie stood utterly entranced and speechless in front of the instrument, captivated by the haunting sound of those magical strings. Ever since, playing the harp has become her fascination and her main purpose in life. Saba Ferrari describes her music and her artistry in a very poetic way: «The strings of her harp, plucked and caressed, bring to mind the fairy woodlands, mischievous goblins, nymphs and underwater cities, taking us into a magical world of poetry». Actually, she looks like someone who has just popped out of a Celtic fairy-tale.
Anima Keltia's first official album is titled "Vita Dominae. Medieval and Renaissance Music", and includes Medieval and Renaissance music performed on Celtic Harp (Mélanie Bruniaux), Bodhram and Percussions (Andreè Bottiglioni), Flutes (Amélie Grunenberger), Cello (Eleonora Galassi) and Voice (Lucia de Carlo). Vita Dominae is a journey inside the medieval woman's life, including tunes from Brittany, England, Ireland, France, Italy, Spain and other areas of the Celtic world.
Mélanie studied harp at the Académie de Musiqueet des Arts Parlés, at Fleurus in Belgium. For several years she attended update sessions for Orff-Schulwerk's music method, dance movement courses, a therapy method by Fux-De Vera of Aragon in Verona, Florence and Milan. Mélanie also attended harp workshops with international artists such as Myrdhin, Anne-Gaelle Cuif, Ralf Kleeman, Nadia Birkenstock, Seana Davey, Janet Harbison, Cristine Merienne, Enrico Euron, Clotilde Trouillaud, Reidun Schlesinger, Frankie Gavin, and Jochen Vogel. She is currently a pupil of Lorenza Pollini. In March 2013 she also joined Belthane (a Celtic-Fantasy band from Modena) and she toured in Lombardy, Veneto and Emilia Romagna. She has performed in Italy, France and Belgium as a soloist and in collaboration with other artists in various contexts: cultural evenings, photographic exhibition openings, fantasy inspired and Celtic festivals, private events, book presentations and historical revivals.
In October 2015 she became a member of "Brigantia Belgae" (a Belgian Celtic-folk music group).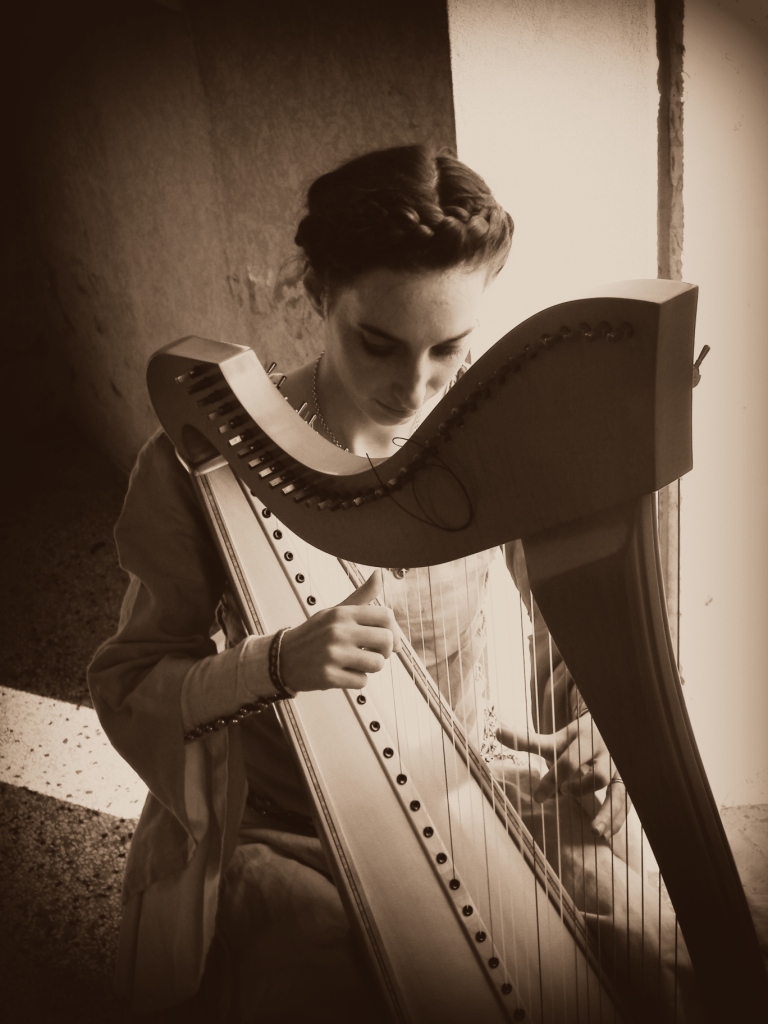 Her producer Max Titisaid says: «Anima Keltia's performance makes irregularity regular and brings concord to the discordant. Her music flows in delight and delicacy when her harp is softly caressed in soothing and harmonious passages. In the higher registers, her notes chime freely, ringing with abandon, while at the deep end of the scale she is equally fluent in sweet and measured cadence or plucking with wild, rapid virtuosity. Anima Keltia is truly capable of immersing her audience in the magic of a Celtic world, profoundly and enthrallingly intricate, a riveting stream of colours and sounds. I am sure that everyone will love her music and that's why we firmly wanted her to be part of our roster.»