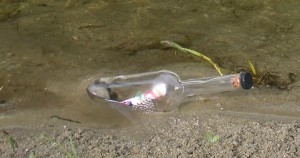 Messages in a bottle are passages, quoted from writers who lived in the past, conveying a message that can still be appreciated in the present.
Thomas Stearns Eliot (Saint Louis, 26 September 1888 – London, 4 January 1965) is one of the first American poets to emigrate to Europe; he moved to England and was naturalized as a British subject. He was also an essayist, publisher, playwright, literary and social critic. In 1948 he was awarded  the Nobel Prize in Literature.
In the 50th anniversary of his death Margutte wants to remember him with a passage from his Four Quartets (East Coker V).

Love is most nearly itself
When here and now cease to matter.
Old men ought to be explorers
Here or there does not matter
We must be still and still moving
Into another intensity
For a further union, a deeper communion
Through the dark cold and the empty desolation,
The wave cry, the wind cry, the vast waters
Of the petrel and the porpoise. In my end is my beginning.
Message in a Bottle from Henry David Thoreau
Message in a Bottle from Samuel Butler