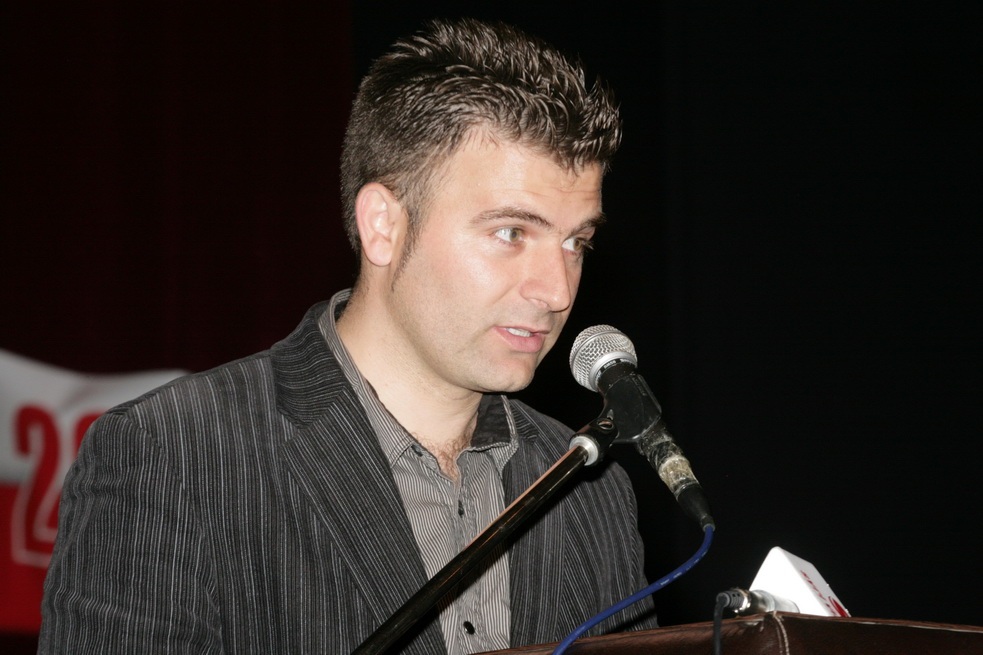 Under the shade of memory
I told you something forgotten
The things that you will not remember even tomorrow
Forgiveness is always much more ancient
When silence is traveling
At the oak dried from the sun
I am awaiting you
In the same line with the verse
Hung in the abyss of the mountain
There I await only love
And I sat to relax
I tried to
Exhaust the autumn or to dream the light
Only to say a word
***
Nudo
With no one I would change
The language
But today with you I will change it
One hour
Two
Three
Until it touches the end of the word
I would say everything
In a nude fashion
Just like the first kiss
You are cold looking through my eyes
Nudo
I would never change you with anything.
Born in the city of Peja, Kosovo (1978), Jeton Kelmendi received the degree of Bachelor of Arts in Mass communication at the University of Prishtina and completed his graduate studies at the Free University of Brussels, Belgium.
For many years he has written poetry, prose, essays and short stories. He is a regular contributor to many newspapers, in Albania and abroad, writing on many cultural and political topics, especially concerning international affairs. Jeton Kelmendi became well known in Kosova, after the publication of his first book entitled: The Century of Promises (Shekulli i Premtimeve), published in 1999. His poems are translated in more that twenty-two languages and published in several international Literature Anthologies. He is a member of many international poetry clubs and is a contributor to many literary and cultural magazines, especially in English, French and Romanian Languages. According to a number of literary critics, Kelmendi is the genuine representative of modern Albanian poetry.
Published poetry works:
The Century Promises (Shekulli i Premtimeve), 1999 Edition Rilindja, Pristina; Beyond Silence (Përtej Heshtjes), 2002 Edition Faik Konica, Pristina; If it is afternoon (Në qoftë mesditë), 2004 Edition Faik Konica, Pristina; Fatherland pardon me (Më fal pak Atdhe), 2005, Edition Faik Konica, Pristina; Where are the arrivals going (Ku shkojnë ardhjet),2007 Edition Ombra GVG, Tirana; You arrived for the traces of wind (Erdhe për gjurmë të erës), 2008 Edition Globus R, Tirana; Time when it has time (Koha kurë të ketë kohë), 2009 Edition Ideart, Tirana; Wandering thoughts (Rrugëtimi i mendimeve) 2010 Edition Ideart, Tirana; The baptize of spirit (Pagezimi I shpirtit) 2012 Edition Globus R, Tirana; I call forgotten things (Thërras gjërat e harruara) 2013 Edition ROZAFA, Pristina.
Published plays:
Mrs Word (Zonja Fjalë) 2007 and  Play and anti-play (Lojë dhe kundër lojë) 2011 Edition Bogdani, Pristina.
Political science books:
EU mission in Kosova after its independence 2010, New York USA; Bad times for the knowledge 2011, Edition Bogdani, Pristina Kosovo; NATO-EU missions, cooperative or competitive 2012, New York USA.
Personal website www.jetonkelmendi.page.tl
http://en.wikipedia.org/wiki/Jeton_Kelmendi
https://www.facebook.com/pages/Jeton-Kelmendi/273259108612?fref=ts
https://ulb.academia.edu/JetonKELMENDI