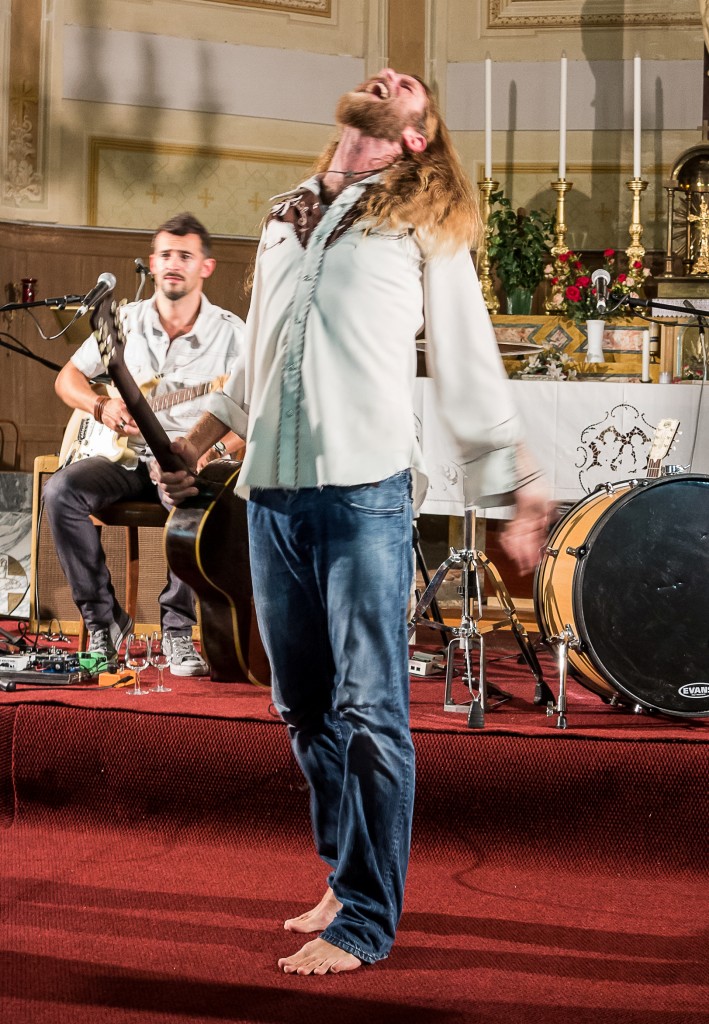 SILVIA PIO
An experimental vineyard, a blond bluesman from Alabama, a small church with a funny sort of architecture: what do they have in common? You'll be surprised to know that they are all pieces of the same puzzle, an amazing concert held on 19 July in the hamlet called Surìe, near Clavesana (north-west Italy).
Surìe is where the co-operative wine making company Cantina Clavesana, organizes all its conferences and initiatives, including concerts inviting to this part of Italy internationally known stars (see the article on Carolyne Mas) in collaboration with Crete Senesi Random Rock Festival (CSRF). One of the members of CSRF, Stefano Tesi, has defined his group of friend sas «some crazy people in love with music who have fun with bringing to Italy some very good musicians».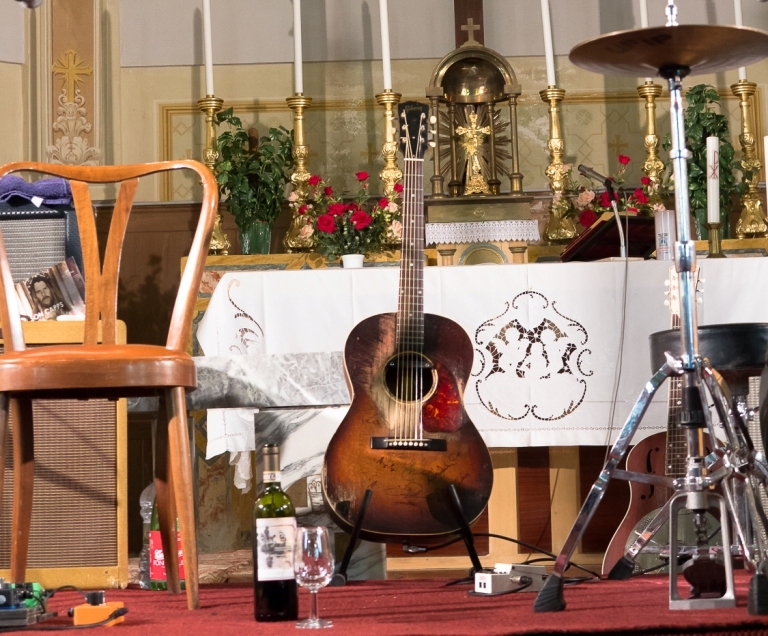 To inaugurate the planting of an experimental and educational vineyard on the steep hills of Alta Langa, with selected varieties of Dolcetto, Nebbiolo and Pinot Nero vines, Cantina Clavesana has called the singer-songwriter Grayson Capps, accompanied by Italian romagnolo guitarist J.Sintoni. They performed in the local church, rebuilt in 1940 in spite of the war with money collected mainly from the poverty-stricken parishioners. The façade in so-called second Renaissance style is quite unusual.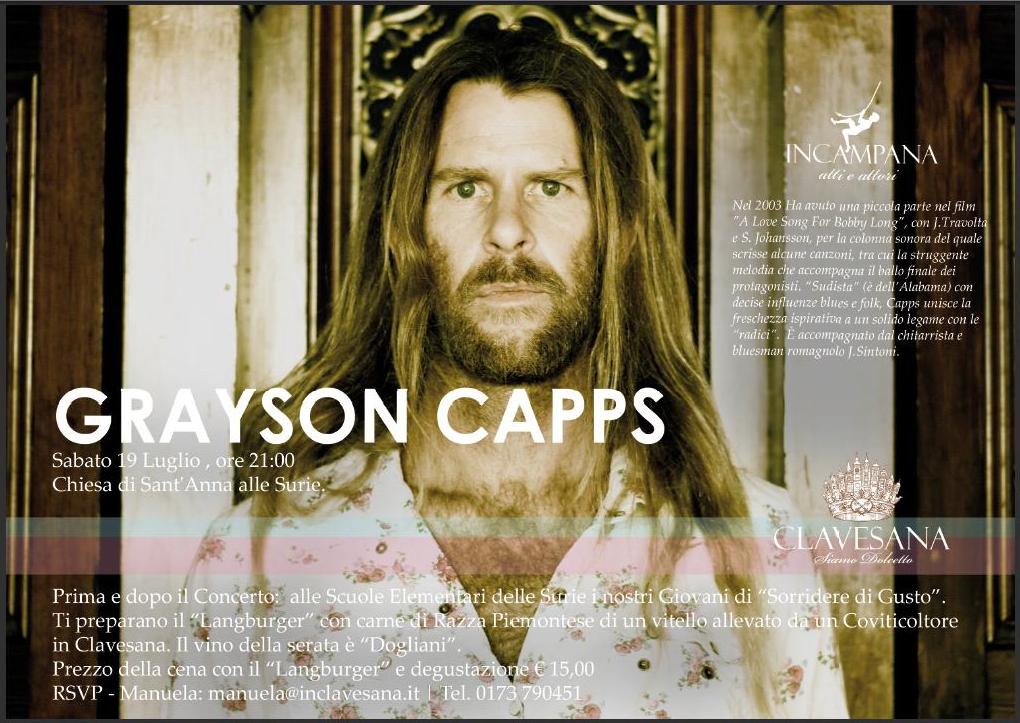 Capps played his 1946 Gibson guitar, harmonica and percussion instruments, mesmerizing the audience with his voice and his whole self, from the altar and also from the pulpit (I bet he had been wanting to do something like that for ages).
Playing over two hours, Capps (Sintoni acting as interpreter) enthralled everybody with stories from his life and favorites from his repertoire. He talked about all the songs he performed, wanting the Italian audience to understand what they are about.
Born and raised in Alabama, Capps moved back there in 2010 from Nashville after leaving his longtime New Orleans' home following Hurricane Katrina 2007.
He first discovered music when his father and friends would sit around the house getting drunk, telling stories and strumming acoustic guitars. At Tulane University he formed two bands that had some national success. After graduating college, he started squatting with friends in some abandoned houses on the outskirts of the Big Easy, stealing electricity, growing a garden and busking for whatever money they needed. Grayson recounts those times in a number of songs.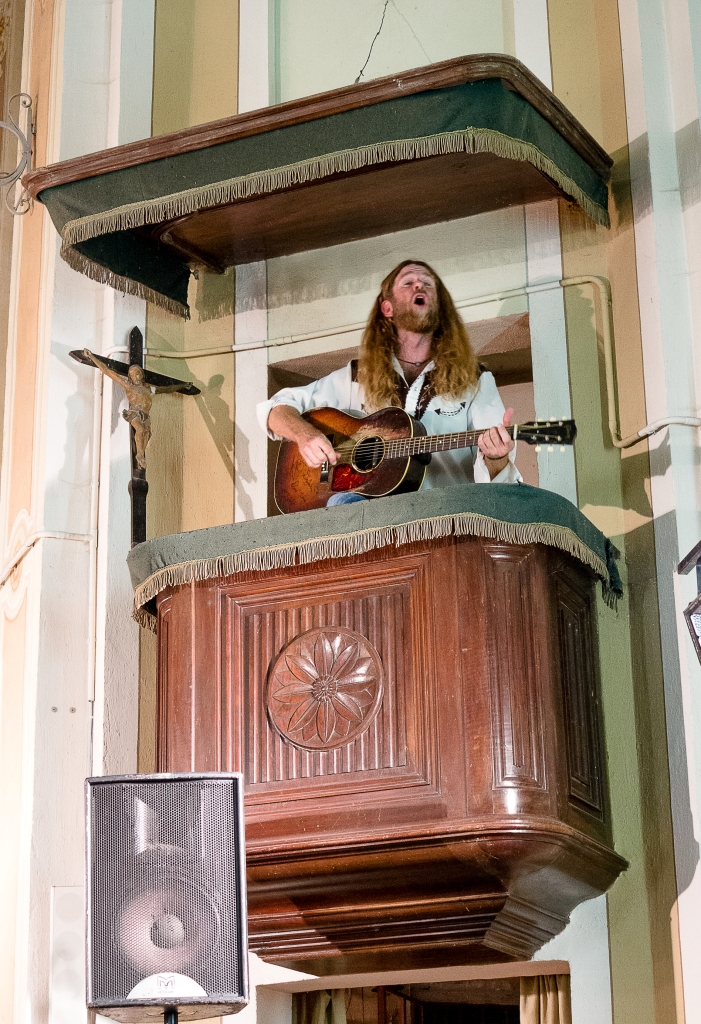 He then spent over a decade in New Orleans, publishing four critically acclaimed studio albums which revealed his skills as country singer, bluesman, rock star, philosopher and poet. He also wrote some of the songs for, and had a cameo appearance in, 2004 Golden Globe Award-nominated film A Love Song For Bobby Long, starring John Travolta and Scarlett Johansson. The film is based on the novel Off Magazine Street by Everett Capps, Grayson's father.
The Lost Cause Minstrels, released in 2011, is Grayson Capps' fifth studio album, after Rott 'N' Roll (2008), Stavin' Chain (2007), Wail & Ride (2006), If You Knew My Mind (2005). Other albums are Live at The Paradiso (2009), recorded in Amsterdam, the compilation A Love Song for Bobby Long (2005), featuring the title song, and Songbones (2007), a limited edition cd.
He has also written a short story included in the book Stories from the Blue Moon Cafe III (2004).
Guitarist J.Sintoni www.jsintoni.com, born in Cesena, is also a singer-songwriter and has taken part in major Italian and international blues festivals. He is considered by critics as one of the best blues and rockblues artists because of his two albums (The Red Suit, 2007, and A better man, 2012) and his live performances.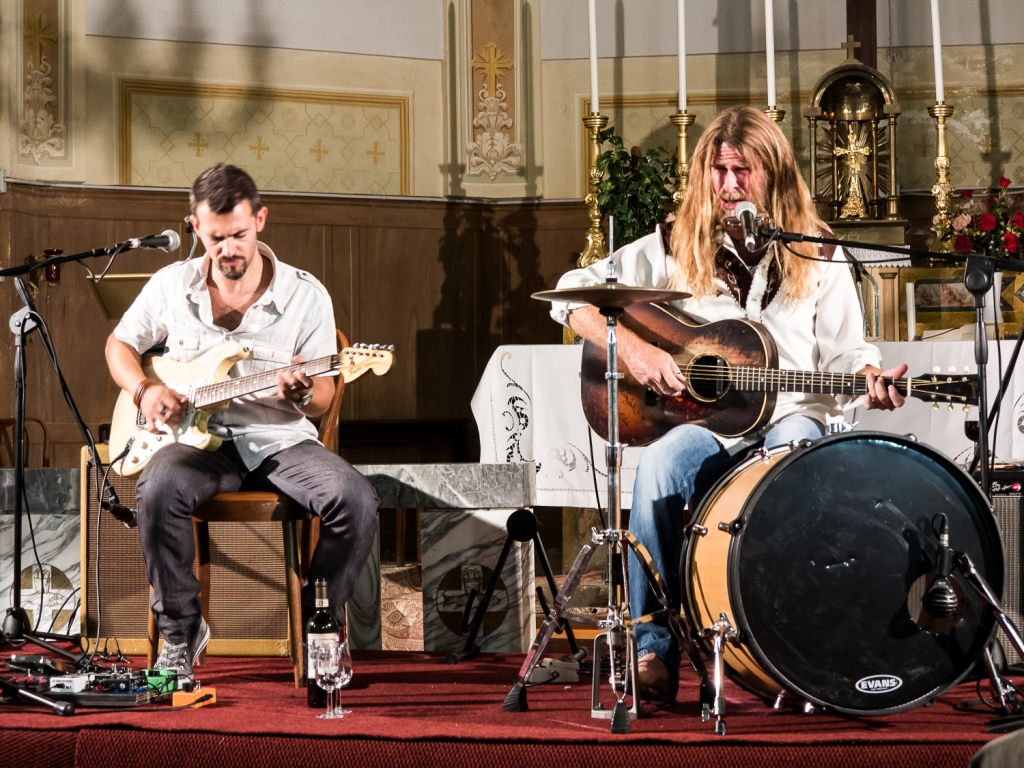 We have asked him to tell us about his collaborations with Capps:
«I met Grayson in Piacenza in 2008. We were both guests at the annual Blues Festival there. It's a Festival that combines blues and literature, so Grayson's father, Everett Capps, was also there to present his book A Love Song for Bobby Long, published in Italy by Mattioli Editore. I hit it off with both of them from the beginning and we've had the opportunity to play together a few times. The following year that happened again so we established a staunch friendship and musical collaboration, playing a few gigs together in Emilia Romagna and Liguria.
After that, Capps didn't come back to Italy for four years but we kept in touch. In 2013, together with the Rootsmusic club, we organized a tour of ten dates in Milan, Rome, Torino, Modena, Verona and Livorno, where the Italian public had the opportunity to know Grayson's music and talent and our relationship got deeper, both as friends and musicians. Due to the success of the 2013 tour, we started early in 2014 to plan a summer tour to build on last year's success, with even more participation and enthusiasm from Grayson's Italian fans.
For someone like me, who has grown up with blues and all the Afro-American music, playing with an artist like Grayson Capps is a great feeling every time. But it's the magic in his music and his stories and our friendship that makes our association one of the best experiences of my music career. Playing and living with him has meant knowing better those American notes I've always been fascinated by.»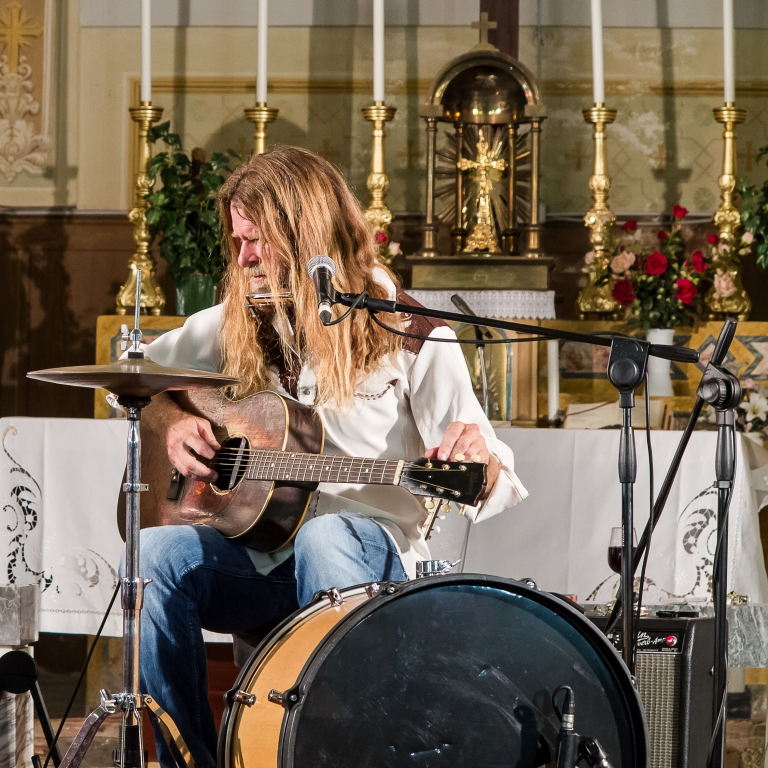 Photos by Stefano Borsarelli
Video of the concert in Surìe
www.graysoncapps.com
www.jsintoni.com
(In the Italian page there is a translation of the A Love Song For Bobby Long's lyrics)