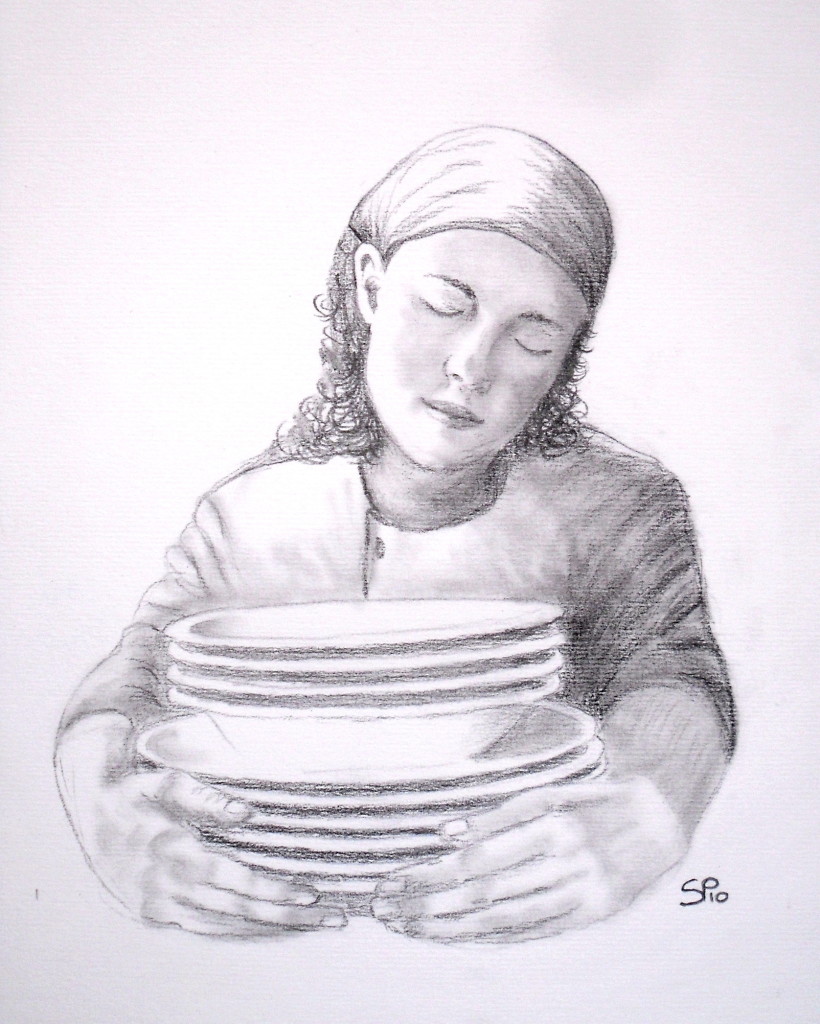 SILVIA PIO
I got myself hired because I wanted to be close to him, to hear him swiftly swirl only ten steps away from me. I cheated on my education to get this job, the only one available in his kitchen.
I'm having my hands boiled and my hair steamed only to be able to breathe the saucy vapours which surround him. I spend six evenings a week fishing dishes in the three-foot-deep sink full of scorching lather, putting them in the steam dishwasher, and later scrubbing pans. The worst comes when the guests leave and I'm served with the crystals: five different sizes, all – as they should be – fragile. Each glass is worth 50 Euros and if I break one the value will be deducted from my salary.
But no pain will ever be too much if I'm in the same room, well kitchen, as him, if I can adore and serve him like the Culinary Olympus god he is. That's what the last review in "Les Divins Chefs" called him.
And I'm ten steps from him, I can watch him, study him…
Hang on a minute, what are you thinking? Not the man, for heaven's sake! He is as round as a Grand Ballon and a few inches taller. His eyes are like a casserole dish full of yesterday's gravy, and are set above an untraceable nose which at the end of the evening picks up the colour of his blueberry soufflé. He can't stick four words together without three of them being blasphemies and when he loses his temper, which is frequently after 10 p.m., I think he could have had a career as knife-thrower. Literally. I've been told that great chefs are often mean and prone to rage and that you must get away from their track when they are under pressure because they can hurl anything at you. To him it's knives. I'm not kidding; he makes them swish through the scent of his delicacies, two inches from your ear, and skewer the kitchen wood panelling.
I don't give a damn about his looks, his manners, his filthy language. I barely feel what's going on around me. All I want is to understand his secret, why his cuisine is what it is.
I went to school at the Hotel Management Institute – Course in high cookery – in Mondovì, one of the best in the area. I've always wanted to be a chef. All my teachers were awed by him. They considered him the greatest chef Mondovì has ever had. Also his temper was well known and so was his brutal contempt of cookery courses and teachers. They used to go to his place pretending they were tourists, some of them in disguise. «His cuisine is simple, all the ingredients local and seasonable, but he has this gift of combining them so unexpectedly that customers don't believe what they are tasting. No funny French contaminations, no fancy Italian neo-traditional, just pure art».
From the first time I heard about his dishes I decided I wanted to be close to him. To study him, to steal from him, to create an osmosis between us.
Once finished school, I phoned his restaurant to get a job, any job. I spoke to the sous-chef: «We need a dishwasher, I hope you are not from the Hotel Management Institute».
I answered and I got the job.
This was three months ago. I've been through the Trouffle Fair and the Delicatessen Exhibition. I've washed tons of dishes from the very few crumbs guests have left over. Some of the dishes are so spotless I could put them back in the cupboards straight away. Don't worry, I don't. I'm an accurate and dutiful worker, and I don't want to risk being caught in anything wrong. I want to hold onto this job because I want to be near him, to grab his secret.
«You're here to grab his secret, aren't you?» The sous-chef was looking into my face, «I've been watching you since you've started». I didn't deny it.
«Come to the pub round the corner when you finish. I'll buy you a drink».
«When he was young he was a dead loss, totally unfit for life. We were at school together. After school I started work at my father's pub, he begged me to convince my father to take him on. My father was generous. We served snacks at happy half hour on Friday, he started to prepare something different. Customers enjoyed it. My father thought he hadn't been a bad buy after all. People were coming especially for the food. My father decided to also serve dinners. The pub became a restaurant and he was named cook.
He developed enough guts to ask the waitress out. She got pregnant and he married her. They had a son, but there was something wrong with him. She couldn't bear it, she was quite simple, you know, a tiny helpless animal. When a crooked puppy is born, the bitch forgets about it. He found the baby stone dead one night when he was back from work. No sign of her. We've never found her.
I thought he'd have gone mad, but he went straight to work the following morning. And started to cook like he does now. So I think this is his secret: a pain greater than one can bear. He became a very nasty person but a wonderful chef».
Coming home this morning I've pondered on what I had heard. All the glamour of being the great chef he is had lost its shine. I might have grabbed his secret, but I'm not sure it's something I want to make mine.
Maybe I won't go to bed, I'll wait for the bar at the station to open. Their time is from half past five to eleven at night. They serve freshly made croissants, not the defrosted cholesterol ones, and give out free chocolates. But it's not for that, I want to check on something. While passing the other day I saw an ad: "Help needed".
I'm probably too young and cheerful to believe that a chef should be unhappy. I want life to serve me good dishes, wholesome, easy to digest. On one of them I want to find the opportunity of being a cook. I might as well begin with croissants, suggest snacks at happy hour or even dinners. They might name me cook, who knows?
Or maybe I'll go back to the restaurant this evening and pretend I don't know anything. Start washing dishes and drying glasses again, dodging knives and watching all his moves.
(drawing by the author)