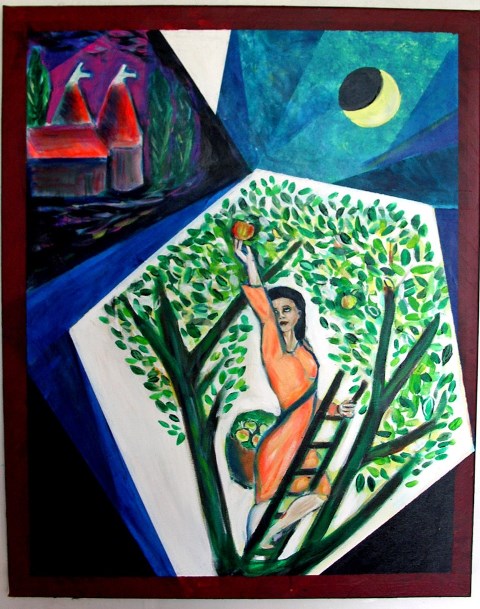 BILL LEWIS
Apple Pickers 1940
As they work, above them a
Spitfire takes on a Messerschmitt.
The daily dog fights of the
Autumn days of nineteen forty.
The Spit like a great broken
Bird comes down in the orchard.
The wicker baskets fall from
Their hands, apples bruising on
Wet grass as they rush to help.
They pull the pilot free from
The fuselage, he is just nineteen.
At first they think him wounded
But it is just red hydraulic fluid.
Marge was a Land Girl and
Arthur a Reservist waiting to be
Called up. This is how they met.
It was a fruit Picker's morning.
Pockets of mist in the valley
The river Medway a white snake.
© 2019
*
Apple Stars
Instead of the usual Arctic to Antarctic slice
Let the knife circumnavigate the equator.
When you look inside each hemisphere
You'll find a perfect pentacle at the core.
Standing in an orchard you imagine the
Hidden constellations in the crisp fruit flesh.
© 2019
*
The Green Man
Break
through
this petrified logic.
Speak of the
bio-degradable art
of the forest floor,
where matter
breaks down,
where life is recycled
in mould and mulch.
Neither the vanity
of kings and bishops,
of theologians and politicians
could hold you
in its stone strait jacket.
You are that which cannot be contained.
Our minds are cathedrals
dreaming they are forests.
Our stone faces crack;
we are coshed by chemicals,
fastened by fashions and therapies.
But just as old leaves
are turned into new forests
every breakdown, in its green alchemy,
if recognised,
should
be a
break
through.
© 1990
The artwork in this article is by the author.
https://www.billlewis-art.co.uk/
https://www.youtube.com/channel/UCQ9mp8obVP2KqYducgEiJoA
For the articles included in The Albero Project, click on the tag.