LESLIE MCBRIDE WILE
13 April
A grim milestone this evening: 20,000 Italians have died from COVID-19.  Five hundred sixty-six died today, which is 135 more than yesterday.  The numbers roll out day after day until they begin to lose all meaning.  So many lives ended in breathless agony, so many families grieving, so much fear, uncertainty, disorientation—it is incomprehensible.
Also today some shops are free to re-open in Italy—bookstores, stationery shops, laundries, and children's clothing shops.  It's an eclectic and rather puzzling mix.  Here in Piemonte nothing has changed; the curve of contagion has not flattened sufficiently to allow businesses to reopen.
It seems to me there's less traffic on my WhatsApp group, fewer jokey memes. less virus/lockdown humor.  The messages are more thoughtful, patriotic, encouraging; there's more music, more hope, more compassion and gratitude.
15 April
Masked and gloved, a couple of local farmers delivered our weekly order of fresh vegetables and fruit today.  Home delivery has never been commonplace here, but now it is a way for certain small businesses to stay alive and serve their home-bound clients.  For example, our neighbor runs a hardware store.  Recently we noticed a new logo on the pickup truck he drives, and he seems to be coming and going more than usual in these times of restricted movement.  Turns out he is delivering supplies and equipment so people can get on with seasonal work in gardens and orchards.  My husband gave him a list that includes oil for our chainsaw and enough cement to pour a small foundation slab for a garden shed.
The list of businesses making deliveries grows every week; we could order from several butchers, bakeries, restaurants, grocery shops, pizzerias, even bookstores, garden centers, and now, a hardware store.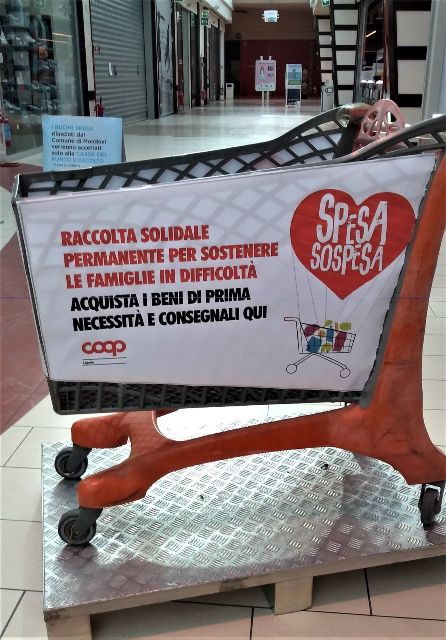 16 April
This morning I went to IperCoop again; this time I arrived earlier and found fewer shoppers, everyone masked and gloved.  A cart near the entrance is designated for donations of non-perishable food for families in need; I contributed 20 euros' worth of food and baby supplies and felt a tiny bit better, having done at least more than nothing to help.  For the first time, I saw a few empty shelves—all purpose flour was sold out and there were very few bags of any other flour—but shortages like this are not widespread.
17 April
My brother has gone back to work.  At age 65 he has rejoined the workforce of healthcare professionals battling the virus in the USA.  He emailed from a hotel room in Bismarck, SD where he has been working in an understaffed ICU.  I understand his need to be useful but of course I worry; his own health is not robust and the work is demanding, the hours long.
Glorious spring weather—dawn arrives earlier and sunset a few minutes later each day.  We have lunch on the terrace, in the shade of the ombrellone.  Our potted lemon tree seems happy in the heat.  New growth gives lavender a dappled look, dark leaves against older, silvery foliage.
19 April
I arrange to meet a friend for a walk—at two meters' distance—up to the farmacia in Piazza, by way of the prato of wildflowers and grasses between our respective homes.  The morning is cool and overcast, good for a long Sunday ramble through fields, noccioleti (hazelnut groves), country lanes, and cobbled city streets.
After lunch my husband and I place scrap timbers at the foot of the orto, brace and peg them firmly against the soil so it won't wash away; there's rain in the forecast tomorrow and Tuesday.  By late afternoon a sudden shower heralds the change in the weather and we hustle indoors, carrying chair cushions.
22 April
Two days and nights of steady, unremitting rain.  Monday was lovely–much-needed moisture to germinate seeds and fatten stalks of asparagus and rhubarb, respite from a sun already so hot that we were seeking shade by two o'clock.  My husband cooked lunch, which we ate in the dining room with candles and a cheery fire.  But the unceasing rain swells every stream and river to overflowing, weeds spring up everywhere, all the grass needs mowing.  It will be days before we can get into the muddy orto, but our terraces held up well.  It's a relief to get outdoors again, to open windows and air the house; being housebound even for two days I'd begun to feel confined and more sympathetic than ever toward apartment-dwellers with no garden, nothing more than a small balcony.