LESLIE MCBRIDE WILE
29 March 2020
A terrible milestone yesterday: 10,000 Italians have died of the virus, 542 in 24 hours in Lombardia where it began its scourging of this most pleasant country.  Nurses and doctors, exhausting themselves and dying by the hundreds, cannot slow the awful tides of human suffering and loss.  Grieving families, deprived even of the comfort of a funeral, any sort of gathering to mourn and remember, are being hollowed out, losing their anziani (elderly), the keepers of memory and tradition.  Last Monday after two days of lower death tolls and numbers of new cases, we sensed something like hope shining in the darkness.  But it was a mirage, flickering and gone before we could see it clearly.  This link to a photo-illustrated essay about the city of Bergamo comes with a familiar caveat: content may be disturbing to some.

I think of the other losses—all the small businesses that make up our commercial district, closed now for weeks to customers and cash flow.  How many of them will re-open when this is over?  How many coffee bars, restaurants, pizzerias, clothing and shoe stores, picture framers, hardware and houseware stores, hair salons and barber shops, tailors and fabric sellers and gelaterie will be left?  I wonder about the couple we buy cheese from in the farmers' market; they travel widely to remote mountain farms to bring artisanal products to their customers.  What can they do but hold on to their inventory and hope for an end to the crisis?  And the young woman who owns and operates a hammam with Turkish-style baths and massage and spa services?  My trainer who, with his father, operates the gym where I exercise?  All these people work tirelessly and likely run on the thinnest of margins.  What will become of them?  Our son and daughter-in-law built a thriving small business at the far end of Long Island; now closed, with their employees released to claim unemployment insurance, they wait to see whether they can ride out this storm.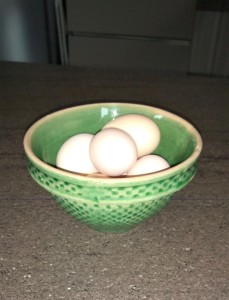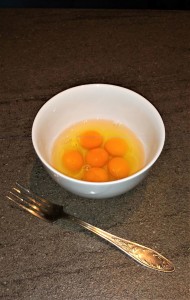 Friday afternoon between showers of cold rain our neighbor appeared at our kitchen door with a gift of six pretty little pullet eggs from his hens.  The yolks were intensely colored, and the omelette I made for our supper that night was a revelation.
Now when we need it most the sun has returned after five days of wintry weather.  Temperatures soared today; my husband and I worked outdoors from mid-morning in shirtsleeves and ate lunch on the terrace, in the shade of our ombrellone.  I started seeds for the vegetable garden: two kinds of winter squash, pickling cucumbers for the garlic dills we don't find in any market here, little golden tomatoes, parsley, dill, marigolds (to repel the beetles that feed on squash and cucumber plants).  The vegetable garden is choked with weeds; only the asparagus bed, two rhubarb plants, some herbs, and a row of last year's arugula stand out from the tangle.  I'm not sure how we'll get the soil turned, but I think it's a good idea to be prepared.  All the while I filled small recycled plastic pots with soil, tucked seeds in to the depth of a fingertip, I wondered whether things will ever return to normal.  We don't chafe under the rules of self-isolation and quarantine partly because we believe one day we'll be free once more to move about.  As I placed the pots on old, rusted cookie sheets, watered and set them outside the cantina door I tried without success to keep from imagining shortages and enforced deprivation.  What if the borders, airports, hardware stores, garden centers don't re-open in April, May, June?  What if these seeds I plant today represent our only certain food supplies in the foreseeable future?  I push these thoughts aside, see the light green haze of new leaves in the wood, feel the sun warm on my shoulders, hear the low hum of bees from the frutteto (orchard), catch the scents of hyacinth and wild tulips on the breeze.  It's good to be alive, this moment, this day.
I'll close with another link, this one to perhaps the loveliest video I've seen in recent weeks, courtesy of a cousin the States: Helplessly Hoping – il coro che non c'è.