LESLIE MCBRIDE WILE
16 March
By now many of you will have seen online video of Italians singing on their balconies; playing violins, guitars, accordions, electric pianos; banging pans; anything to express their solidarity, defiance and hope and determination to remain together in spirit if not in the piazza.  It started as a flashmob on Friday evening and has now become as regular a practice as morning coffee, afternoon gelato, or evening aperitivi.  The fact that Napolitani and Milanese are united in this is as extraordinary as anything else about it, given historic and habitual disharmony between the south and north of the peninsula.  But here we are, tutti insieme.  It may look silly to some but it makes me proud and happy to have chosen this beautiful country as home.
I stayed in yesterday, all day.  Skies were cloudy after fitful rain on Saturday afternoon, and as there's nothing I need at the moment I stayed at home with a cheery fire in our bedroom fireplace.  A friend called to check on me, and our WhatsApp group was active all day as we exchanged news and humor, opinions and menus of the day.  There's a lot of cooking going on, and gardening and closet-cleaning, reading and binge-watching on Amazon and Netflix.  I think I'm the only one of my friends who is home alone.  All the rest live with at least a partner, and many have children, grandchildren, and/or a parent in the household.  Even grown kids have returned home to wait out the isolation period in famiglia, one coming all the way from Paris, others from Torino and other nearby cities.
My husband is in Sierra Leone, winding up the last two weeks of a 30-month contract that extended to 37 months.  He was scheduled to return home on 30 March but we've just learned that his airline has suspended flights to Italy.  So now there's a new wrinkle to iron out and I'm hoping he and his employer will be able to find a way to bring him home.  This development was probably inevitable but I didn't want to think about that, so I wasn't, and my husband is an eternal optimist, a genuinely and congenitally cheerful person, a Capricorn who trusts that putting one foot in front of the other will eventually get him where he's going.  Which will be his approach to this bump in the road; mine will be to try and stay even busier, work harder at maintaining serenity or something like it.  Drink less coffee and more chamomile tea, attend to housework and the gardens while our housekeeper and handyman are confined to their homes.  The extra work won't hurt me and may even help to keep my worries at bay.
14 March
I went down to the market on this chilly, grey Saturday morning, hoping to find at least a few farmers with fresh vegetables to sell.  Normally Saturday is the big market; sellers of foodstuffs, shoes and clothing, accessories, hardware and housewares fill Piazza Ellero and spill into the adjacent streets.  Today perhaps a dozen stalls, widely scattered, were piled high as usual with salad greens and radishes, new onions, parsley, and broccoli, cauliflower, finocchio, potatoes, carrots, leeks.  Most of the vendors wore protective masks, as did some of the shoppers.  Three people stood outside a butcher's shop, waiting their turn inside at the counter.  They chatted to pass the time, but most everyone else seemed intent on completing their errands and heading back home.  A cold breeze carried the warm scent of fresh bread and buffeted an old bedsheet strung between two posts under the pavilion.  I walked closer to read the makeshift banner:
Mantenete la distanza ma fatelo con il sorriso. Tutto andrà bene.  (Keep your distance but do it with a smile.  Everything will be OK.) 
On a bleak, early spring morning this message of kindness, comfort, and hope is most welcome.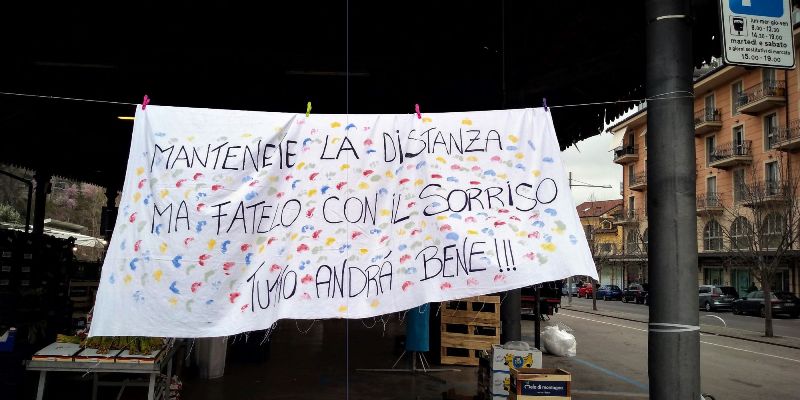 Greetings from Mondovì: A New Normal
Greetings from Mondovì: Zona Rossa