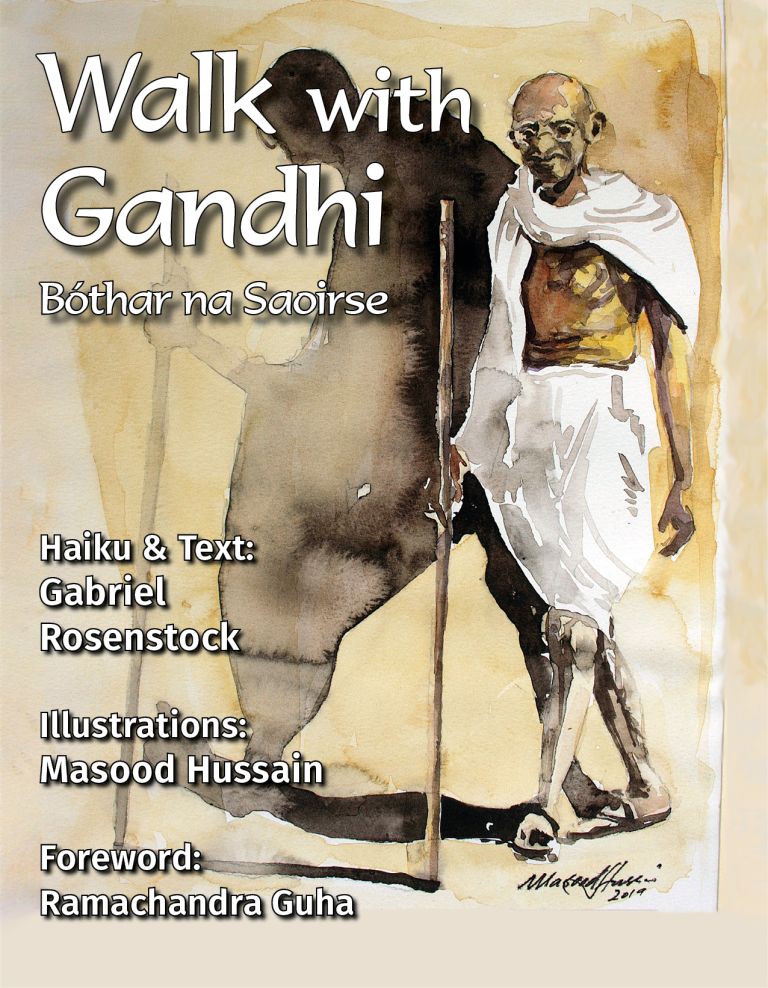 SILVIA PIO (edited by)
"In the attitude of silence the soul finds the path in a clearer light, and what is elusive and deceptive resolves itself into crystal clearness.
Our life is a long and arduous quest after Truth."
—Mohandas Karamchand Gandhi
A remarkable project of haiku in Irish and English by Gabriel Rosenstock with watercolour illustrations by Masood Hussain is now a book titled Walk with Gandhi, with Rafiq Kathwari as Consulting Editor/Project Coordinator. The project commemorates the 150th anniversary of Gandhi's birth, 2 October 1869.
It contains «little vignettes, snapshots that give us an insight into the life and beliefs of Mohandas K. Gandhi, the 'great soul' we know today as the Mahatma» (from the introduction). «Haiku cannot tell the whole story. All you will find here is a glimpse – an insight of such intensity that, hopefully, you will be inspired to find out more – about Gandhi, and about yourself!»
This project has inspired a multilingual collaboration, first published by the online magazine The Culturium, with the haiku translated into eleven languages. Margutte contributes translations in a twelfth language, Italian.
your shadow rests
but you walk on
determined
—English
ligeann do scáil scíth
ach siúlann tusa ar aghaidh
go diongbháilte
—Irish
je schaduw rust
maar je gaat door
vastbesloten
—Dutch
dein Schatten ruht
doch du setzt fort
entschlossen
—German
η σκιά σου στέκει
μα εσύ να συνεχίσεις
αποφάσισες
—Greek
તારો પડછાયો ઢળ્યો છે
પણ તું ચાલ્યે જાય છે
અટળ
—Gujarati
onyinyo gị dị
ma ị na-aga n'ihu
kpebisiri ike
—Igbo
影休む
でもきみ歩みたり
心決め
—Japanese
tvoja senca počiva
ampak ti hodiš naprej
odločen
—Slovene
descansa tu sombra
pero aún sigues caminando
determinado
—Spanish
kivuli chako kinapumzika
lakini una mwendo
wenye azimio
—Swahili
wo sunsum atɔ
nanso wotu anamɔn
firi wo na mu
—Twi
òjìjí rẹ sinmi
ṣùgbọ́n o tẹ̀siwaji
l'ẹ́nitó ti pinnu
—Yoruba
riposa la tua ombra
ma tu cammini e cammini
determinato
—Italian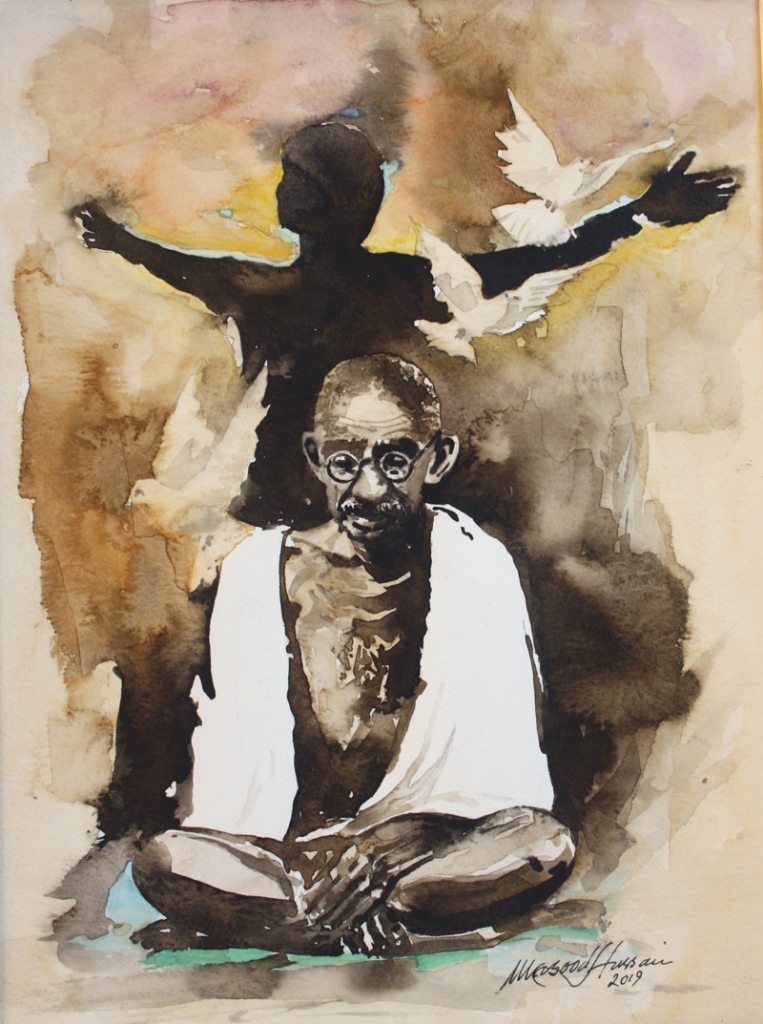 birds of peace
catch fire
skies redden and darken
—English
éanlaith na síthe
ag dul trí thine
dubhaíonn is deargann spéartha
—Irish
vogels van vrede
vatte vuur
de hemelen rood en donker
—Dutch
Vögel des Friedens
entflammen
Rot und dunkel werden die Himmel
—German
πουλιά ειρήνης
αρπάζουν φωτιά
τα ουράνια κοκκινίζουν
—Greek
તારો પડછાયો ઢળ્યો છે
પણ તું ચાલ્યે જાય છે
અટળ
—Gujarati
nnụnụ nke udo
jide ọkụ
eluigwe redden na-agba ọchịchịrị
—Igbo
安らぐ鳥
火事の暗闇
紅蓮の空
—Japanese
ptice miru
gorijo
nebo rdeči in temni
—Slovene
aves de paz
se incendian
cielos rojizos y oscuros
—Spanish
ndege wa uwiano
wateketea
anga zina miale na giza
—Swahili
asomdwe nomaa
dɛre sɛ gya
wiem dane kɔkɔɔ yɛ tuntum
—Twi
ạ̀wọn ẹyẹ àlàáfíà
gba iná
ojú ọ̀rún pọ́n ó sì dúdú
—Yoruba
uccelli di pace
prendono fuoco
in cieli rossi e scuri
—Italian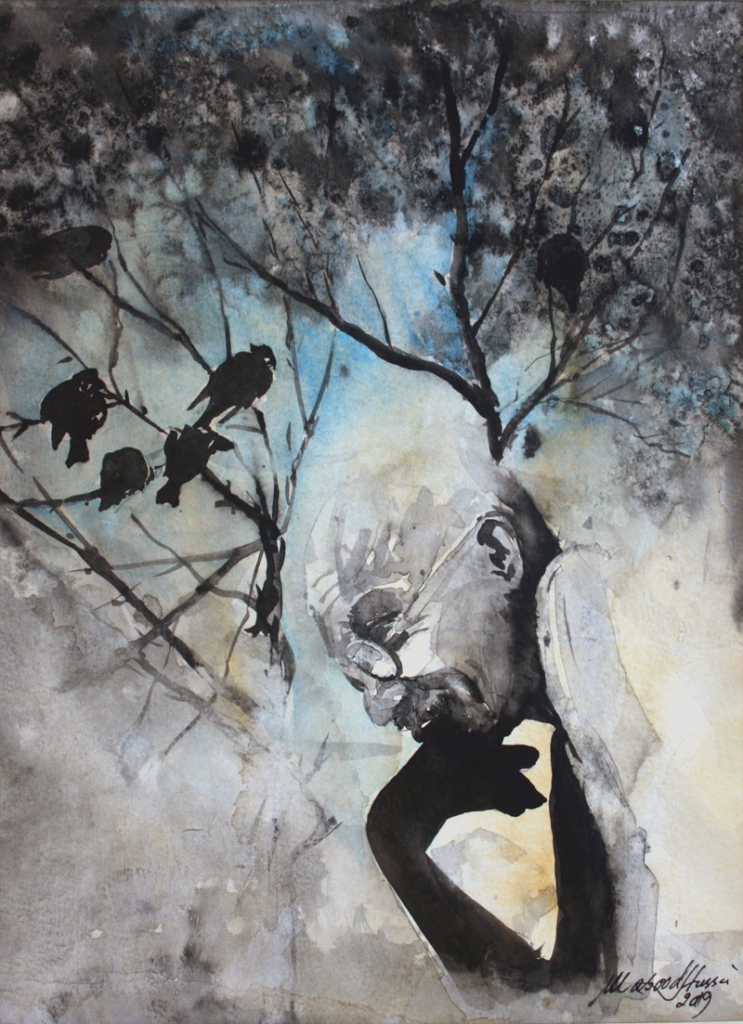 beginning of a fast …
the chirping of birds
grows louder
—English
tús troscaidh …
éiríonn giolc na n-éan
níos glóraí
—Irish
begin van een duurzaam …
het tjilpen van vogels
wordt luider
—Dutch
Beginn des Fastens …
das Zwitschern der Vögel
erstarkt
—German
αρχή νηστείας …
τα πουλιά τιτιβίζουν
πιο επίμονα
—Greek
ઉપવાસનો આરંભ
પંખીબોલ
સઘોષ …
—Gujarati
mmalite nke ngwa ngwa …
na ịkwagharị nnụnụ
na-etolite elu
—Igbo
断食や
鳥のさえずり
高くなり
—Japanese
začetek posta …
ščebetanje ptic
postaja glasnejše
—Slovene
al inicio de un ayuno
el piar de las aves
crece más fuerte
—Spanish
mwanzo wa mfungo
kerekere za ndege
kisikika Zaidi
—Swahili
akɔmkyene mfitiaseɛ
nomaa suu ano
yɛ den
—Twi
ìbẹ̀rẹ̀ àwẹ̀
igbe àwọn ẹyẹ
túnbọ̀ jákè
—Yoruba
inizia il digiuno…
gli uccelli cinguettano
sempre più forte
—Italian

stray birds come
and listen to his thoughts …
his silence
—English
tagann éanlaith strae
is éisteann lena chuid smaointe …
lena thost
—Irish
verdwaalde vogels komen
en luisteren naar zijn ideeën …
zijn stilte
—Dutch
streunende Vögel
hören seine Gedanken …
sein Schweigen
—German
πουλιά αδέσποτα
ακούνε τις σκέψεις του …
τη σιωπή του
—Greek
છુટાંછવાયાં પંખી
આવીને સાંભળે એના વિચાર …
એનું મૌન
—Gujarati
ụmụ nnụnụ gbawara
ma gee ntị n'echiche ya …
ya ịgbachi nkịtị
—Igbo
歓声や
誰をか思う
仕切り壁
—Japanese
zablodele ptice prihajajo
in poslušajo njegove misli …
njegova tišina
—Slovene
aves rezagadas vengan
y escuchen sus pensamientos …
su silencio
—Spanish
ndege tangatanga wawasili
kusikiliza mawazo yake …
kimya chake
—Swahili
akyirikyiri nomaa
bɛfa aba firi ne nsusuyɛ
ne ne dinnyɛ mu
—Twi
àwọn ẹyẹ wá
láti tẹ́tí sí èrò rẹ̀ …
ìpalọ́lọ́ rẹ̀
—Yoruba
arrivano uccelli sperduti
e ascoltano i suoi pensieri…
il suo silenzio
—Italian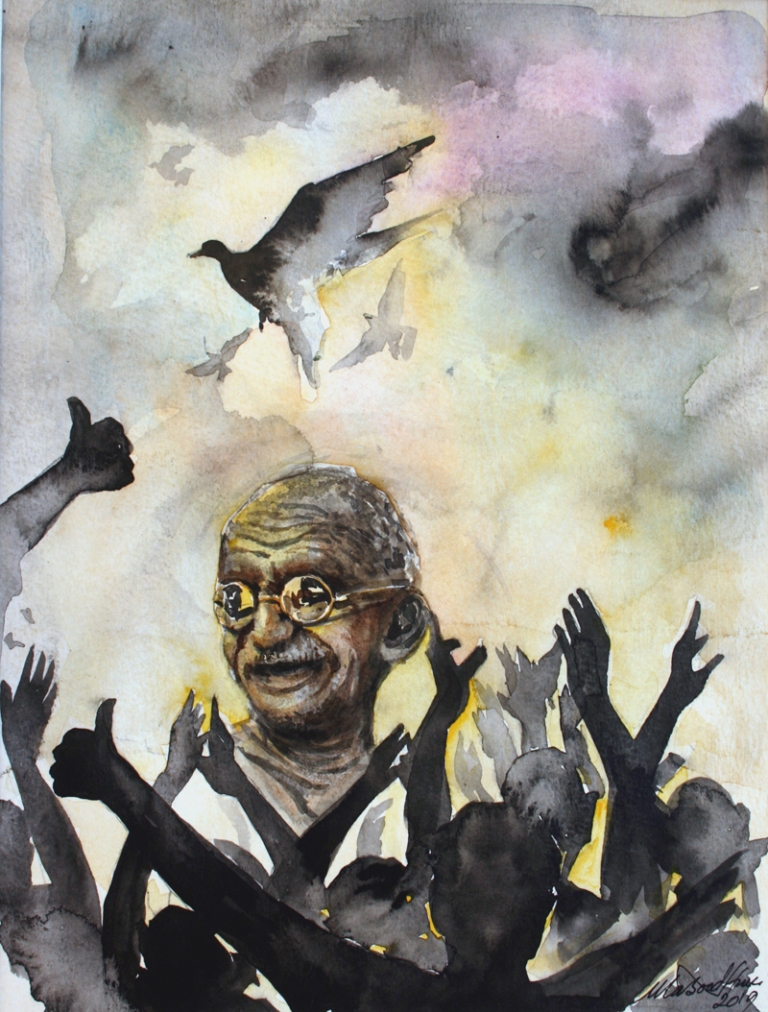 cries and jubilation
who is there to remember?
… Partition
—English
gártha is lúcháir
cé atá ann a chuimhneodh air?
… Críochdheighilt
—Irish
geschreeuw en bejubeling
wie moet men herdenken?
… Verdelen
—Dutch
Rufe und Jubel
an wen zu erinnern?
… die Teilung
—German
χαρές και πανηγύρια
ποιος τα θυμάται;
… Διχοτόμηση
—Greek
આર્તનાદ અને ઉજવણી
કોણ યાદ રાખવાનું છે ?
… ભાગલા
—Gujarati
mkpu na jubilation
ònye nọ n'ebe ahụ icheta?
… Nkebi
—Igbo
歓声や
誰をか思う
仕切り壁
—Japanese
kriki in zmagoslavje
kdo se še spomni?
… Razcepitev
—Slovene
llantos y alegria
quién hay para recordar?
… Quebranto
—Spanish
vilio na mbwembwe
ni nani aliye tayari kukumbuka?
… Ugavi
—Swahili
osuu ne anigyieɛ
hwan na ɔbɛkae berɛ yi?
… Mpaepaemu
—Twi
igbe àti ìjọyọ̀
taló wà níbẹ̀ láti rántí?
… ìyapa
—Yoruba
gridi di esultanza
chi resta a ricordare?
… la partizione
—Italian
colder than all the prisons
he's been thrown into …
Downing Street railings
—English
is fuaire iad ná gach príosún
inar caitheadh é …
ráillí Shráid Downing
—Irish
kouder dan alle gevangenissen
waarin hij geworpen werd …
de tralies van Downing Street
—Dutch
kälter als all die Kerker
in die er geworfen …
Downing Street Geländer
—German
πιο κρύα απ' όλες
τις φυλακές του …
της Ντάουνινγκ Στρητ τα κάγκελα
—Greek
સઘળી જેલથી ય અધિક ઠુઠવતી
આ ડાઉનિંગ સ્ટ્રીટની પટરીઓ ઉપર
એને ફેંક્યો
—Gujarati
dị elu karịa ụlọ mkpọrọ niile
a tụbara ya …
Ụzọ a na-akpọ Downing Street
—Igbo
寒き牢
投獄されて
ダウニング通り
—Japanese
hladnejše od vseh zaporov
v katere je bil vržen …
Downing Street ograje
—Slovene
más frío que todas prisiones
le han echado en …
los rieles de la Calle Downing
—Spanish
baridi kuliko jela zote
ametupwa tumboni mwake
ua maradufu la Downing Street
—Swahili
ɛhɔ yɛ nwunu sene
naduafie biara a wɔde no toeɛ …
Downing Street dadeban
—Twi
ó tutù ju ẹ̀wọ̀n
tí wọ́n ti jù sí lọ …
odi òpoponà Downing
—Yoruba
più fredda di tutte le prigioni
dove è stato rinchiuso…
l'inferriata di Downing Street
—Italian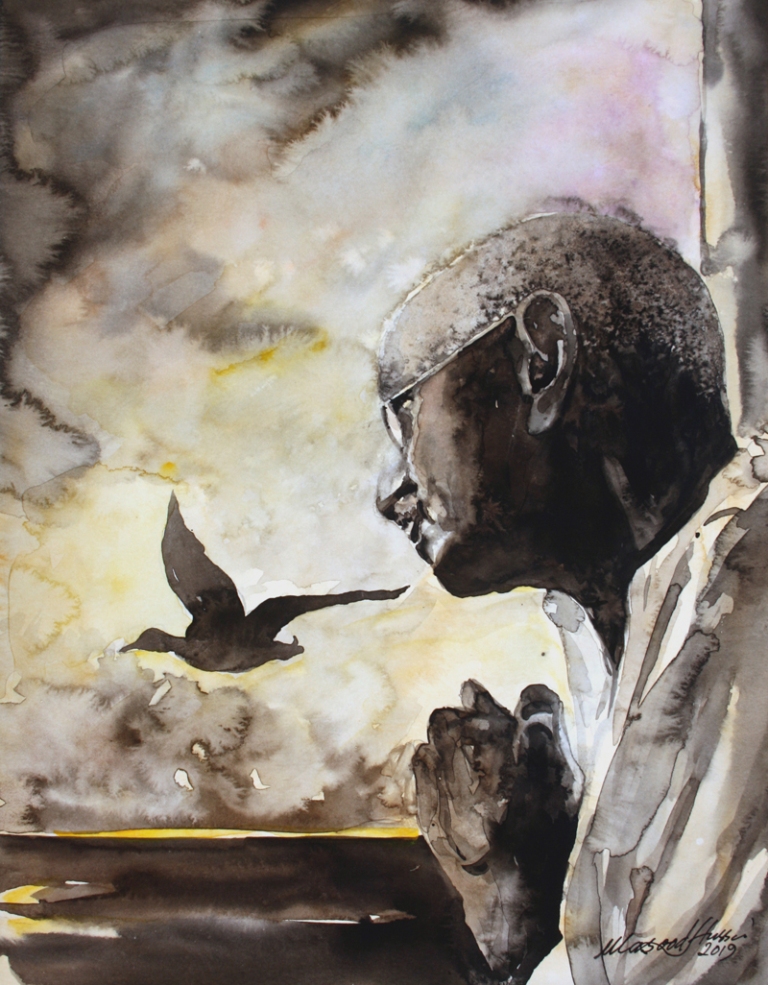 birds of the air
each in its own voice sings it …
freedom
—English
gach éan á rá
ina ghuth féinig …
saoirse
—Irish
Vogels van de lucht
Elk zingt erover zoals hij gebekt is
vrijheid
—Dutch
Vögel der Lüfte
jeder mit eigener Stimme singt …
Freiheit
—German
πουλιά του αέρα
τραγουδούν στη γλώσσα τους …
ελευθερία
—Greek
ઊડતાં પંખી
સૌ પોતાને કંઠે ગાય છે …
સ્વતંત્રતા
—Gujarati
nnụnụ nke ikuku
onye ọbụla na olu ya na-abụ ya …
nnwere onwe
—Igbo
空の鳥
自声で歌う
平和なり
—Japanese
ptice neba
vsaka poje s svojim glasom …
svoboda
—Slovene
aves del aire
cada una canta con su voz …
libertad
—Spanish
ndege wa upepo
kila mmoja aimba kwa mahadhi yake …
uhuru
—Swahili
ɛwiem nomaa
obiara de ne soronko to nwom sɛ …
faahodie
—Twi
àwọn ẹyẹ òfúrufú
ìkọ̀kan ń fọhùn kọ́ lórin …
òmìnira
—Yoruba
uccelli dell'aria
ognuno nella propria voce canta…
libertà
—Italian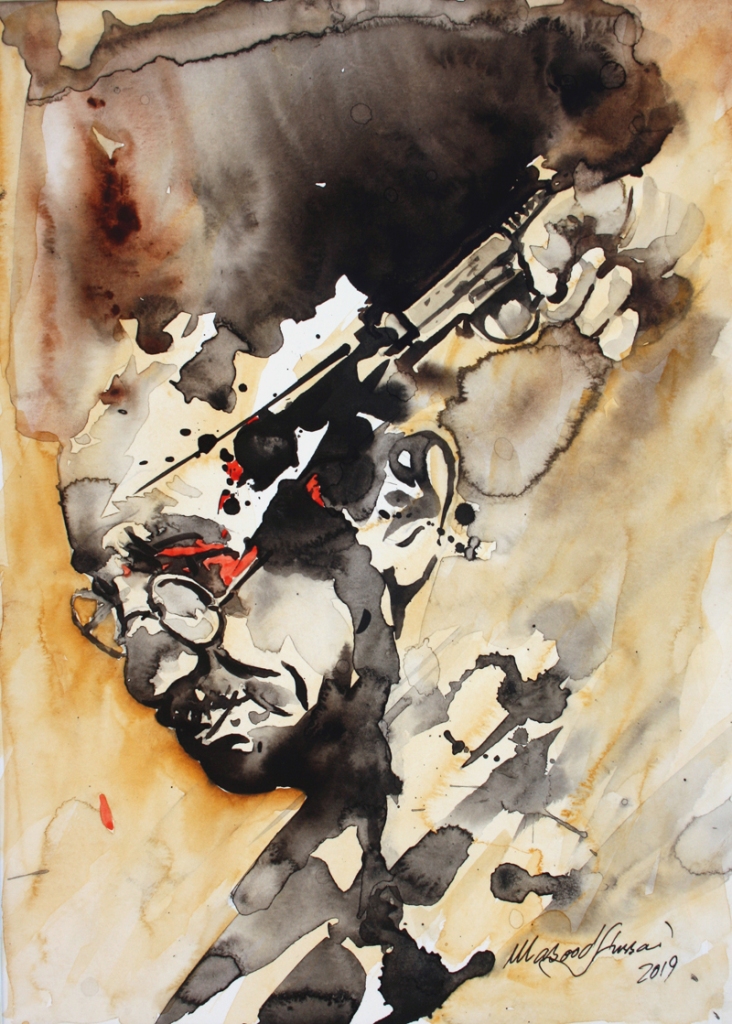 they still ring out
those three shots, Bapuji …
they still ring out
—English
pléascann siad fós
na hurchair úd, Bapuji …
pléascann siad fós
—Irish
ze weerklinken nog steeds
deze drie schoten, Bapuji …
ze weerklinken nog steeds
—Dutch
sie erdröhnen noch
jene drei Schüsse, Bapuji …
sie erdröhnen noch
—German
ηχούν ακόμη
οι τρεις σφαίρες, Πατέρα
ηχούν ακόμη
—Greek
હજી ય સંભળાય છે
પેલા ત્રણ ધડાકા બાપુજી
હજી ય સંભળાય છે
—Gujarati
ha ka na-eti
mkpu ndị na-agba agba atọ, Bapuji …
ha ka na-eti mkpu
—Igbo
まだ鐘を撞く
バプジーよ、三発の
まだ鐘を撞く
—Japanese
še vedno zvenijo
tisti trije streli, Bapuji …
še vedno zvenijo
—Slovene
todavia se escuchan
esos disparos, Bapuji
todavia se escuchan
—Spanish
mshindo bado unasikika
hiyo milipuko mitatu, Bapuji …
mshindo bado unasikika
—Swahili
ɛkɔ so ara su
saa Bapuji atototuo no …
ɛkɔso ara su wɔ m'asum
—Twi
wọ́n ṣì n dún jáde
àwọn ìyìbọn mẹ́tẹ̀ta, Bapuji …
wọ́n ṣì n dún jáde
—Yoruba
ancora risuonano
quei tre spari, Bapuji…
ancora risuonano
—Italian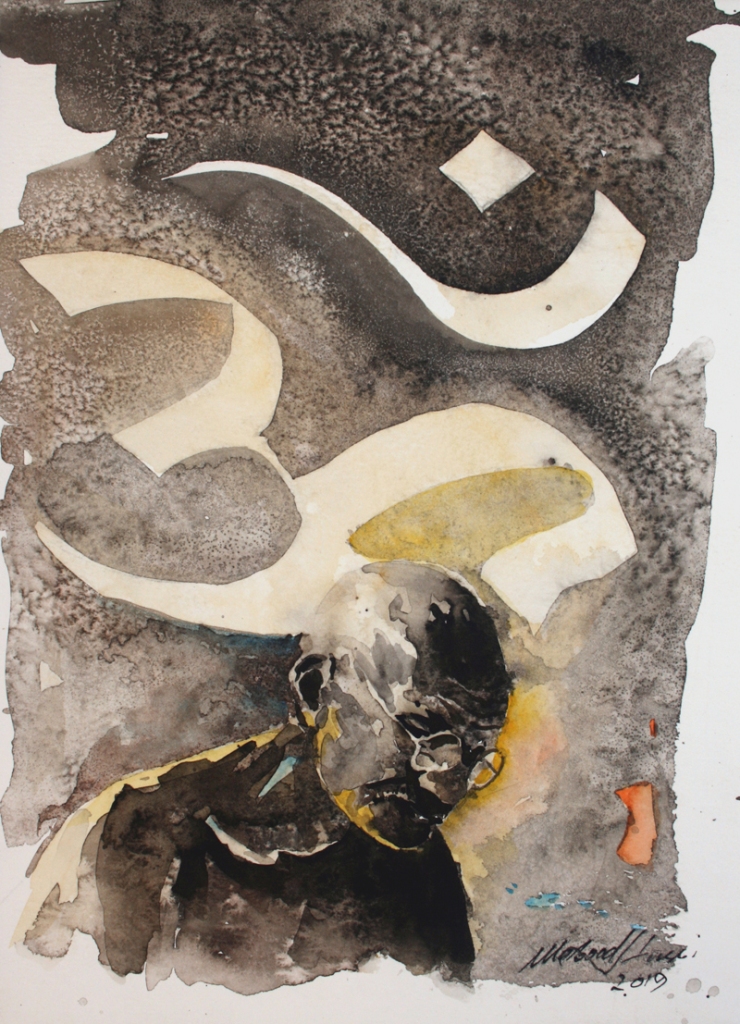 our dark fathers
and their fathers …
who are we now
—English
ár n-aithreacha dorcha
a n-aithreacha siúd …
cé sinne anois
—Irish
onze donkere vaders
en hun vaders …
wie zijn we nu
—Dutch
unsere dunklen Väter
und deren Väter …
wer sind wir jetzt
—German
οι μαύροι πατέρες μας
κι οι πατέρες τους …
ποιοι είμαστε τώρα
—Greek
અમારાં પીંછાં શામળાં
અને એમનાં પીંછાં
હવે અમે કોણ છીએ ?
—Gujarati
ndị nna nna anyị
na nna ha …
ndị anyị bụ ugbu a
—Igbo
闇の父
その父方よ
我らは何ぞ
—Japanese
naši temni očetje
in njihovi očetje …
kdo smo zdaj mi
—Slovene
nuestros sombrios padres
y sus padres …
quienes somos
—Spanish
baba zetu weusi
na baba zao …
sisi ni kina nani hasa
—Swahili
yɛn agya atuntumfoɔ
ne wɔn agyanom …
yɛn nso ne hwan seesei
—Twi
àwọn bàbá wa aláwọ̀ dúdú
àti àwọn bàbá tiwọn …
tani wá gan báyi
—Yoruba
i nostri padri oscuri
e i loro padri …
chi siamo adesso?
—Italian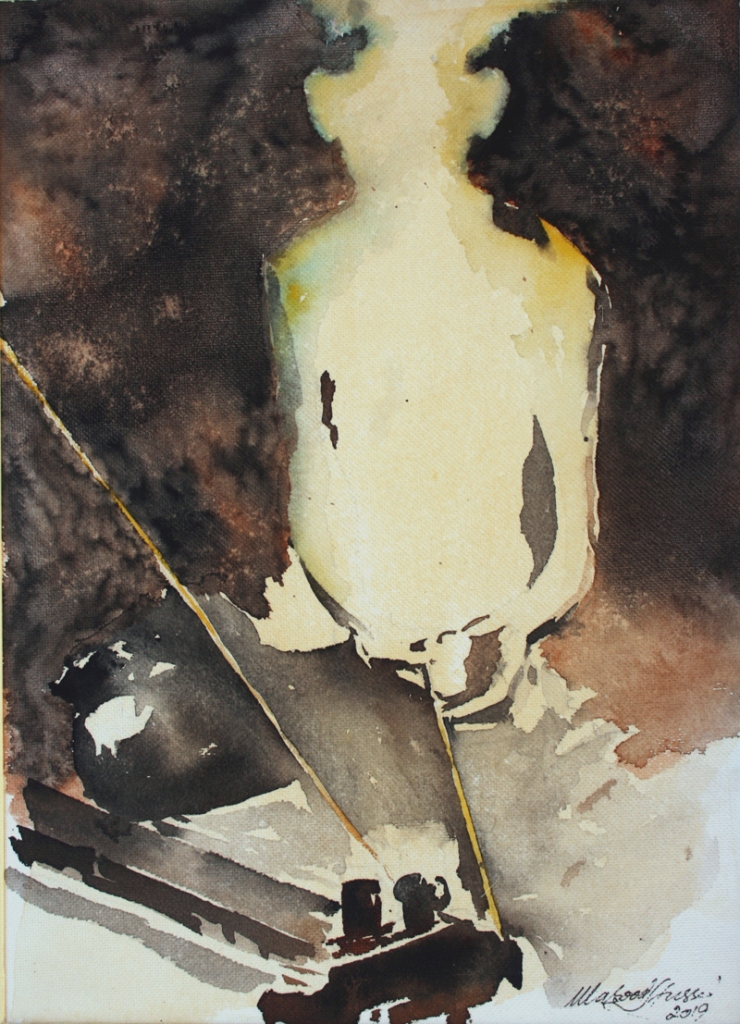 our hearts
can no longer hear it …
spinning wheel
—English
ní chloiseann ár gcroí é
ní chloiseann ár gcroí é a thuilleadh …
an tuirne
—Irish
onze harten
kunnen het niet meer horen …
spinnewiel
—Dutch
unsere Herzen
vernehmen es nicht mehr …
das Spinnrad
—German
οι καρδιές μας
δεν την ακούνε πλέον …
ανέμη αργαλειού
—Greek
અમારાં હૈયાં
હવે નથી સાંભળી શકતાં
રેંટિયાનો રવ
—Gujarati
obi anyị
apụghịzi ịnụ ya …
agbagharị ụkwụ
—Igbo
我らの心
もはや聞けぬも …
糸車
—Japanese
naša srca
ga ne morejo več slišati …
kolovrat
—Slovene
nuestros corazones
yo no le escuchan …
rueca de hilar
—Spanish
nyoyo zetu
zimesha goma kusikia …
gurudumu lina bembea
—Swahili
yɛn akoma
ɛnte mpo sɛ ɛrɛbɔ biom …
ntomanwene afidie
—Twi
ọkàn wa
ò lè gbọ o mó …
kẹ̀kẹ́ ayọ̀
—Yoruba
i nostri cuori
non la odono più…
la ruota per filare
—Italian
The creators of this book and the translators
Masood Hussain, an accomplished draughtsman and prolific watercolorist, honed his formidable skills at Sir J.J. Institute of Applied Arts, Mumbai. Masood teaches at the Institute of Music & Fine Arts in Srinagar, Kashmir, where he was born and raised.
Gabriel Rosenstock is a bilingual poet (in Irish & English), haikuist, tankaist, playwright, novelist, short story writer, essayist, translator, writer for children and champion of 'forlorn causes' – the phrase is Hugh MacDiarmid's.
Rafiq Kathwari, Project Don, the first non-Irish recipient of the Patrick Kavanagh Poetry Award, obtained an MFA from Columbia University, where he began translating the poetry collections of Muhammed Iqbal (1877-1938), a giant of South Asian literature in the 20th century, writing in Urdu. Rafiq gulfs his time between New York, Dublin and Kashmir, where he was born.
Taofeek Ayeyemi—Yoruba
Lawyer, poet and essayist. Winner, Poetic Wednesday Poetry Contest, 2018, and First Runner-up of the Okigbo Poetry Prize, 2016. Published in The Mamba, Failed Haiku, Akitsu Quarterly, Seashores, Wales Haiku Journal, 100 Bards of 2019, Under The Basho, Frogpond and The Quills. He lives in Port Harcourt, Nigeria.
Adjei Agyei-Baah—Twi
Lecturer, translator, editor and a PhD student at the University of Waikato, New Zealand. He is the co-founder of Africa Haiku Network, Poetry Foundation Ghana and the Mamba Journal, Africa's first international haiku journal. His poems have appeared in anthologies around the world.
Jenny Farrell—German
Born in Berlin but has lived, since 1985, in Ireland where she is the Secretary of The Liam and Tom O'Flaherty Society. She obtained a PhD in English Romantic Literature from Humboldt University, Berlin. Her publications include Fear Not Shakespeare's Tragedies (Nuascéalta, 2016) and Revolutionary Romanticism: Examining the Odes of John Keats (Nuascéalta, 2017).
Dileep Jhaveri—Gujarati
Bilingual poet, translator, playwright and physician. He is an editorial board member of national and international literary journals, and has been published in several countries. Well travelled. Lives near Mumbai.
Patricia Jiménez—Spanish
A painter, craftswoman member of CASEMCOOP, Gato Pardo de Monteverde, Casa de la Poesía del Festival Internacional de la Poesía en Costa Rica. She is from Monteverde de Costa Rica. She fights for Human Rights for People with Disabilities (INAMU).
Emmanuel Jessie Kalusian—Igbo
Co-Founder of the Africa Haiku Network and Co-Editor of The Mamba, he lives in Nigeria.
Willem M. Roggeman—Dutch
Former director of the Flemish Cultural Centre, De Brakke Grond, in Amsterdam, has worked as a journalist and art critic at Het Laatste Nieuws in Brussels, where he was born and still lives happily writing poems.
Mariko Sumikura—Japanese
Poet, essayist, translator. Graduated from Ristumeikan University. Representative of Japan Universal Poet's Association and Chief Editor Poetic-Bridge of Ama-Hashi (online). Published in Kokoro Kaoru Hito, Yume Tsumugu Hito, Hikari Oru Hito, Ai Matou Hito and Tsuchi daku Masurao. She was born in Kyoto.
Sarah Thilykou—Greek
Sarah studied theology, drama and music in Thessalonica, Utrecht and Paris.  She holds a PhD in theology. Her poetry collections are The World in Three Acts (Athens, 2017), and Duet of Islands (Japan Universal Poets Association, 2018)—a Japanese-English bilingual collaboration with Maki Starfield. Sarah lives and works in Athens where she edits Poeticanet.
Makarios Wanjala Wakoko—Swahili
His unpublished works include translations of George Orwell's Animal Farm into Lubukusu and Chinua Achebe's Things Fall Apart into Swahili and Lubukusu. He is working towards a PhD in Applied Linguistics at Masinde Muliro University where he is a don.
Alenka Zorman—Slovene
Award-winning haikuist. Published Metulj na rami/Butterfly on the Shoulder (2004, KUD Apokalipsa, Slovenia), and Notranja osvoboditev/Inner Liberation (2006, Blesok, Macedonia). Editor, Letni časi (Seasons). President Emeritus, Haiku Club of Slovenia. She lives in Ljubljana, Slovenia.
Silvia Pio—Italian
Italian poet, translator and promoter of literary events. Her poetry has appeared in magazines, books and online. She co-founded the literary online magazine www.margutte.com, which she co-edits, translating mainly poetry and writing articles and reviews.
Haiku posters can be bought here: https://www.etsy.com/shop/GandhiHaikuPosters
The book is available at Amazon.
All watercolours © Masood Hussain