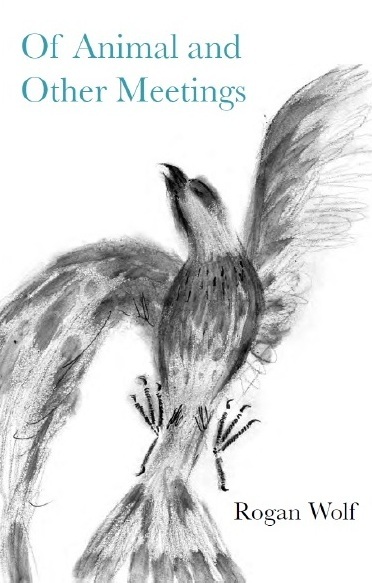 SILVIA PIO (edited by)
From Of Animal and Other Meetings by Rogan Wolf, Portugal Prints 2017
High Moments
I have seen owls
I have seen eagles.
We have held meetings
of high moment
in the same
ecstatic world.
We have looked
for each other
in the eye
knowing each
can be found there.
Far down
into the membrane
we have drawn
the same
sweet air.
*
Red Kite (above Oxford)
The motorway north
stoops
on Oxford.
At 80, we plummet
into the soft vale
of Middle Earth.
Precisely here
above the streaming lanes,
the red kite
forks
and glories.
Perhaps it is watching us.
It does not know
the precarious majesty
of its stalking of the hill.
We
in our lanes
know well
our haste
and high-powered littleness.
Beware the red kite
its steady eye.
It hovers with bewildering grace.
It bides its time.
*
Owl Axis
Mornings
for world news
tracing convulsion
and daily
mortifying anew.
Mornings
for this stone owl
under this apple tree
same exactly
as yesterday
my still centre
my friend.
But when sleep
absents me
I beg the owl
spread out
launch forth
break clear.
Let him exult
in free estate.
Let him give voice
from a reach of grandeur.
Wings of white silence
and exact return.
*
Birdsong Today
"Sir: I'm 14 and have just started my GCSEs… I want the chance to be something, to make a difference… [but] whilst we grow up our planet is being destroyed… On Monday you reported James Lovelock's announcement that it was already too late.
'We are past the point of no return,' he said…"
Isabelle Ellis-Cockcroft, Letters, 'The Independent', 19th January 2006
Birdsong today
from the roof ridge opposite
around eleven
lasting about three minutes.
I think it was a starling.
Then again towards dusk
(a time of clamour when I was young)
I heard a still small voice
in the great plane tree
down the road
and saw it -
a tiny
misty shape
high in the branches
scolding me with its song.
It lasted a minute or two
before darkness fell.
*
Sitting Out – Riverside
A small bird holds forth
in the yard
this evening
clear in that bare tree -
thrush, I think.
Early March –
not quite warm enough
for sitting out.
The thrush is pouring
all it's ever been
into the sound it's making
now. The notes linger
in this place. And may
take passage home
with me.
*
Going to Work
The leaves are sodden they'll take
months to become useful again.
I bagged them today
in a world so warm
I used my fingers to rake
the grass clear of their wet colours.
I imagine them now, as I write -
with the wind getting up
and the fox stirring for his scavenge through the dark:
there will be no more light, no air;
they are packed dankly together;
they have begun
their long settling back
their loss and blending of shape
their winter's work.
*
The Seagull
Here cold eye
and cruel survive.
He knows all about
seas and sea edges
the gobbets to be found there.
He picks and stabs
and takes his fill
whenever allowed, whatever
they yield, however
the weather, how wild.
He'll go everywhere
that yields, follow plough
or refuse lorry, tip or tide -
to pick and stab and stalk,
white coated
cold eyed.
*
Homecoming
It's as if the landscape
gathers you into its arms
making you not just
welcome here but whole.
It has reached out and found
you where you alone
could not. You are never lost
among these contours.
They map your interior.
You are discovered here.
*
Reaching Out
Reaching for words
is like searching the Earth
for stones
and then shaping them
one after another
into a path.
This book brings together poems written by Rogan Wolf, describing encounters with animals over the years, many of them birds of prey. But some describe plant, or stone, or tree, or landscape, even dragon or centaur… The poems were written over several decades and are set out chronologically.
The book is wonderfully illustrated by members of a mental health arts project run by Wandsworth and Westminster Mind, based in central London. Several of the artists suffer from long term mental health difficulties. The drawings do more than just represent the artists' responses to the poems and to what they evoked: they succeed in furthering the statement the poems are making.
All profits from the book will be donated to Wandsworth and Westminster Mind and to a charity called Hyphen-21 run by the author.
In the Introduction Rogal Wolf states: «I chose the title partly in recognition of the fact that not all the subjects of these poems are animals as such. But each one is a being or other aspect of creation outside my own range of reckoning, outside my own set of responses. For I don't really know what it's like to be an owl, any more than I know what it's like to be a stone or a bluebell, and I look at them as if outwards, or from without. In contrast, I look at me from within, as best I can. I look at fellow humans as if from within, as best I can. And that is different.
[…] The meetings the poems record impinged on me and extended me and inevitably my celebration of them reflect me to some extent. Although I do not know how our meetings impinged on my subjects, I hope that at least I showed them respect to a sufficient extent. My race has not shown sufficient respect for its companions on Earth since it emerged, nor been sufficient to its stated role as custodian and steward.»
Portugal Prints is Wandsworth and Westminster Mind's creative arts project based at Arlington House in Camden Town, London. For over 35 years it has been offering a friendly and supportive programme to people with mental health problems: art workshops, therapeutic groups, commercial design/work experience, gallery visits, education, training, and work opportunities.
The book is also on sale online here. It is possible to view the content clicking on the pages.
Rogan Wolf is a UK poet and retired mental health social worker. He ran mental health community centres in London for more than twenty years. He has founded and runs a charity called Hyphen-21, which aims to identify and support sound principle and creative practice in social care, above all in mental health work.
One of the projects managed by Hyphen-21 is called 'Poems for…' It has been running since 1998, funded by the UK Arts Council, the National Health Service, the John Lewis Partnership and the UK Foreign Office, among others. The project supplies small poem-posters for public display free of charge. They go to schools, libraries and health and social care settings all over the world. See the article in Margutte: Poems for the wall
For more articles and poetry by Rogan Wolf, click the tag with his name.