VIV LONGLEY
Agbrigg Writers, a creative writing group in Wakefield, West Yorkshire, UK, has held together for nearly a decade now with six of the initial core membership still attending most of the time.  It is defined by several characteristics that both deter new members and fuse those who join with some intensity.
You have to want to write!  Sounds basic but that instinct alone brings with it the nature of the person who stays with the group – it is wanting to improve, always learning and wishing to craft ones work better, endlessly fascinated by how words can be shaped for meaning and intent.  It also carries an interest in sharing what is written and wanting to improve it.
There are other factors that have defined how the group has developed.  The tutorship of John Clarke has been key in this.  John is interested in developing people's skills as well as his own and is tied into the wider canvas of writing in Yorkshire.  Each writer in the group gets personal attention on their work and also has an awareness of ways in which to share with other writers and what other groups are doing.  He also encourages reading out what has been written which is considered to be a key skill in getting to grips with what you have written and seeing it in a different way to the 'mind' voice that wrote it. His support has been vital and the group has developed, tolerant of all styles of writing and different motivations.  It is not always thus in writing groups.
In some ways the membership and character of the group means that new members are almost self selecting – we offer a free taster session to anyone and our 'character' as a group shines out as being welcoming but also difficult to get a grip on if you are not driven to write as the majority of people are.  It is also easy to grasp for people who do feel the same and immediately feel the vibe and that it is for them.  We just about manage to keep finding enough members to pay the room hire and a (very) small amount for our tutor.
Another factor that has shaped the group is one which also limits it.  It meets on a Thursday afternoon – if you can attend on a Thursday afternoon it means that you are probably not employed full time nor have other responsibilities which regularly make that time difficult – like picking children up from school or having other caring responsibilities.  It means that for the most part it is comprised of people who are 60+ and retired.  In fact our average age is higher than that!
We meet in a pleasant upper room in a community centre in Agbrigg – one of the inner areas of Wakefield.  This has also proved to be important as it uses a community facility that depends on some use to cover its costs.  We are also regular clients of the cafe within the centre that is an education and learning scheme for people with learning difficulties who get to grips with serving food and drinks and looking after customers.  We are a welcome crowd on a Thursday!  Something that has also been important is the actual room we are in – it encourages a group effort somehow.  We tried another room in the centre when numbers grew a bit and it just didn't work for us.  The ambience was wrong.  That was an interesting thing to find out.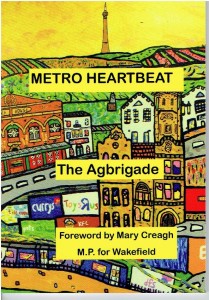 Another factor that has proved relevant to the cohesion of the group is that we have done a number of publications with the generous help of John and Currock Press. Occasionally we have received small grants to make a publication (thank you to Wakefield Council and the Arts Festival).  This has given a focus on a single topic or approach and is proof that something can be 'more than the sum of its parts'.  One publication prepared for the anniversary of the death of seven miners at a local colliery – Lofthouse – has proved to be a moving performance piece.  All our writers are local and some had close connections with the mining industry when it was a busy local employer. We have also done a booklet that tied in with the Tour de France doing their Grand Depart in Yorkshire – this included art work appropriate to the theme and we hired an unused shop front in a shopping centre and had quite a few visitors.  The advent of self publishing at low cost has resulted in a few people putting together their own anthologies. This has sharpened the self-editing and has showcased how much the writing of the group has improved. It affirms to the author of this piece just how much people can achieve when they have a passion and apply effort with the guidance of a mentor who is gentle and affirming.
The group has also had to face the  death of four of its members and one who has lost her life whilst still living it.  It concentrates the mind on the fact that life is a limited resource and that if you have a skill and a passion – use it whilst you still have it and do not squander it. We miss Don, Tony, Derek, Sheila and Melvyn.
https://agbriggwriters.weebly.com
Editor's note:
I visited the Agbrigg Writers in the summer 2017 when I was a guest at one of their meetings. I was astonished at how good their writing was and how eager they all were to engage in any challenging topic John would suggest. I have also enjoyed reading their books.
I hope that groups like the Agbrigg could spread also in Italy, with the essential support of the community and of public funding.
Viv Longley in Margutte:
The Wakefield Poets, Viv Longley