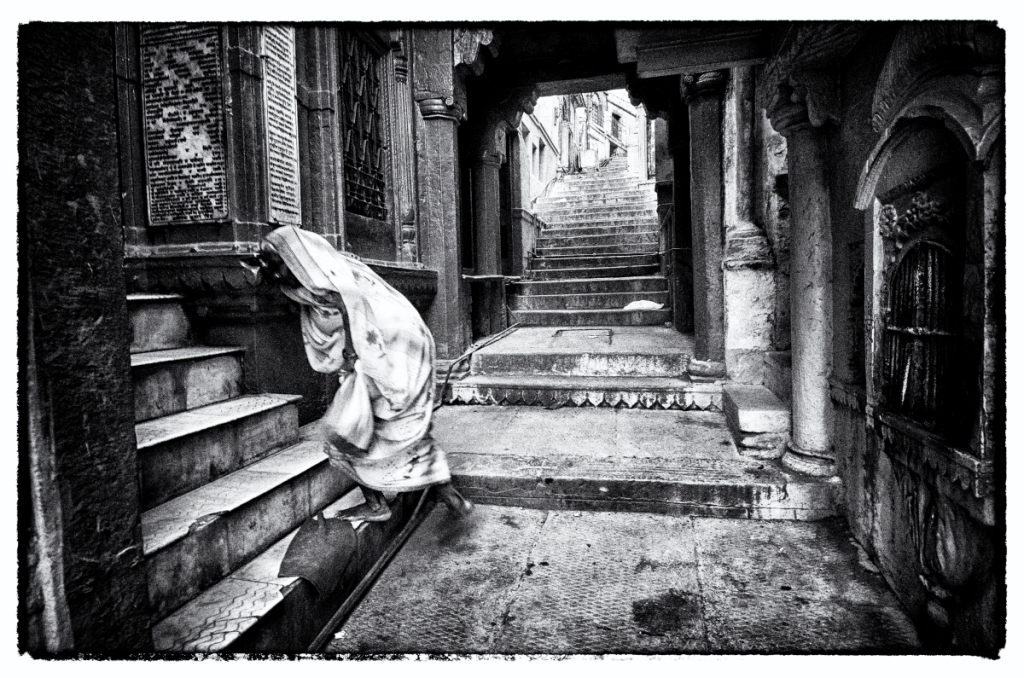 Haiku in English and Gaelic by Gabriel Rosenstock on photography series by Debiprasad Mukherjee, a story on a hospice at Varanasi, India, where people can spend their last fifteen days of life.
Taking God's name and dying in Varanasi – this is interpreted by Hindus in India as liberation of the soul, release from constant cycle of rebirth and reach the ultimate destination called Moksha. Kashi Labh Mukti Bhavan (Liberation House) is one such place in Varanasi where people check-in to die because they believe dying a good death in Varanasi forgives bad karma (culmination of deeds). People from all across India, from diverse cultures of Hinduism come to this sacred hospice with their loved ones to celebrate their death, rather their Mukti (release of soul). Every moment after checking in to this hospice, they pray to God for death, they start counting the days. They all want death to happen as soon as possible so that the remains of the body can be offered to River Ganga in Varanasi and the soul will get holy escape from rebirth cycle.
More than 15000 names are listed who have died here.
(From https://debiprasadmukherjee.wordpress.com/the-last-stop-before-salvation/)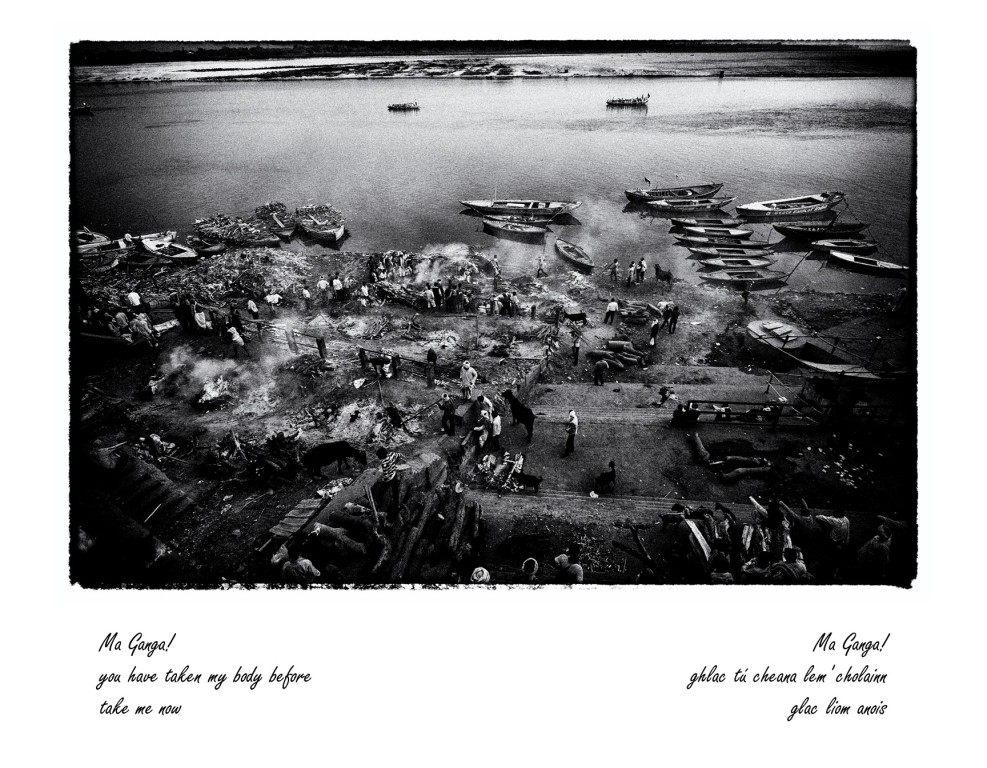 The Dynamics of Photo Haiku
By Gabriel Rosenstock
I have had the privilege of working with world-class photographers and to be allowed to see the world through their eyes and through mine together. Their vision is framed within their own shot, of course, as an aesthetic unit but when the work re-emerges in the new guise of a photo-haiku (or a haiga) the interplay of image and text creates a new flavour, a new sensation, a new experience of reality. The energies, memories, experiences, beliefs of two distinct people – who may or may not know one another – all emerge from the dark room of the unknown.
I have worked with American photographer Ron Rosenstock (no relation; see here in Margutte), Greek photographer Kon Markogiannis, Dublin photographer Jason Symes, French photographer Jean-Pierre Favreau and many others, including past masters. Working with Kolkata-based Debiprasad Mukherjee is another step on this trek, this pilgrimage without a goal. The vitality of Mukherjee's work is a tonic for the soul.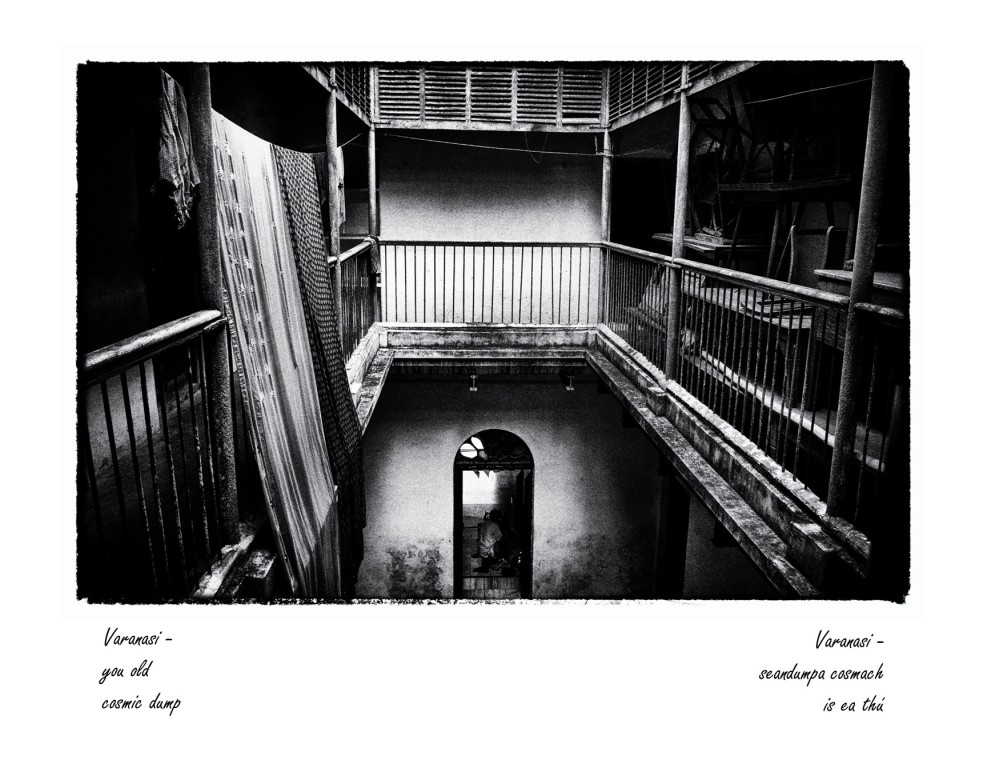 The haiku are composed instantaneously in Irish and English and an interplay happens between the two languages as well. When translating from one to the other, I might see something in the order, or choice, of words that suggests a back translation. As a daily mental exercise, bilingual photo-haiku is a meditation, a mind cleanser like nothing else.
It has been said that a Zen-haiku poet does not look at an apple, say, but as an apple. Interpenetration is the key, emptying the mind and entering into the photographic experience in a blissful state – literally stepping into the photographic landscape or image in order to step out of oneself. It is what haiku master Bashō meant when he said to his disciples, 'Go to the pine . . .'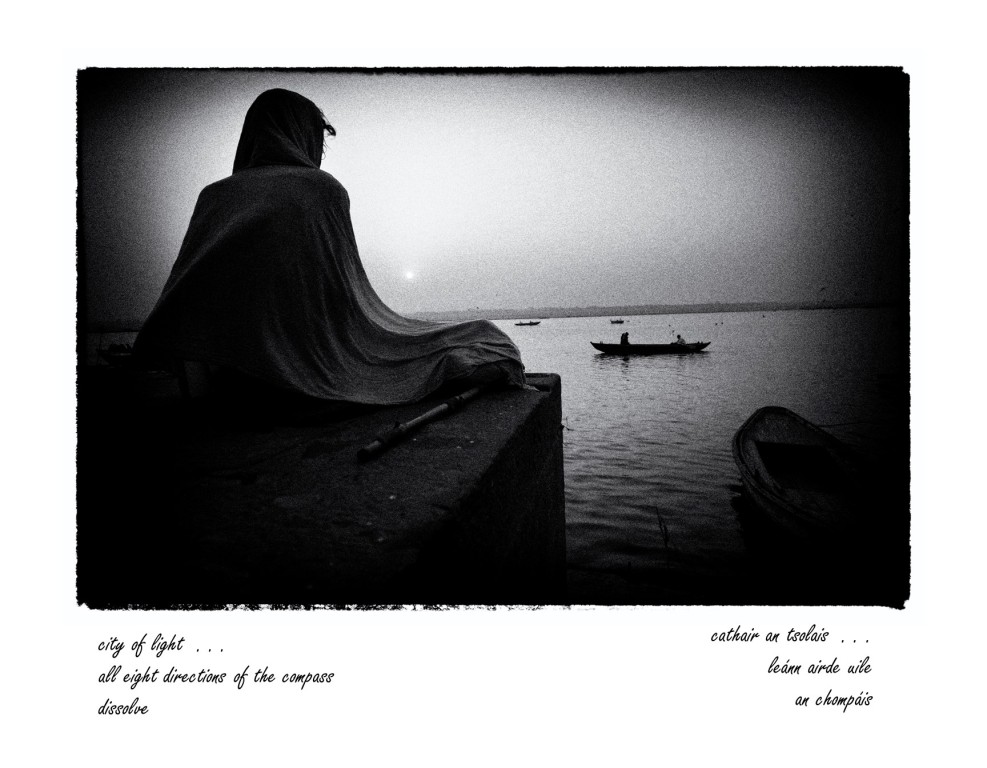 Gabriel Rosenstock
Born in 1949 in postcolonial Ireland. Poet, tankaist, haikuist, novelist, essayist, playwright, author/translator of over 180 books, mostly in Irish (Gaelic). Member Aosdána (Irish academy of arts & letters). Lineage Holder of Celtic Buddhism, Former Chairman Poetry Ireland/Éigse Éireann.
Gabriel Rosenstock's recent haiku books have been published by The Onslaught Press, Oxford, UK.
http://roghaghabriel.blogspot.ie/
Debiprasad Mukherjee
Indian freelance documentary photographer based out of Kolkata, India. His photographic vision is not only to depict social, political and financial issues and conflicts but also to portray surreal beauty and the enduring power of the human spirit.
Edited by Silvia Pio, who has translated some of the haiku in Italian here.