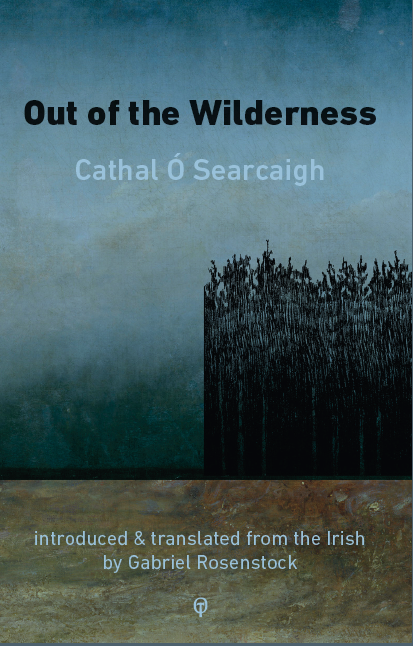 Enclosed Fields
Over beyond the cliff
I can see enclosed fields
head over heels.
Were it not for the sheep
ensconced there, pressing down
like paper weights,
they would be as leaves
swept away
into nothingness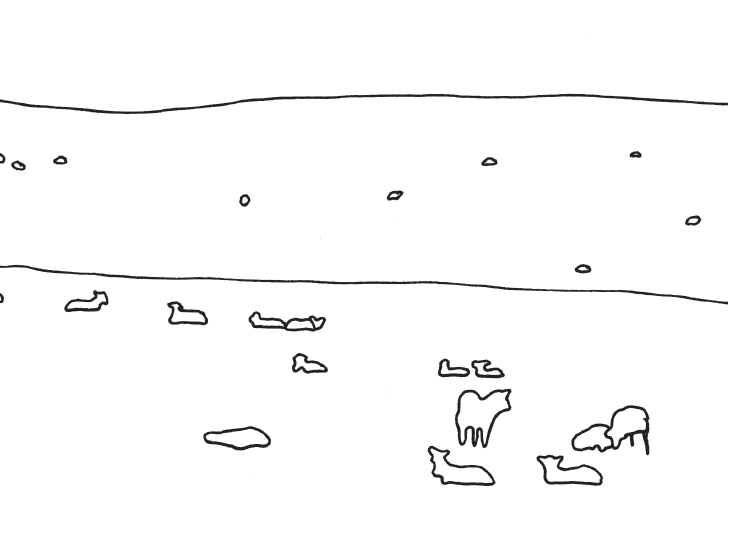 When my name you spoke
When my name you spoke, my love,
in soft sighs of affection, it was not my name
any longer but the flowering sword lily
yellowing in the mouth of the breeze.
When to your heart you pressed me
wildly, I was no more, I became
a summer stream
welling up and breaking its banks.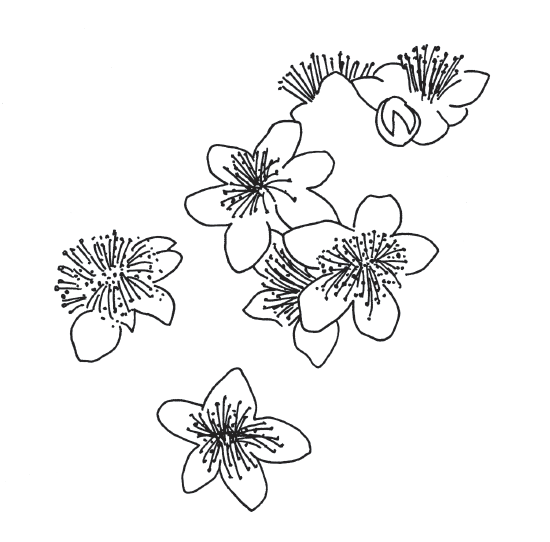 Mountain Trek
Drizzles drench the skin
furze exudes
a fragrance
A lull in the conversation
a bramble
breaking into flower
A bare mountain pass looms ahead
a lark above me sweet
translucent
Living is all there is
to do now.
Later
We can find purpose
pathways
out of maze & mist
Entering the eye of the storm
drenching yourself
in it
Sunday in Mín 'a Leá,
Sunday in Gaza
A gentle Sunday
in Mín 'a Leá
I'm unperturbed
in the garden
my counterpart in Gaza
running out of breath
pleading
to escape
the next missile attack
the fallout of explosions.
A soft slow sleepy Sunday
in Mín 'a Leá
night will fall into silence
a moon will rise
relaxing in the air
but in Gaza
the sky will ignite
in burning flames
houses will crumble
bones shatter.
On this quiet Sunday
in Mín 'a Leá
how easy it is
to mourn Gaza
as I sit in the garden
comfortably
enjoying the scent
of newly cut grass
not a care in the world
but the making of a poem.
Not a care in the world
but the making of a poem?
A Postcard to Yusuf in Iraq
A balmy March night in Manhattan
I stand at the doorstep
where you once lived in Bleeker Street
and where I loved you in the eighties.
I linger at this door into delight,
the moon-madness of our embraces comes flooding back
and how we spoke of your homeland—
the sunny stretches between Najaf and Hillah.
Where are you tonight? I don't know,
the foundations of the world shiver, beloved,
from Najaf to Hillah; your people tremble
beneath a mighty hail of cowardly assault.
Bombs of the barbarians rain on you
and your cities are ruins, your towns and villages destroyed,
and I fear greatly that your life may be in peril
as they come to lay waste to what lies between Najaf and Hillah.
Tonight as I linger at the door to my heart's desire
thinking of you and of something you once said:
'The poet's homeland is in the hearts
of the oppressed.' Tonight, beloved,
what can I say but assure you
in a language not heard above tumult and confusion
that I am with you, entirely. The bomb
is victorious over my word and the missile mocks my poem,
but tonight I am with you, my treasure of all Iraq
for your heart, throbbing there in the crimson fire of war,
is my homeland, my poem, my humanity.
And so, man of my heart and soul,
I am with you now from the crown of my head
in Najaf to the soles of my feet in Hillah.
Cathal Ó Searcaigh, Out of the Wilderness, introduced & translated from the Irish by Gabriel Rosenstock, The Onslaught Press, Oxford, 2016
Cover & illustrations: Mathew Staunton
From the Introduction:
«What makes great poetry? An unmistakable voice, what else, one that is attuned to the creative intelligence of the universe, responding to the eternal questions with all that is distilled from a life lived by a sensitive enquiring mind, a mind that has absorbed the best of what the native tradition can offer, a mind open to world literature, a mind inhabiting an organism that lives and breathes in a particular environment, now, but subtly aware of the human condition before this brief encounter with time. A poet of now, yesterday and of ages to come, aware of his destiny as a poet.
[…]
Ó Searcaigh's voice is the true voice of poetry, one that makes the matter of his poems 'living to the imaginative vision'; living, yes; a voice in the wilderness, it cannot live anywhere else.
[…]
Cathal has never been much of a political animal and wouldn't have time for Che Guevara, or guerrilla fighters at home or anywhere in the world, but he would be interested to know and be consoled by the fact that a wilderness voice is heard in the unlikeliest of places. Cathal's voice is being heard now, at home and across the world, and will always be heard wherever poetry is loved and needed.
[…]
It's not altogether true that he is an apolitical poet, of course, and his 'A Postcard to Yusuf in Iraq' deserves a place in any anthology of anti-war poems… Furthermore, writing in a lesser-spoken language is a political act, of sorts, in itself. It asserts the beauty, the integrity and the dignity of those lives which find voice and meaning far from the madding crowd.
He is politically vocal, as well, without naming and shaming anybody, when he describes the desolation of many Gaeltacht areas due to unemployment and emigration and our seeming inability as a people and as a nation to maintain (not to mention revive) the Irish language.
If disappointment and anger can be sensed in many poems, there is, too, an acceptance, an acceptance which is greater than his defiance… which seems to suggest that everything is all for the good. A poet has no choice but to accept his vocation and to sacrifice his life to it, his joy, his sorrow, his journeys into the unknown.
[…]
The translator's task in the case of Cathal Ó Searcaigh revolves around absorption and recreating or transcreating what is experiencable in the original. By absorption we mean, in this instance, entering the life of the poem, hypnotically, through the river of sound. In this regard, all translations of Irish poetry fall short of the mark and are nothing but sign language for the deaf. As there are so few readers of Irish-language poetry today, who—we may well ask—is the poet addressing? Ghosts, much of the time, fellow poets, artists and scribes from other ages, other climes, or young victims of violence in the Middle East; or he addresses entities which cannot understand his language, such as Mount Errigal. Only the crass materialist, the rationalist, would say that the above are indifferent to his utterances.
The English translator of Ó Searcaigh can never forget that he is fashioning something in what is, after all, the historically imperialist language, a language which threatens to swallow the Irish language and his own sub-dialect. Indeed, he may well be the very last speaker of the Irish of Mín 'a Leá. Fortunately, we have recordings of his beautiful voice.»
Cathal is interviewed by Daithaí O Ciaran as part of the Poetic Synergy radio series about the eastern influences on his work.
Cathal Ó Searcaigh (born 1956 in Donegal) is regarded as one of the greatest Irish-language poets of the modern age. He has also written a moving memoir in English, Light on Distant Hills.
His fellow-poet Liam Ó Muirthile says of him:
«Cathal Ó Searcaigh's joyous celebration of his own people and place in North West Donegal, his buoyant homo-eroticism, is both convincing and infectious…  Reading the bulk of his poems in the original, something happens. A boyishness comes alive in his imaginative landscape, marvelling at the humanity of it all, which affirms a boyishness in ourselves . . . His portraits of older people are superb, and awaken us to our own intimacy by our participation as listeners to, and readers of his own relationships. One of the consistent aspects of his work is his musical phrasing, broken in unexpected places to arrest the ear. His emotional range gathers us in with its unadulterated exuberance, especially in his love poems.»
https://en.wikipedia.org/wiki/Cathal_%C3%93_Searcaigh
Gabriel Rosenstock in Margutte:
Uttering Her Name