Dirty Old Town
I found my love where the gaslight falls
Dreamed a dream by the old canal
Kissed my girl by the factory wall
Dirty old town, dirty old town
Clouds are drifting across the moon
Cats are prowling on their beat
Springs a girl in the streets at night
Dirty old town, dirty old town
I heard her sigh from the decks
Saw a train set the night on fire
Smelled the spring on the smoky wind
Dirty old town, dirty old town
I'm going to take a good sharp ax
Shining steel tempered in the fire
We'll chop you down like an old dead tree
Dirty old town, dirty old town
The Manchester Rambler
I've been over Snowdon, I've slept upon Crowdon
I've camped by the Waynestones as well
I've sunbathed on Kinder, been burned to a cinder
And many more things I can tell
My rucksack has oft been me pillow
The heather has oft been me bed
And sooner than part from the mountains
I think I would rather be dead
Ch: I'm a rambler, I'm a rambler from Manchester way
I get all me pleasure the hard moorland way
I may be a wageslave on Monday
But I am a free man on Sunday
The day was just ending and I was descending
Down Grinesbrook just by Upper Tor
When a voice cried "Hey you" in the way keepers do
He'd the worst face that ever I saw
The things that he said were unpleasant
In the teeth of his fury I said
"Sooner than part from the mountains
I think I would rather be dead"
He called me a louse and said "Think of the grouse"
Well i thought, but I still couldn't see
Why all Kinder Scout and the moors roundabout
Couldn't take both the poor grouse and me
He said "All this land is my master's"
At that I stood shaking my head
No man has the right to own mountains
Any more than the deep ocean bed
I once loved a maid, a spot welder by trade
She was fair as the Rowan in bloom
And the bloom of her eye watched the blue Moreland sky
I wooed her from April to June
On the day that we should have been married
I went for a ramble instead
For sooner than part from the mountains
I think I would rather be dead
So I'll walk where I will over mountain and hill
And I'll lie where the bracken is deep
I belong to the mountains, the clear running fountains
Where the grey rocks lie ragged and steep
I've seen the white hare in the gullys
And the curlew fly high overhead
And sooner than part from the mountains
I think I would rather be dead.
My Old Man
My old man was a good old man
Skilled in the moulding trade
In the stinking heat of the iron foundry
My old man was made
Down on his knees in the moulding sand
He wore his trade like a company brand
He was one of the cyclops' smoky band
Yes, that was my old man
My old man wasn't really old
It's just that I was young
And anybody over twelve years old
Was halfway to the tomb
He was loyal to his workmates all his life
Gave his pay packet to his wife
Had a few jars on a Saturday night
Yes, that was my old man
My old man was a union man
Fought hard all his days
He understood the system
And was wise to the boss' ways
He says, you want what's yours by right
You have to struggle with all your might
They'll rob you blind if you don't fight
Yes, that was my old man
My old man was a proud old man
At home on the foundry floor
Until the day they laid him off
And showed him to the door
They gave him his card, said, things are slack
We've got a machine can learn the knack
Of doing your job, so don't come back
The end of my old man
My old man he was fifty-one
What was he to do?
A craftsman moulder on the dole
In nineteen thirty-two
He felt he'd given all he could give
So he did what thousands of others did
Abandoned hope and the will to live
They killed him, my old man
My old man he is dead and gone
Now I am your old man
And my advice to you, my son
Is to fight back while you can
Watch out for the man with the silicon chip
Hold on to your job with a good firm grip
'Cause if you don't you'll have had your chips
The same as my old man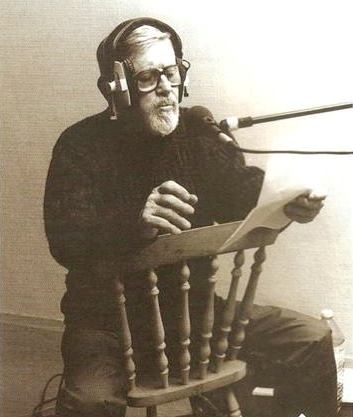 The Joy of Living
Farewell, you northern hills, you mountains all goodbye
Moorlands and stony ridges, crags and peaks, goodbye
Glyder Fach farewell, cold big Scafell, cloud-bearing Suilven
Sun-warmed rocks and the cold of Bleaklow's frozen sea
The snow and the wind and the rain of hills and mountains
Days in the sun and the tempered wind and the air like wine
And you drink and you drink till you're drunk on the joy of living
Farewell to you, my love, my time is almost done
Lie in my arms once more until the darkness comes
You filled all my days, held the night at bay, dearest companion
Years pass by and they're gone with the speed of birds in flight
Our lives like the verse of a song heard in the mountains
Give me your hand and love and join your voice with mine
And we'll sing of the hurt and the pain and the joy of living
Farewell to you, my chicks, soon you must fly alone
Flesh of my flesh, my future life, bone of my bone
May your wings be strong may your days be long safe be your journey
Each of you bears inside of you the gift of love
May it bring you light and warmth and the pleasure of giving
Eagerly savour each new day and the taste of its mouth
Never lose sight of the thrill and the joy of living
Take me to some high place of heather, rock and ling
Scatter my dust and ashes, feed me to the wind
So that I may be part of all you see, the air you are breathing
I'll be part of the curlew's cry and the soaring hawk,
The blue milkwort and the sundew hung with diamonds
I'll be riding the gentle breeze as it blows through your hair
Reminding you how we shared in the joy of living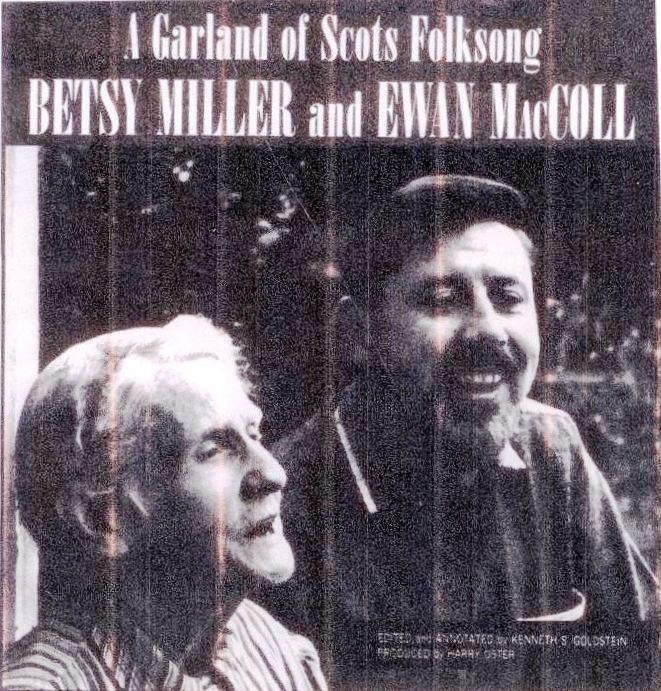 Ewan MacColl was born James Henry Miller in Salford, Lancashire, on January 25 1915, from parents who were active left-wing socialists. Equally important in the life of the household were the songs and stories his parents brought from Scotland – a huge repertoire with which his father and mother kept themselves and their friends entertained.
After an elementary education, MacColl left school in 1929. The Great Depression was in full swing so he worked at a variety of temporary jobs: motor-mechanic, factory worker, builders' labourer, street-singer, etc. His first literary experience was gained in the early 1930s when he wrote for, and later edited, factory newspapers. After taking part in the hunger marches and the battles of the unemployed (1932-33) he joined forces in 1934 with Joan Littlewood, a young actress just up from the Royal Academy of Dramatic Arts. They married (he was married three times) and set up a workers' experimental theatre in Manchester, the Theatre of Action.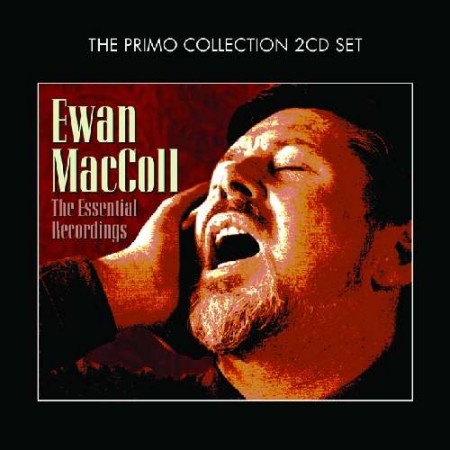 In 1936 MacColl and Littlewood formed Theatre Union, a group that described itself as a 'theatre of the people' and made considerable impact upon audiences throughout the industrial northeast in the period between 1936 and 1939. Among its most notable productions, directed jointly by MacColl and Littlewood, was Last Edition, a 'living newspaper', written by MacColl and dealing with the political events leading up to the Munich Agreement. In 1939, Last Edition was stopped by the police and MacColl and Littlewood were arrested and charged with disturbing the 'peace'. They were both fined and barred from taking part in any kind of theatrical activity for the next two years.
In August 1945 they formed Theatre Workshop. Between 1945 and 1952 he wrote eleven plays, a number of which were translated into German, French, Polish and Russian. George Bernard Shaw once quipped that other than himself, MacColl was the best living playwright in Britain.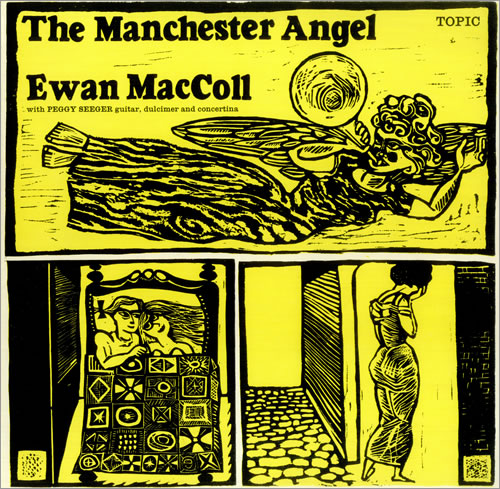 In 1949 he married dancer and choreographer Jean Newlove, with whom he had two children, Hamish and Kirsty MacColl, both of whom became singers and musicians. By this time, enamoured with the Lallans movement in Scotland, he (like many other writers) had changed his name from Jimmie Miller to Ewan MacColl, the name by which he was known for the rest of his life.
In 1952 Theatre Workshop moved to Stratford, London, and MacColl began to turn his attention to traditional music and songwriting. He was soon playing a key role in initiating and extending what is now called 'the folksong revival' in Britain. In London, with Alan Lomax, Bert Lloyd, Seamus Ennis and others, he founded the Ballads and Blues Club, later to become the famed Singers Club.
In 1956 he met Peggy Seeger and they embarked upon a life-partnership. Between 1959 and 1972 they had two sons, Neill and Calum (both of whom are singers and musicians) and a daughter, Kitty. Peggy and Ewan became a well-known singing duo. They recorded numerous albums, conducted workshops and toured worldwide as singers of traditional and contemporary songs.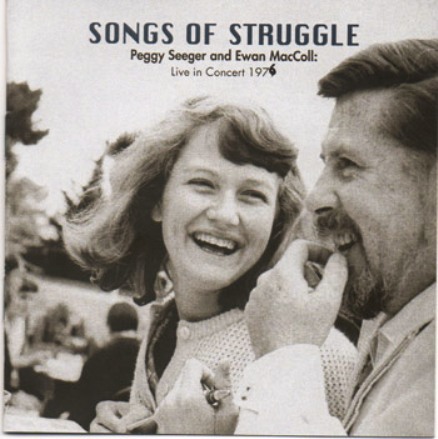 From the early 1930s, MacColl had been involved in radio as a narrator, actor, writer and producer, and he had worked with numerous experimental producers. In 1957 he wrote a series of musical documentaries for BBC radio which came to be known as The Radio Ballads. These were a combination of recorded speech, sound effects, new songs and folk instrumentation and they were hailed as a major breakthrough in creative radio technique. One of these, Singing The Fishing, won the Prix d'Italia in 1960.
In 1965 MacColl and Peggy Seeger founded the Critics Group, a loosely organised company of revival singers who trained in folksinging and theatre techniques, with a view to forming a base from which a folk theatre could be developed. Every year for five years, the Critics put on The Festival of Fools, a dramatic musical revue of the year's news.
MacColl and Seeger collected extensively from traditional singers in Britain. In addition to books of their own songs and various small collections, they produced two anthologies of the music of Britain's nomadic people: Travellers' Songs of England and Scotland and Doomsday in the Afternoon. With Howard Goorney, Ewan co-authored Agit-prop to Theatre Workshop, a book of political playscripts and reminiscences of Theatre Workshop.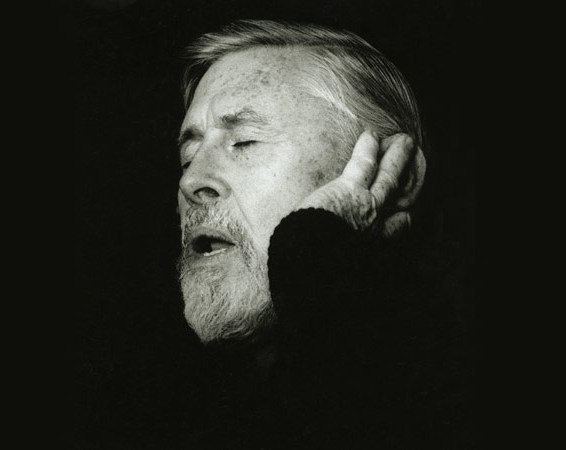 As a songwriter, MacColl is best known as the writer of The First Time Ever I Saw Your Face, Dirty Old Town, The Shoals of Herring, Freeborn Man, The Manchester Rambler and The Joy of Living. He has written more than 300 songs.
In 1980 he wrote his last play, The Shipmaster, the moving story of a sailing ship captain who cannot adapt to the coming of steam. In 1987 he began to write his autobiography, Journeyman. In the same year the University of Exeter presented him with an honorary degree. On October 22 1989, he died of complications following a heart operation. The University of Salford awarded him a posthumous honorary degree in 1991.
For sixty years he was at the cultural forefront of numerous political struggles, producing plays, songs and scripts on the subjects of apartheid, fascism, industrial strife and human rights. It has been said that he was an enormous fish in a small pond – but the ocean of traditional song and speech upon which he navigated and hunted owes him a great debt for the treasures that he returned to it.
(Adapted from http://www.ewanmaccoll.co.uk/ewan-maccoll-biography/)