JOLANDA MOLETTA, PAOLO BESSE'
Born and bred in San Francisco, Mark Nelsen is a versatile musician, a visionary, talented singer with an elegant and neurotic temper, self-taught with method and stubborness in order to master his own passions. Mark plays with Electric Shepherd, a psychedelic/stoner power-trio that have already recorded two albums. Recently, he released 'Childish Songs', a collection of singer-songwriter's experiments with a tasteful British verve (cover and illustrations by Tinoshi!). We have seen him onstage solo and with the band, and thanks to him we've met many musicians from San Francisco, like Devin Farney, with whom he shared the stage more than once, to promote their respective projects by playing on each other's songs.
Q: Where are you from? Where would you like to go?
A: I'm from San Francisco, and i will go where ever one wants me. Or where ever there are dandelions.
Q: How did you get to play music and sing your own songs?
A: I grew up on a healthy dose of classic rock and alternative music, loving every bit of it. One day in middle-school, i decided that i wanted to make a lot of noise to cope with my bad grades, so I started playing the drums. Some years later, these drums would guide me to some weirdo high school classmates who had these magical things called electric guitars. I started playing electric guitar cuz I wanted attention. I realized I wanted more attention and more noise, so the microphone seemed the logical next step. Bands were formed and noise was conquered. Collaborative riff-writing efforts in my teens led me to begin writing and singing my own songs, and forming my own bands.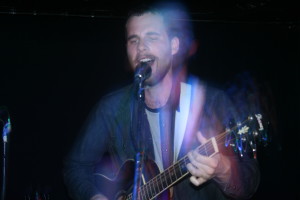 Q: What are your songs about? To whom would you recommend Mark Nelsen?
A: I've noticed that a lot of my songs – both my solo compositions and my contributions to Electric Shepherd – are about escape. I also write plenty of love songs, where I reflect on love's awe-inspiring duality – its beauty and its torture. To whom would I recommend Mark Nelsen?
A: The birds and the bees.
Q: Why music?
A: Why not? Why coal mining?
Q: Tell us something about your projects and your future releases
A: Electric Shepherd just released its first music video, 'The Escapist' – directed by up and coming filmmaker (https://www.youtube.com/watch?v=PNfZKVa1aI4), Andrew Baron Herwitz. The video tells a nightmarish story about a drifter and his lust for life. Only this lust rejects and endlessly haunts him. There's a sports car, a babe in dreads, warpaint, a maze, and a diabolical pig's head. Fun for the whole family. We like to think of our songs as very cinematic, especially the songs and production on our latest LP, 'The Imitation Garden' (which 'The Escapist' is from). For us and Herwitz, 'The Escapist' was a compelling choice. This was also Andrew Herwitz's music video debut, and I am very satisfied with the end result. There is also a newly released digital-single of 'The Escapist', available for free download at http://electricshepherd.bandcamp.com/. I am also currently working on some new solo material in the studio.
Q: What do you like about playing in a band and playing solo?
A: Playing with Electric Shepherd gives me the chance to let loose and explore a heavier side of my music – namely psychedelic/stoner and progressive rock, two of our biggest influences as a band. Improvisation is a major component of our live show and songwriting process. Writing and performing solo is very personal and subdued. My inner roots/pop singer finds its voice. I really enjoy the flexibility of being a solo performer, which doesn't really happen in a band. Collaborating and recording with talented friends at your own pace is a lot of fun and incredibly inspiring. It's all about finding a balance and trying out new ideas, and I hope i can maintain this for a long time to come.
Q: Does being half-Italian influence your music and your perspectives?
A: No, I don't think so. I don't care for cultural pride. Someone in the world is pissed and writes a love song, someone else is happy and decides to write a punk song… or wait, is it the other way around? See?! People are universally unstable. Songwriting just sort of happens. But yes, I am half-Italian and here's how it works: My father is American (Californian) and my mother is Italian. I guess that makes me an Italifornian (or a Calitalian?). Talk about instability. I am more culturally American because I was born and have lived in the USA my whole life thus far. As for Italy and my Italian side,  I know that Italy has produced an incredible number of master artists throughout history, of all types. It makes me feel honored but also somewhat pressured. My mother is Florentine, and Florentines were at the center of the Italian Renaissance. How cool is that? There were no artists or musicians in her immediate family as far as I know, but you know, its special to know that they all lived in Florence.
Q: Any Europe tour plans? What do you need to come visit us?
A: Bring me to Europe! Now! Kidnap me! Ok, don't kidnap me… unless you're a pal. I would really like Electric Shepherd to tour Europe. We have been recently discussing a potential 2014 European tour, but who knows. It's all on us. It would be amazing to road test our intense live show overseas – especially in Germany and Sweden. Obviously it will take a lot of preparation, and we have to do some more US touring first.
PAOLO BESSE', JOLANDA MOLETTA