LAMENT OF A SCHOOL BOY
My little body is drenched
With my own blood
My head is not with me
My body is shattered too
Now no one is able
To recognize me.
The cruel man dyed
His filthy dreams
With my pink blood.
My bag is collected
By a policeman
That was reddish and burnt too.
My colours, my paintings
My ideas, my dreams
All demolished just with a blast.
What about that doctor?
A scientist, an artist
An officer or a socialist
Who dwelled inside me,
For the sake of humanity.
Is there anyone to reply
To my innocent question?
***
LOVE'S MONUMENT
Taj Mahal
The tomb of Anarkali
The tomb of Noor Jahan
All monuments of loved ones
To show a strong bond of love.
But neither am I a king
Nor you are a queen
So our love will abide
In our hearts.
After our departure
From this vague world
No one will build monuments
But the tombs of our living love
Would be built
In the graveyard of dead hearts.
***
SNOWY VALE
Air is buzzing like a honey-bee
Let me write your name on every tree.
Snow is freezing, breeze is fresh and cool
Everything seems under nature's rule.
Cold water is dribbling drop by drop
Even soul is quivering at this top.
But your name is running life in me
My heart is throbbing if you see.
It is anxious and rushing blood
Emotions flared and rushed as flood.
The leaves trembled to fall down snow
To clean their bodies, your name to glow.
I will write your name on each one
And it will blaze brightly in the sun.
Just your name will remain in this vale
Not to be erased in sun or hail.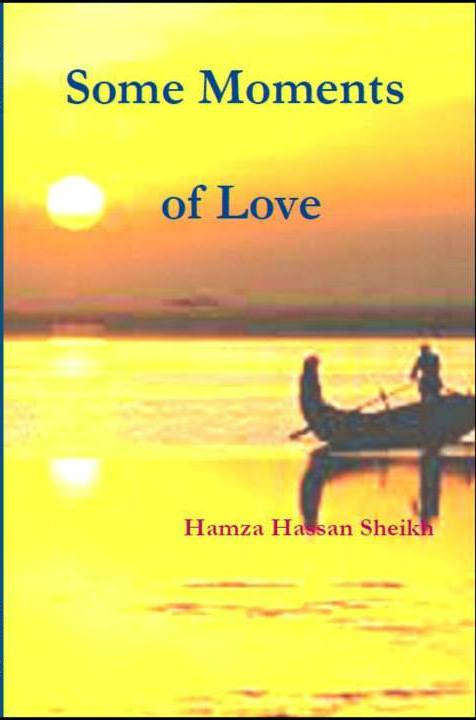 Hamza Hassan Sheikh is a forceful young romantic poet and a novelist from Pakistan. He was born in D.I.Khan, a city located on the bank of the Indus River. He spent his early childhood in this city and got his early education from the local government school. After his Bachelor, he moved to Islamabad for higher education. During his university years, he participated in the extra-curricular activities and was the editor of the literary journals. He completed his Masters in English Language and Literature in 2008 and secured his MS/M.Phil degree in English Language and Literature. He has also done a Masters in Pakistan Studies.
He is a a novelist, poet and short-story writer, author of ten books, of which five are both in English and Urdu languages. The different editions of his books have been published in Pakistan, India and USA. He is the first ever English novelist and short-story writer from his province KPK. He has more than twenty honourary certificates on his credit in different creative writing competitions and extra-curricular activities. He has presented his papers and poems in many national and international conferences and literature festivals and therefore visited Iran and India. His poems and short-stories have also been published in different international anthologies and yearbooks in China, Taiwan, UK, USA, India and Australia.
His first collection of poems Some Moments of Love appeared in 2004, was highly appreciated in the literary circles not only in Pakistan, but also in India, England, Japan and New Zealand, and was regarded as the evidence of revivification of romanticism and reinvention of the romantic symbols, imagery, subjectivism, joyous and painful thoughts, unfulfilled desires, pangs, perforations and ecstasy of a lover.
His poems have also been translated into Arabic, Persian, Urdu and other regional languages. In 2009, his second collection of poems Museum of Reminiscence appeared. In 2010, his debut novel Thirst All Around was published and in three years its editions have been published in Pakistan, India and the USA. In 2013, his first collection of short stories Rolling Gems and a collection of translated poems of Amrita Pritam Splashes of Moonlight appeared. His first collection of Urdu short-stories Kaaghaz appeared in 2014. In 2015, his third collection of poetry, Dying Daffodils appeared. He is also the author of three collections of Urdu Short stories for the children which published in 2006, 2007 and 2008.
In 2004 he received the Pakistani National Book Foundation Award.