Galway's diaspora, like all emigrants, find themselves in various locations for a variety of reasons… employment, adventure, travel. For Frances Fahy from Corrandulla the reason was very much love. 40 years on she is happily married to Renzo and enjoying all that Calabria in the 'toe' of Italy has to offer.
I'm the sixth of eight children and one of my childhood boasts was that I was the first one born in hospital, on 4th March 1952, while the others were born at home! We lived on a farm in Corrandulla until 1962. My childhood memories are pleasant and probably selective! We didn't know that farm life was hard as it was the only one we knew. I remember visits to relatives in Liss, Headford, Tuam, Galway, places that seemed really far away. That was until we moved to "Meath of the pastures" as part of the great relocation of the Irish rural population. The Land Commission reclaimed the great estates and parcelled them out in very small allotments. I was uprooted from fourth class in an all-girls primary school where Irish was spoken as much as English to a mixed school in Kilcloon. I remember feeling we'd landed in a totally alien environment…. migrant kids were considered a bit … different … and our Irish was strange.
Going "home"
Two years later, I won a scholarship and was back, this time as a boarder, to another Galway school, the Presentation Convent in Oranmore, to complete my leaving cert, where my sister Bridie had stayed on. We had only been in Meath a short time at that stage so going back to Galway was still in a sense, going "home".  Being in a boarding school so far from my new home meant very few visitors. I remember envying the girls from the area whose parents visited most Sundays! However, my parents kept in touch with both their families so Oranmore and a visit to the "girls" was an occasional treat. By the time Bridie had finished, I was well and truly settled and enjoying school life. I was on the camogie team which meant getting to visit other schools. Only later does one understand the implications of the fan-fare around the visits to the school of the political stalwarts of the day! Being introduced to Jack Lynch and demonstrating my skill at taking a thirty-yard free was a highlight and "be sure to tell your mother and father that I said you were very good." I realised later that my younger brother and sister who went to the local secondary schools in Kilcock assimilated more easily than me as I didn't really belong to the local youth population and mingling in only during the school holidays was a challenge.
Fast forward to Maynooth for my B.A. and H.Dip, then a year's teaching English, Irish and French in Trim Convent of Mercy. In the meantime I'd fallen madly in love with Renzo Calabria (coincidentally from the Calabria region) whom I'd met in Lausanne, Switzerland while on a French course. We corresponded and phoned for almost a year as we made plans to see each other again! We went back and forth whenever we could afford it and then I took the huge step of leaving my job, getting married in 1975 and moving to Calabria.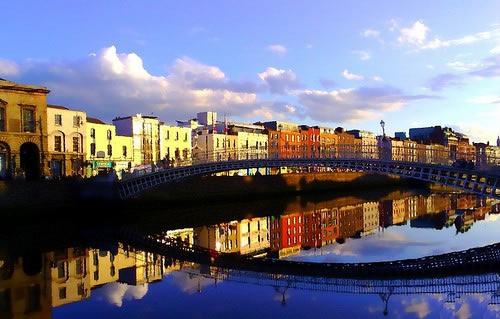 Fairyland
It's not easy to summarise my reaction to arriving in Italy that first time. The country was just a geographic detail then, the place where this fantastic guy happened to live. Calabria, Cambodia, Carrantuohill…. I think it wouldn't have made any difference! Being together was really all that mattered. I arrived on 23rd June and night-time temperatures were in the mid-thirties. That first impact with such intense heat has always remained vivid. Gizzeria, where Renzo's family lived, is a picture-postcard mountain village and the evening I arrived was the eve of the feast of St. John the Baptist, the patron saint of Gizzeria so the whole place was decked in lights with stalls and amusements, music, song and dance. It was like being transported to Fairyland. I was enthralled! I had very little Italian but people were so kind, trying to communicate in English and French. It was really special. Renzo came to Ireland that same summer and he found it just as enthralling!40 years on we are still enjoying life and each other's company. We're never short of visitors here of course! We have three children, Leo, Sergio and Mary and four grandchildren. Until they reached 17/18 and started travelling alone, Ireland was their summer holiday destination. Meath as base was taken for granted and we travelled a lot. They were always surprised at meeting some new cousin when we visited Galway. They were brought up bilingual and feel completely at ease with their being half-Irish. Sergio moved to Ireland to study and has been living in Dublin for the past ten years. He and his wife Anne now have two children so I not only have links to the past but also to the future. I'll soon retire from teaching and Renzo from his accounting and we have a few places to see but I think we'll stick with Europe. There's enough in this marvellous continent to keep us on the move.
Calabria
I don't think there is a real "Italian" lifestyle in that regional identity is quite strong. Calabria is considered one of the poor EU regions so it gets a lot of funding for business, infrastructure, transport networks, schools and so on. It doesn't enjoy a great reputation even among many Italians who may never have visited the place. The "poor mouth" "backward" stereotype would take too long to explain, but it's a burden that people carry. My students sometimes wonder "How could anyone choose to live in Calabria?" I ask them where they've been to compare it to and I try to get them to foster a more positive identity. Having said that, people who discover Calabria find it fascinating. Mountains, sea, scenery, remains of Greek and Roman culture, marvellous food and wine of course, friendly people, great resorts would have to rank among the things I love and I love my job as an English teacher where I can see that my work really does make a difference. By the way, women in Italy always use their birth name for official purposes so I'm known as Prof. Fahy with various pronunciations! And I, for one, thank Ryanair for choosing Lamezia Terme, where I live, as one of its top Italian destinations. That has really made an enormous difference to the region. I've been taking secondary school students to Ireland for the past number of years and Galway is a "must" on our programme. So I manage a visit about every two years. We've stayed in the Kinlay Hostel in Eyre Sq. Like most people who compare the city to the city of our memories, I do find Galway a bit intimidating now especially as a student destination. I just hope the balance doesn't tip too much as charm, once lost, is hard to restore. When I get to Galway and I soak up the musicality of the local accents and turns of phrase, that easy-going gentleness of so many people especially in rural areas, I'm just grateful that this place still relates to me, even if only indirectly. I've been known to eavesdrop on conversations in pubs in Connemara just to hear two men talking "as Gaeilge"!
I love writing and have written two novels set in Galway: The Law of the Land and TràSalach. I haven't managed to get them published but who knows… I'll keep trying. Maybe this is the link I didn't know was waiting for me!

The "Galway" chapter is fundamental to the lives of all my siblings. We each nourish it in our own way and it unites us. For example, my late mother worked in the GBC and none of us would ever pass by without a nod to her memory.
http://galwaytribaldiaspora.ie/frances.html