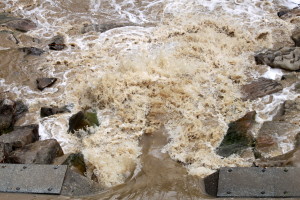 FRANCES FAHY
Seven chimes of the Cathedral bell.
Faster!
She reaches HighBridge.
Nobody around.
She leaves bag and note near the Bridge Newsagent's kiosk.
Mum's souvenirs.
She grips the phone and climbs onto the bridge.
Tried telling you, Mum! You're blind! Since he came.
It's over! Fly! Away! 
From silence, screaming, humiliation, shame, lying, hiding, his filthy leering.
Now!
Suddenly, there, beside her, out of nowhere, a soldier in uniform.
Where did…?
Oh God! He's like someone from an old war film.
Hollow, penetrating, pleading whispers. "Don't Greta. It's not the answer."
"What d'you want?"
"You know."
"Go away!"
"Please!"
"No!"
"Greta! If you can face the water you can face anything."
"No!"
"Don't let him win. Tell her. Today."
He drops behind. Dissolves. Somewhere.
Numbed by freezing sweat, she stumbles down and stoops beside the kiosk.
Go back!
Do it!
I can't!
"Frank's been annoying you?" The words barely register.
An elderly woman is opening the Newsagent's.
"Who…  is…  he?"
"It's ok. Don't be afraid. Here, I'll show you something."
The old woman unwraps a crinkled newspaper cutting from its plastic wrapper.
Is she trembling, too?
A photo and underneath:
"Tragic jump ends soldier's life, Christmas Day 1944."
The man I saw!
She stares at the woman.
"Keeps coming back to discourage the jumpers." The old lady's feigned jolliness brings the words out in whispers. 
"You know him?"
She touches her cheek.
"He was my father, dear."
Her brain succumbs to blackness…
 She slurps tea.
 "Go to Sister Angela."
"Who?"
"At the Cathedral. She'll know. You're not alone anymore, dear."
"He said my name!"
"And you heard it. It's over. Come back soon. We'll talk."
"Why…?"
"Someday we'll see your lovely face on the paper too but for something wonderful!"
"…must …go."
"Do, go to Sister Angela." 
The Cathedral? 
A text message signal.
Happy 16h darling, Love U. Mum, Vic. Present later.
Noooo!
The dam of tears bursts.
Bastard! Bastard!
She hurls the phone over the bridge into the rushing water. The old woman watches her collapse under the agony of liberation and wraps the photo.  
She would have to console this one too.
Would it never end?
And, like every time, it's so cold this morning.
Picture by Brian Baker
Italian translation by Giuliana Manfredi:
Sette rintocchi di campana dalla Cattedrale.
Più veloce!
Lei raggiunge Ponte Alto.
Non c'è un'anima.
Lascia borsa e messaggio accanto all'Edicola del Ponte.
I souvenir per te, Mamy.
Afferra il telefono e sale sul ponte.
Ho provato a dirtelo, Mamy! Sei sorda! Da quando è arrivato lui….
È finita! Scappo! Via!
Via da  silenzio, urla, umiliazione, vergogna, bugie, sotterfugi, dalla sua sordida lascivia.
Adesso!
All'improvviso, là, accanto a lei, sbucato dal nulla, un soldato in divisa.
Dove…?
Oh, Dio! È come uno di un vecchio film di guerra.
Cupi, penetranti, imploranti bisbigli. "No, Greta. Non è questa la risposta."
"Che vuoi?"
"Lo sai."
"Vattene!"
"Per favore!"
"No!"
"Greta! Se puoi affrontare l'acqua puoi affrontare qualsiasi cosa."
"No!"
"Non darla vinta a lui. Parlale. Oggi."
Lui scompare alle sue spalle. Svanisce. Da qualche parte.
Un sudore freddo la paralizza, inciampa e si accascia accanto al chiosco.
Tornatene là!
Fallo!
Io non ci riesco!
"Frank ti stava dando noia?" Parole percepite a stento.
Un'anziana donna sta aprendo l'edicola.
"Ma… lui… chi è?"
"Va tutto bene. Non aver paura. Ti mostro una cosa."
La vecchia scartoccia un giornale spiegazzato tagliandone l'involucro di plastica.
Sta tremando pure lei?
Una foto, e sotto:
"Tragico salto mette fine alla vita di un soldato, Natale 1944"
L'uomo che ho visto!
Guarda fisso la donna.
"Continua a tornare per scoraggiare chi vuole buttarsi." La finta giovialità della vecchia signora pronuncia le parole in un sussurro.
"Lo conosce?"
Le accarezza la guancia.
"Era mio padre, cara."
Il suo cervello si annebbia…
Sorbisce rumorosamente un tè.
"Vai da suor Angela."
"Chi?"
"In Cattedrale. Lei lo sa. Non sei più sola, cara."
"Lui ha detto il mio nome!"
"E tu l'hai sentito. Fine. Torna presto… che parliamo."
"Perché?"
" Un giorno vedremo anche il tuo bel faccino sul giornale, ma per qualcosa di meraviglioso!"
"….devo …andare."
"Sì, vai da suor Angela."
La Cattedrale.
Il segnale di un sms.
Buon 16° compleanno cara, tvb. Mamy e Vic. Il regalo dopo.
Nooooo!
Scoppia a  piangere a dirotto.
Bastardo! Bastardo!
Dal ponte scaglia il telefono nell'acqua impetuosa. La vecchia la guarda crollare sotto l'angoscia della liberazione e ripone la foto.
Le tocca consolare anche questa qua.
Sarebbe mai finita?
E, come ogni volta, fa così freddo stamattina.
                                               
 
 
Frances Fahy
Nata in Irlanda, vive in Calabria. Dopo la laurea in Lingue, si è trasferita in Italia, per seguire il cuore e sposare l'uomo della sua vita conosciuto in Svizzera. Insegna inglese all'ITE "De Fazio"di Lamezia Terme (CZ) e collabora con l'Ufficio Scolastico Regionale come formatore linguistico per insegnanti. Ha tre figli ed è nonna di tre splendidi nipotini.
Ha, da sempre, una grande passione per la scrittura; alcuni dei suoi racconti  e articoli sono stati pubblicati in riviste inglesi. Scrive una rubrica settimanale in inglese sull'e-magazine  www.lenuovemamme.it ed ha un suo blog Time Out blog.libero.it/fred48.
 
 
Giuliana Manfredi
E' nata a Lamezia Terme (CZ), dove vive e lavora. Laureata in Lingue e Letterature Straniere Moderne presso l'Università "La Sapienza" di Roma, ha frequentato vari corsi e laboratori di Traduzione Letteraria, conseguendo due specializzazioni a Roma e a Torino. Insegnante nella scuola secondaria superiore, accompagna annualmente gruppi di studenti all'estero per corsi di lingua inglese. Traduce per passione.