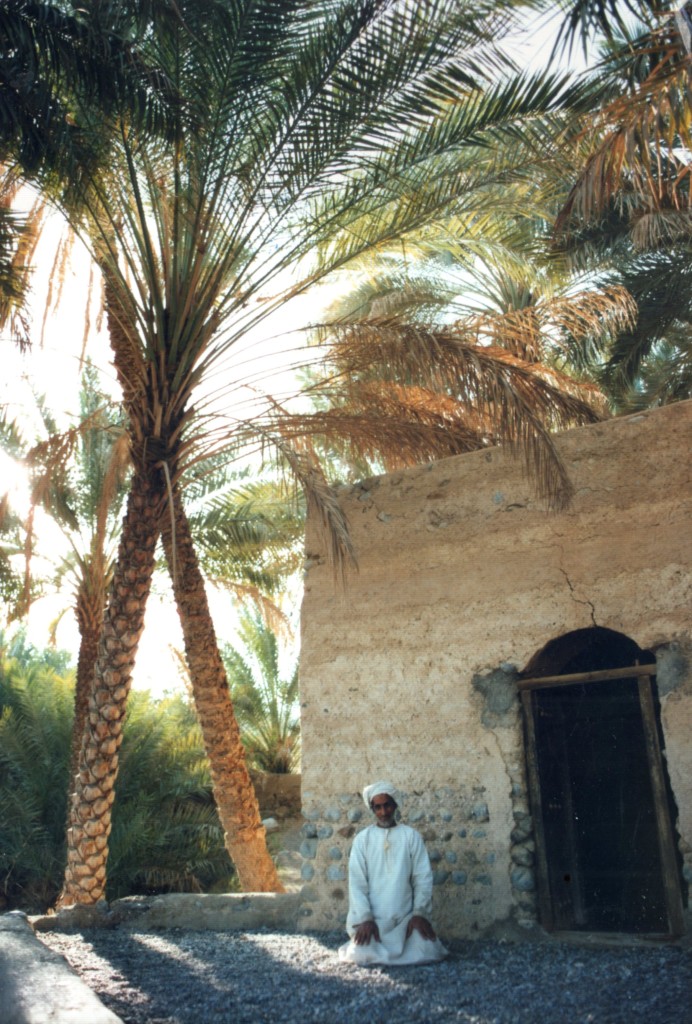 JOKHA AL HARTHI
Nassir al-Abd does not understand anymore; he used to conceptualize life as something stable. He used to touch the stability of life, but he knew, in a mysterious way, that it is not as stable as it appears to be. Nassir al-Abd lives in a small room beside the heavy, iron gate of the wali's [1] house. He gets all his meals from the house hot and covered. He pours coffee for guests standing in the vast majlis [2] decorated with pictures of running horses. He also opens the gate for the VIP cars and travels every Thursday to see his big family. All of this has been happening since he was 18 and it is still happening. The wali changes, the meals change, the cars change, the concentration of coffee changes, but what does not change is Nassir al-Abd's life. The colours of the horses in the pictures fade, the heavy iron gate gets rusty  and is repainted, the vast patio once full of pebbles then cemented, is finally decorated with red interlock. One or two rooms have been added to the east area of the house. One wali calls him "soldier", the next "janitor", the third "coffee boy," yet nobody has ever called him by his real name: "Nassir al-Abd," and Nassir al-Abd does not really care and  is used to it as he is used to his own breath. However, for a time he cannot specify clearly, he has felt that he does not understand things anymore and that life is not a circle without equal sides. It has bothered Nassir al-Abd who has been able to see the sense of the gate's paint, the frankness of the coffee taste and his wife's loud voice. He has been bothered by the ambivalence and lack of understanding.
Nassir al-Abd, since he was a boy, has never believed that events can change the course of life or its continuity and he is not going to believe it now. Walis change, the biggest palm tree dries because of drought, the faces and voices of coffee drinkers change, but Nassir al-Abd does not change. Life goes as ever. After greeting the new wali, burying his father, slaying a goat for his son's birthday, cutting down dried up palm trees, and familiarizing himself with new faces and voices … life goes on as it always did and nothing at all would cause it to cease being a continuous cycle.
Recently, however, Nassir al-Abd has been waking up before dawn, filled with doubt and ambiguous worries. Nada, whom he has seen since her father moved to the big house, is eight. He had carried her once or twice on his shoulder to reach a grapefruit up a tree. He had closed the gate over and over again after her reckless bicycle. He had picked up the bonbons that fell from her pockets. He had given her back her hair grip that once fell while she was running. Tiny, grumpy Nada had rapidly grown up and now her eyes sparkle. Nassir sees magic in them—the magic that has disturbed his sense of stability. She has got long arms that divide one's attention, and her wrists are always covered with lively, colourful bracelets. When Nassir al-Abd closes his eyes, he sees all the neon sparkling colours switching on and off ceaselessly.
Every Friday, Nassir washes for prayer in the falaj [3]. He rolls his sleeves up and finishes washing in a matter of moments. Yet the falaj now, with its flowing water, green weeds, and tiny fish, persuades Nassir al-Abd to linger over the moments of his washing practice. When he closes his eyes, he sees the little fish swimming swiftly between the cracks of the falaj's bank, changing their colour to sparkling silver. Nassir will go back every Friday night to his room beside the iron gate, will forget the frequent talks he shares with his wife, daughters and youngest son, will forget his crippled mother's constant complaints, will forget the endless discussions about the palm trees, drought and harvest. He will remember only the falaj's flowing water, its levels of rising and falling and its silver sparkles. He will be terrified of his no longer firm belief in the stability of life. And when he tries to search for events, he will find out that there are none. Life will not remain that continuous cycle, it will fluctuate too much that Nassir al-Abd- whose daily routine has never changed- will be deprived of sleep.
He does not see Nada more that once or twice a week because she does not like to walk in endless circles around the house as her mother does. She is also too mature for the neglected bicycle in the store. And Nassir al-Abd, who guards the house, serves coffee to guests and travels to his big family every Thursday, has ceased to understand.
The sky is pitch black and full of shiny stars. He lies on the cement patio by his room. A cool breeze caresses his hair which has lengthened a bit. He keeps hugging his cup of tea, meditating on the far away sparkling stars. His daughter told him last Friday that stars are not fixed no matter how much the opposite might seem true.
The tea becomes cold. "If events do not change life, what changes it?" He runs his fingers over his face and smiles: "Age?" He is not even forty and the diseases he hears about in the wali's majlis seem to come from another planet. He is as strong as the running horses in the pictures. Nassir is astonished, and his cup of tea falls to the ground, for he suddenly notices the dimness of the horses' eyes in the pictures. When he closes his eyes, the pictures are colourless.
---
[1] It is a name that is given to a governor of an area, be it a small village or a city.
[2] A room that is usually separate from the main house and it is built to welcome guests.
[3] The main irrigation system in Oman, it is a manmade small flowing stream that springs from a well.
(Translated by Ibtihaj Alharthi)
Jokha Alharthi was born in Oman. She obtained her PhD in Classical Arabic Literature at the University of Edinburgh in 2010, and she currently works as a Professor of Literature at Sultan Qaboos University.
She has published three collections of stories: Maqati Min Sirat Lubna Ith Aana al-Rahil in 2001 (which granted her the second place in the Shariqa award), Sabi Ala al-Sath (A boy on the roof) in 2007, and Fi Madih al-Hubb (Impressing Love) in 2008.
She has published two novels: Manamat (Dreams) in 2004, and Sayyidat al-Qamar (Ladies of the Moon) in 2010 which granted her the award for "The best Omani novel".
Her children's book entitled Ushsh li'l-asafir (Nest for Birds) was awarded the prize for "Best Omani children's book" in 2010.
She edited a collection of poems by Ahmed bin Abdullah, and has published two studies: "Studies in Oman and Gulf Literature" in 2003, and "Chasing The Suns: The Literary Methodology in The Book of Kharidat al-Qasr" in 2010.
(From Banipal – Magazine of Modern Arab Literature)
http://www.banipal.co.uk/contributors/628/jokha-alharthi/
www.jokha.com