CATHERINE LONIE
Thanks to Irvine Welsh and "Trainspotting", the ancient port of Leith is infamous. Even before Welsh's novel, my grandmother had a low opinion of the place and would have been horrified to know any of her kin, however far removed, lived in a location she derided as being famous only for pride, poverty and pox. Not so now, it is filling up with aspirational immigrants and middle management types, gentrifying the old tenements with stripped pine floors and Ikea kitchens. Nevertheless, Granny would not have approved. Especially of the bare floorboards.
So it is, I frequent the place, haunting the remaining lanes and cobbled streets with my granddaughter in her red buggy.
A gloomy winter's day, we set off for the National Museum in Chamber Street. Baby asleep and oblivious to the weather behind her transparent rain cover, I push against the fierce wind bellowing down Leith walk. I must have looked disapproving as I passed by a young man, stopped dead in the middle of the pavement, glugging from a small brown bottle. He shames me with his apology, «Sorry auld yin,» before he raises his morning's ration of methadone to his mouth once more.
The buggy is weighed down with bags suspended from the handles. Bags within bags; of snacks, raisins, bread sticks, rice cakes, apples, clementines, packs of nappies, water bottles, a complete change of clothes, baby wipes, a vacuum flask of pasta for Ella's lunch. At least one book, and the soft toys which are regally ignored. I once harboured ambitions to be a bag woman, but Gucci, for preference.
I grunt my way to the top of the long slope. Leith Walk, once framed with gardens which then gave way to mansions, that in their turn gave way to Victorian tenements, now host shops and cafes owned by Turks, Poles, Indians, Italians and a few locals, but we are all Leithers now.
The trainer clad feet of the dancing "Big Issue"(1) seller outside St James Centre, sprays droplets in all directions. He looks thinner today than he was last week. He sings while he dances to a tune only he hears.
Further up, I cross nervously with the crowds, I don't trust this road, too many buses going in too many directions, I land safely by the grand, grey edifice of the Balmoral hotel.
Once more I checked the rain cover on the red buggy, in spite of the gale force wind and assault of sleet, it is intact and Ella sleeps on, snug in her 21st century conveyance. Selfishly I wonder if I can make it to the café in the museum before she wakes.
(1) A magazine published on behalf of and sold by homeless or vulnerably housed people. http://www.bigissue.com/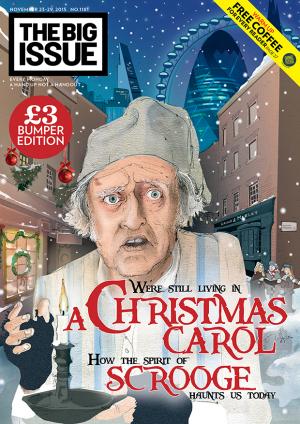 Catherine Lonie was a lecturer in English language and literature at Sultan Qaboos University in Oman, now retired. She is spending her time writing, gardening  providing Bed and Breakfast in the  beautiful East Neuk of Fife  and occasional child minding for grandchildren.