MARGUTTE. Article about "The Work Wide Shut", an artistic tribute for the 50 years of "The Open Work" ("Opera Aperta", 1962) by Umberto Eco. Four artist recreate four artistic projects, four reflections about open / closed work, starting from a common phrase.
Marco Roascio anagrams it; Lorenzo Barberis illustrates these anagrams.
Stefano di Lorito creates a poem made by anagrams; Michele D.R. illustrates it.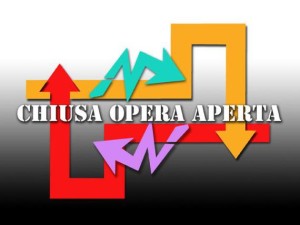 Stefano di Lorito
Location of the art exhibition.
F. Signori, "La valle Pesio"
Marco Roascio.
Roascio
Roascio 
Lorenzo Barberis

Michele D.R, illustrations about anagrams by Stefano Di Lorito.
Un po' meglio conservato l'affresco dello stesso soggetto su un palazzo vicino, in cui si vede anche come la Vergine stia schiacciando coi piedi il Serpente.
La secentesca confraternita dell'Annunziata è sempre dedicata alla Vergine, ma non nella sua versione apocalittica.
La chiesa si contraddistingue, all'interno, per un barocco sovraccarico ma non privo di sontuosità.
A puro titolo d'esempio, qui sopra, la Vergine Bambina, lo Sposalizio, la Natività, l'Addolorata e un'apparizione in un'inquietante cornice mortifera, molto barocca.